While the vast majority of my scrapbook pages feature photos printed at 4×6 or perhaps 4×4, there is a special place in my heart for big photos. I'd love to print a photo as wall paper for our home, but I can never decide which photo. Instead, I order big prints and frame them all over the flat. But I also love the look of a big photo on a scrapbook page. Today I'd love to share a few page design tips for scrapbooking with larger pictures, both from my albums and some guest pages made just for today.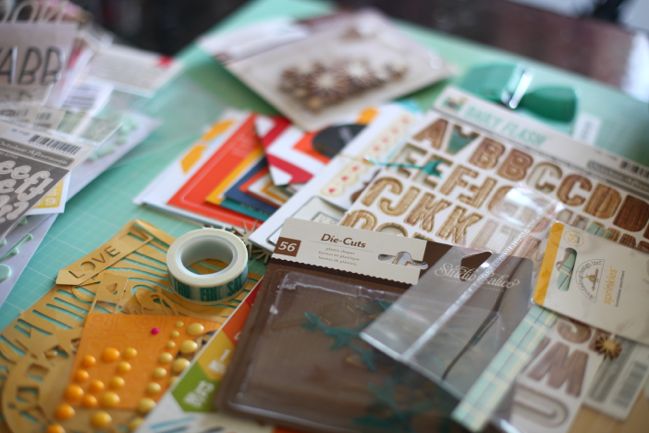 And a little side note: for those of you who follow the Best of Both Worlds kits, this first example is made with the January 2014 kit.
Tuck things behind the photo
When I looked at all my pages with larger photos, I noticed I have more portrait photos framed, but there are more landscape images in my albums! Go figure. But I think that may be down to one of my favourite page designs: creating a page with a landscape image placed in the lower two-thirds of the page, then tucking elements behind the top of the photo. It's a great place to add journaling cards, your title, or just something pretty if that's a better match for the tone of your page.

(I know it's shocking, but sometimes – just rarely – I scrapbook right side up. Don't let it throw you too much.)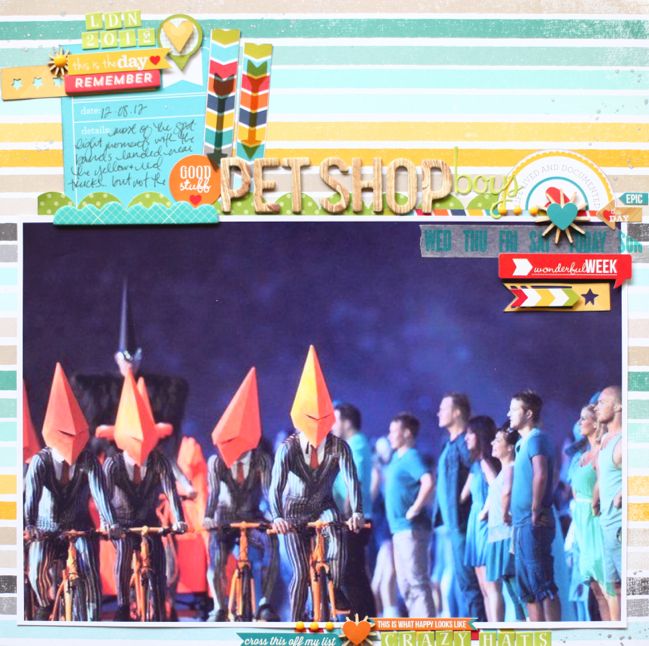 Tucking the journaling card behind the photo makes it easier to customise the size of the writing space, and this is the perfect spot for something like that circle at the top right, which was never actually a full circle! It was printed on the edge of the card, and when cut out and placed on a page rather than in a pocket, it looks best if that straight edge can be either hidden like this or aligned with the side of the layout.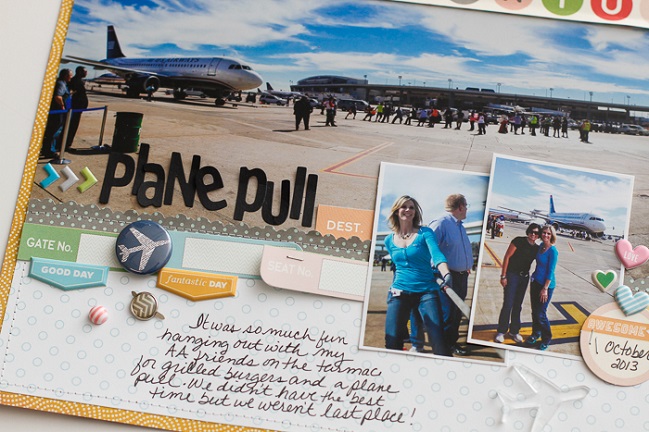 Guest artist Diane Payne has a similar treatment at the top of the photo, but also uses the space below her picture to add more coordinating embellishments.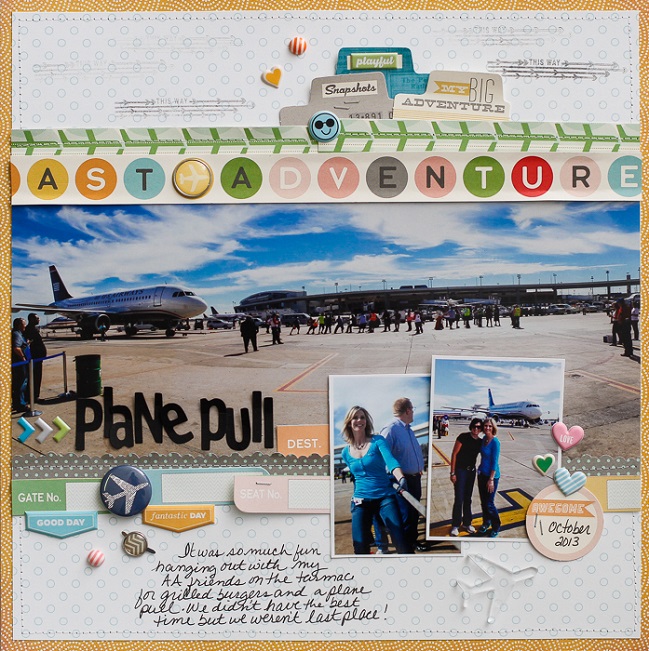 Diane says: I love using oversized photos on my page for a big impact. It is perfect for documenting unique experiences or exceptional photos. An oversized photo was perfect for highlighting the unique experience of working with my peers to pull a plane faster than our counterparts and hanging out on the tarmac eating grilled burgers. It is definitely not your everyday experience and a fun, memorable afternoon. It was especially fun doing this with my good friend whom I don't see that often anymore.
Adjusting the size of her print gave Diane room to tuck embellishments in at the top of the photo while still having ample space for her title, writing, some additional small photos, and those finishing embellishments in the bottom third of the page. This is a design to bookmark for those photos that have lots of sky or ground space when the day isn't amazingly vibrant and the grass not completely beautiful: zoom in on that more central subject to emphasise what's there and give yourself more space on the page to tell the story.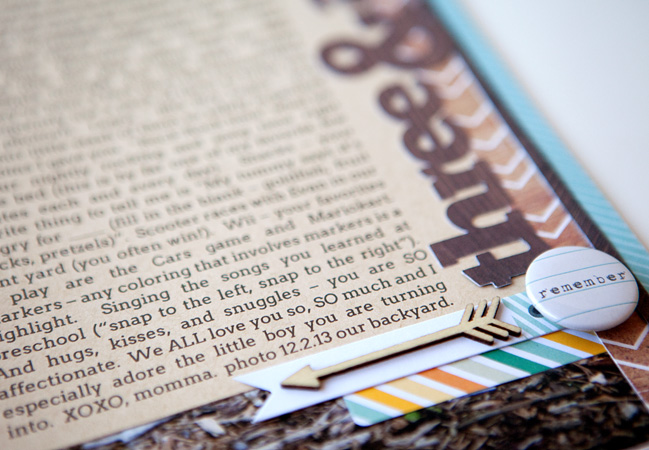 Add words to the empty space
Sometimes a photo looks beautiful big, but this creates some empty space in the picture: the sort of thing that isn't the actual subject of the photo and doesn't add a huge amount of meaning. It's the background stuff of life. While most photo subjects benefit from enough breathing room around the important elements, in a scrapbook sense you can layer elements right on top of the photo in that empty space. When it comes to words, this can even help connect your story to the image, like this example by Susan Weinroth.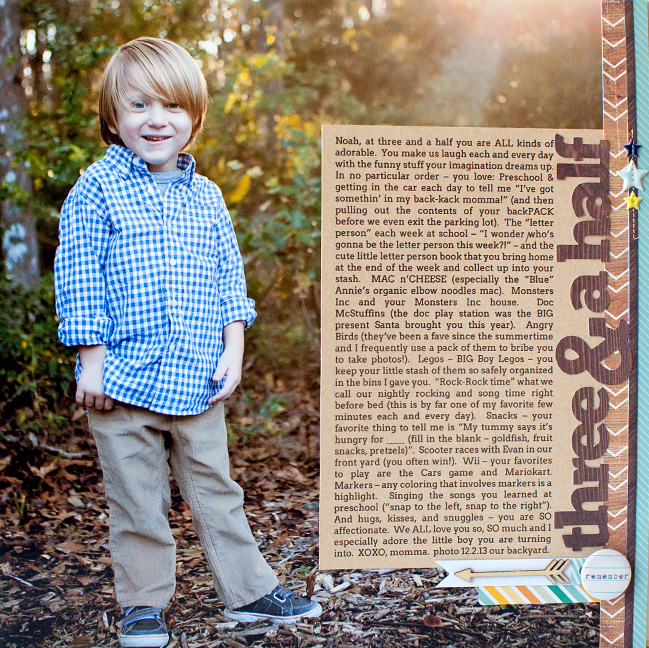 Susan says: I love that the focus of my page is the photo and journaling – something that's easily accomplished by using a 12×12 photo as my page base instead of paper. I want to remember these cute little details about my kids at each age, and love being able to record it all on one "update" style page like this.
See that gorgeous ray of sunlight coming into the frame at the top right? While that's not the primary subject of the photo, of course, it's a beautiful detail. Instead of running the title above the journaling and covering that bit of loveliness, the title works well on the vertical. Simple enough to do but something it's easy to forget is an option, so make a mental note so you'll remember the next time you're worried that there isn't enough space for your title.
Of course you don't have to print at a full 12×12 size to find you have empty space in a photo. I love 12×12 prints, but I have to order them from a lab since I don't have a wide format printer at home. I can print an image up to A4 on a whim, however, which is what I did with this photo.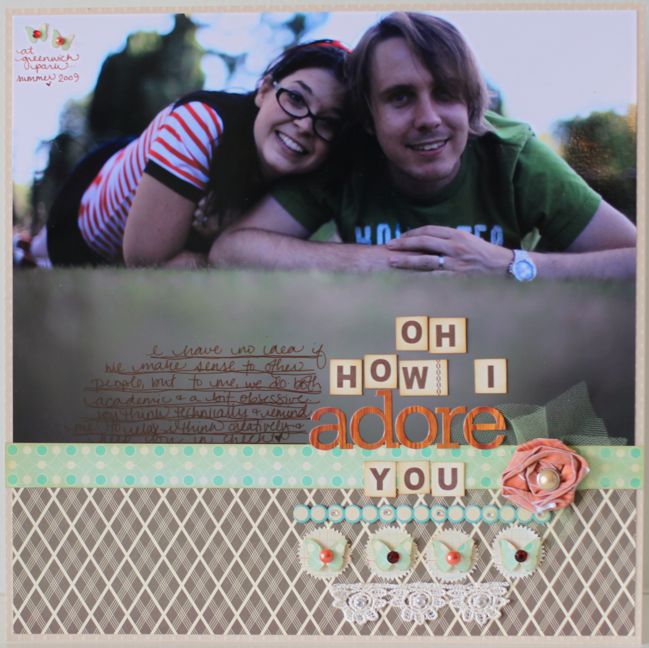 In this case, there is plenty of room at the bottom of the page for journaling, but the blurred foreground at the bottom of the photo was pretty substantial. Bringing the title and the journaling onto the photo itself frames the subject of the photo rather than feeling as distant at it would in that bottom border of the page. If you want to make sure the atmosphere of the photo is still apparent, choose title options that let you see between the letters, like stickers or writing on vellum.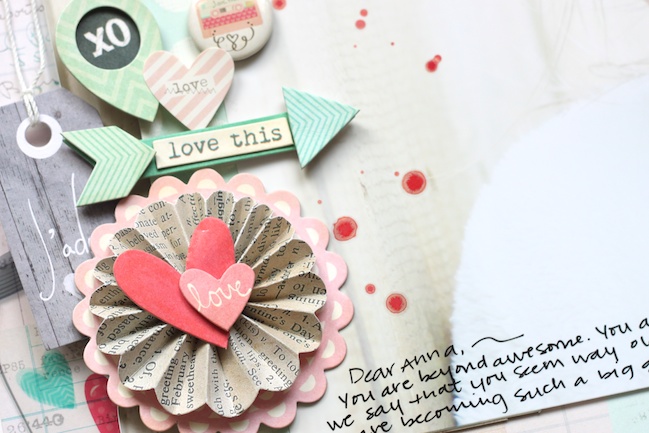 Embellish in the empty space
Of course, if you can journal or title your page in the empty space of the photo, you can also opt to use that space for embellishment, like this delicately beautiful page from Stephanie Bryan.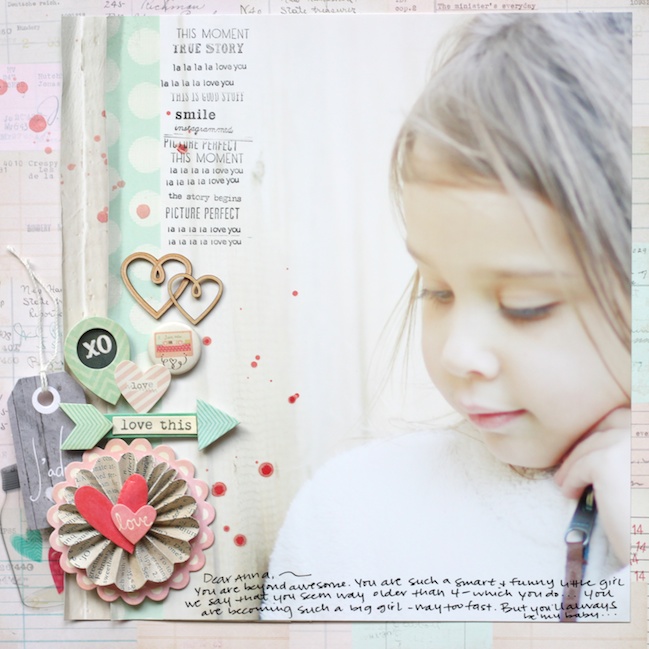 Stephanie says: I love adding enlarged photos to any projects, but especially layouts. The large photos tell the story and become the main focus of a layout. For this project, I chose a recent photo of my daughter. I knew I wanted to add a few embellishments, stamps and journaling down one side of my photo, so I cropped my image to the far right. This left me plenty of space to add some fun pops of color, stamps and ink splatters on my page.
I love how Stephanie proves a page doesn't need a bold title – or perhaps a title at all – to capture your attention. It's also colour that makes this layout work so well – rather than heaps of contrast, there is a similarity of all the shades here, with just a tiny pop of that saturated pink. That mix of colours makes everything far more delicate than if the background paper here was a hot pink, for example.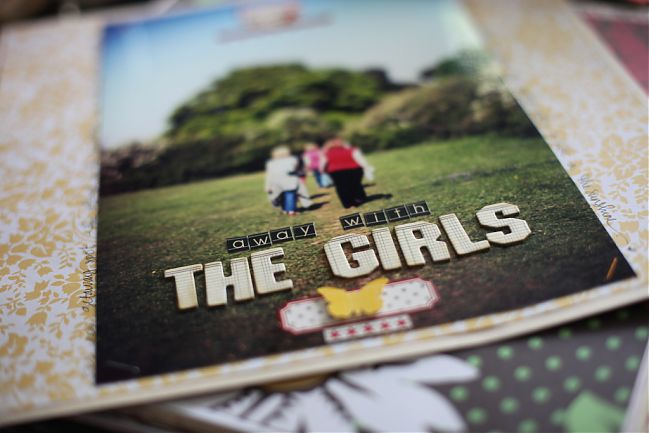 Sometimes I do scrapbook the portrait photos, I promise! And sometimes there is room for both title and embellishment right on top of the photo.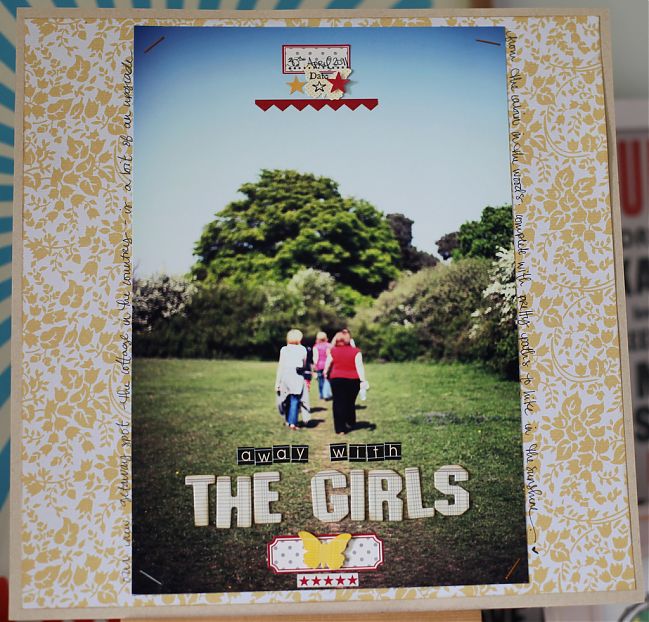 Here a centrally-aligned page design keeps all the page elements (except the background paper) right on top of the photo itself. The trick with a central page design is often to keep the wider element at the bottom of the page and something smaller and more narrow at the top, a bit like imagining things in a stack or on a shelf, even though there there is quite a lot of space between the top and bottom elements. (The smaller, narrower embellishments at the bottom can be viewed as pretty little things hanging below the shelf, if that helps your thinking process!) If you feel the pages in an album are starting to get a little too busy, a page design like this can do wonders for giving the eye somewhere to rest as you turn from page to page.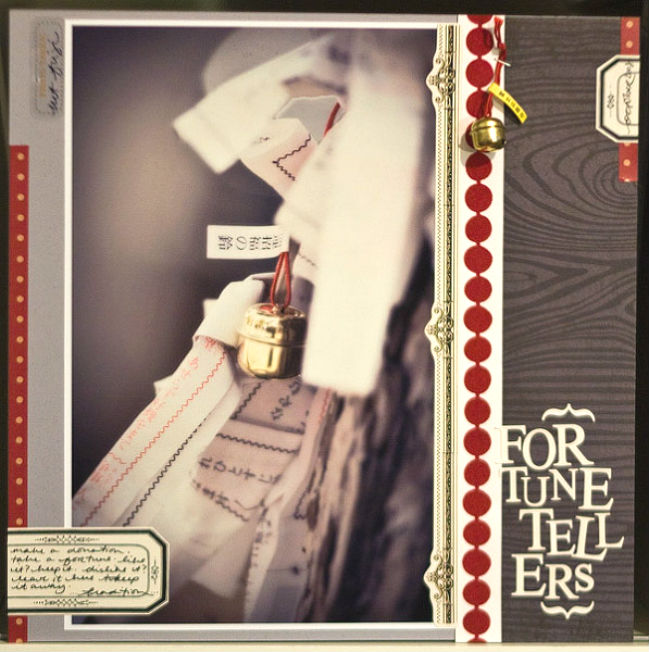 Put border embellishments to work
Hands up if you have plenty of border stickers, paper strips, and scalloped chipboard pieces waiting for you in your stash. How about a border punch? Don't worry: my hands are up too, I promise. Pairing border embellishments with these larger photos is a great way to add flourish without needing to put things on top of your actual photograph. That may help some of you breathe a little easier! I promise you could do this page design without needing the label on top of the photo – just move the journaling to right side of the page perhaps.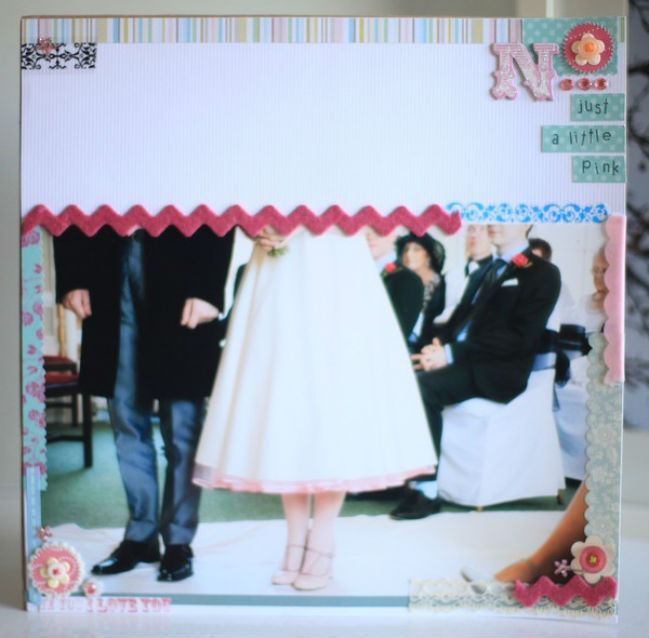 If your border stash is somewhat shorter – literally – put those pieces together to create a frame for your photo. The photo print itself is certainly the most expensive thing on the page, since everything else is pieced together from tiny scraps of paper and offcuts of ribbon, and even a letter sticker from a sheet that had no vowels left to spell anything useful!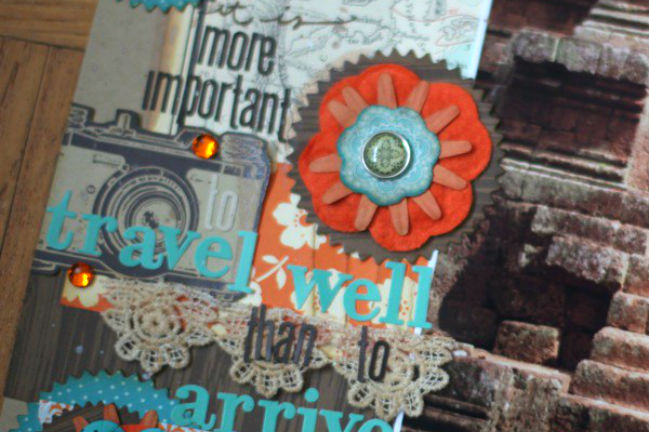 Frame with your favourites
Speaking of frames, you may find that big photos give you plenty of room to embrace your favourite larger embellishments. I love stacks like this but this size of stack could overwhelm a 4×6 print. With a big picture, I can use multiple stacks in that large size!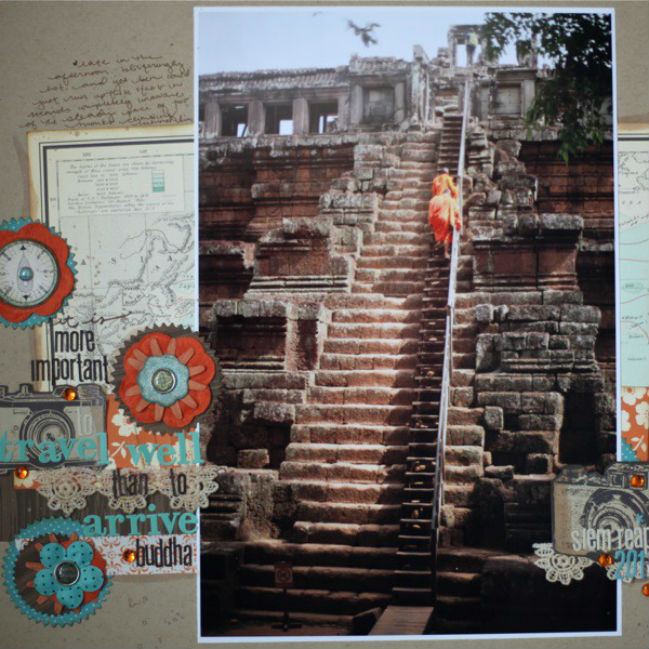 I do find it works well to frame the photo with those elements, so there's a camera print on the left and also on the right, for example. It also helps that all the colours appear on both sides of the photo, to help guide your eye across the page.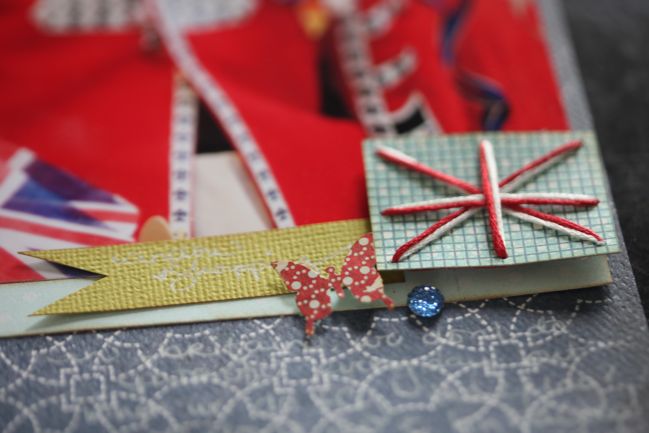 If your photo is really quite busy, you can use the same technique but with smaller, simpler embellishments. It's a great place for tiny details like stitching or stamping.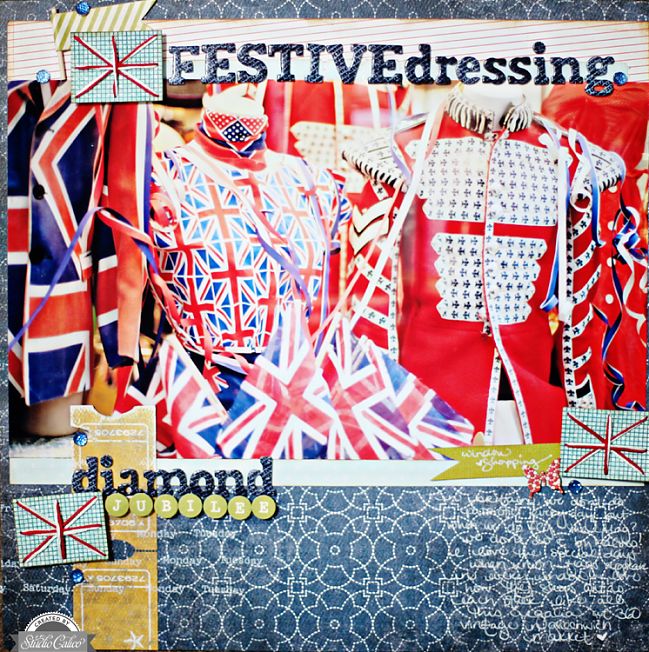 Quite a bit of this page relies on framing, actually – the patterned paper cut away to give a corner frame, the three repeat embellishments form a sort of frame around the outside of the picture, and the trios of gems around each area of embellishment.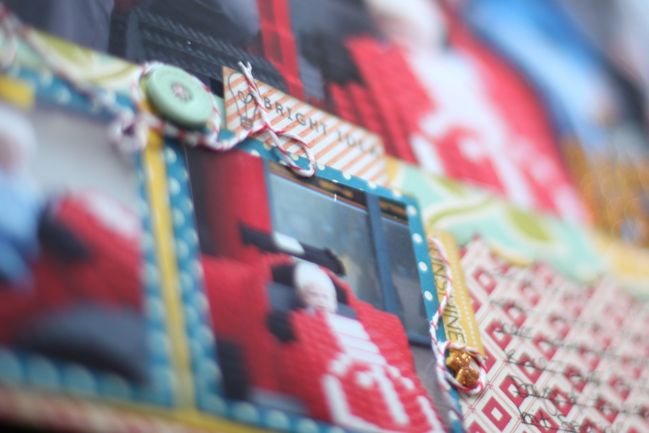 Pair your larger photo with some small images
Even though it's a giant photo, it doesn't have to be a single photo page! Sometimes having one or two smaller photos can be a perfect balance to tell more of the story while still showcasing one image centre stage.

This particular page is made with a sketch and one of last year's Best of Both Worlds kits.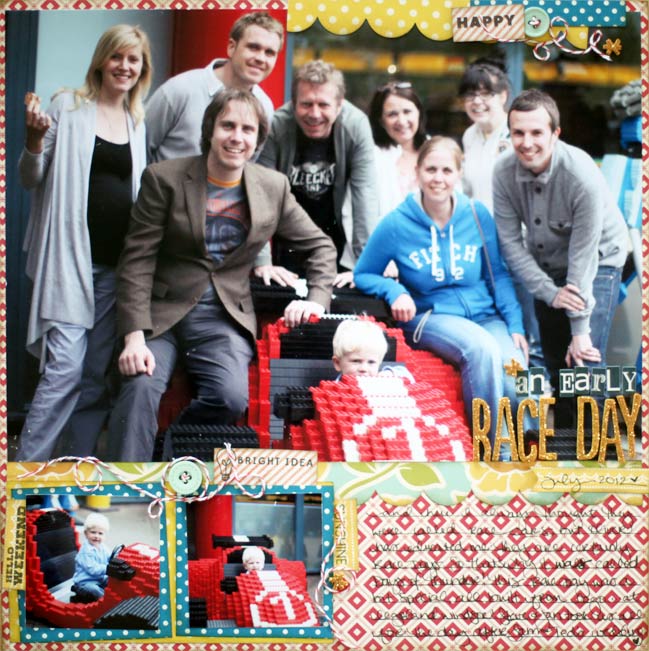 This layout works with quite a boxed out, linear page design, while Diane's earlier example adds a bit more angle and overlapping for a freer design. Either can work! And you can always add curved embellishments like hearts or twine or even just circles to a linear design to give it a bit more energy, if you're nearly done and it feels too static to your eye. Just remember that with angles, a little goes a long way, so start small and work up to what feels best for your particular page.
Now… what photo are you going to supersize on a page?
Today's contributors
Diane Payne lives in Texas with her husband, two teenage kids and two dogs. She balances her career training flight attendants for a major airline with extra-curricular activities with her teens and spending time in her craft room. She loves to work with vintage photos and plenty of colour. Diane designs for A Flair for Buttons, Come On Get Crafty, Lily Bee and write. click. scrapbook, and blogs at Color Me Happy.
Stephanie Bryan lives in North Carolina with her husband and two children. She started out with memory keeping through Project Life in 2011 and has not looked back yet. Stephanie currently serves on design teams for Two Peas in a Bucket, Crate Paper, Glitz Design, Gossamer Blue, Jot Magazine, My Mind's Eye and write.click.scrapbook. She shares her adventures in scrapbooking on her blog at Stephanie makes and on Instagram.
Susan Weinroth lives in Ponte Vedra Beach, FL with her husband of 12+ years and their two little boys. She works as a photographer in addition to her crafty endeavours, including a newfound love of Project Life. You can follow Susan on her blog and Instagram.

Read more about: best-of-both-worlds-kit
01 March 2014

Next post: Crafting a Love Letter from Project Life Supplies:: A Scrapbooking Tutorial by Maria Lacuesta
Previous post: Best of Both Worlds: My Scrapbooking Product Picks for March 2014