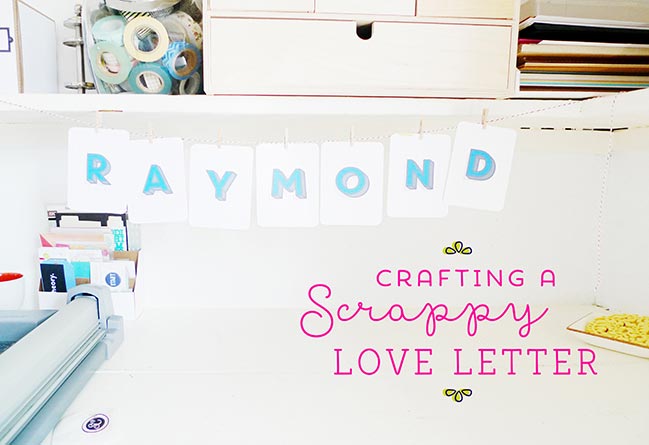 In today's tutorial, I'm excited to share a present I made for my boyfriend – this scrappy little love letter. I used my Project Life supplies to create a 3×4 base and add a bit of embellishment to my typography and illustrations. It's a fun little project that could easily be made into a mini album with photographs as well!

The first step is to draft the love letter. Decide on a prompt, such as, "I love you more than . . ." Next, use the recipient's name as an acronym for different sentiments that complete the sentence.
Next, add your prompt and each letter of the acronym to blank journal cards (or 3×4 card stock). I printed mine right on the journal card using an inkjet printer, but this is also a great opportunity to use up some of those alphabets you already have in your stash. I also thought about using my Silhouette machine to make die cuts for each letter. Layered typefaces, like the one I use in this project, are so much fun to play around with and you can learn more about how to use them in die cutting projects on my blog here.
On the flip side of each card, print or hand write the corresponding sentiment for that letter. Here you can see, I also illustrated my cards with doodles, but again photos would be perfect too! Then I used small scale embellishments (epoxy stickers, cork die cuts, enamel dots, sequins, washi tape) to accent each card.

Above is a photo of the journal card with my my prompt and on the flip side of that card is a doodle of my boyfriend, Ray. I also added a "cover" that you can see peeking out from underneath my packaging. It's nothing more than a gold foil journal card I received in my SC Project Life kit and just included as is. Finally, the whole thing is wrapped up in kraft paper, washi tape, some bakers twine, and then topped with a die cut monogrammed tag I crafted with my Silhouette machine.
This project is a lot of fun and super easy to do on the fly because you don't need any special skills or materials—just use whatever you already have on hand to create this meaningful little present your loved one will be sure to appreciate. You see the finished product in action below as I flip through all the cards.
For those of you who are hybrid scrapbookers, I wanted to finish off this post with a couple tips. This first is Paper 53 an amazing iPad app that you can download for free. I use it to draw my doodles and I absolutely love it. In the past I've also scanned pencil illustrations and converted them into a Photoshop brush to use in my scrapbook layouts. For more details and to download the brushes for you own projects, you can check out my blog post . Lastly, here is a printing template for 3×4 cards -it's a Photoshop document I use to lay out all of my artwork and I hope it helps to streamline your workflow too!
Thanks so much for taking a look at my project – I had so much fun making it and I hope it inspires you to create something personalized for that special someone in your life as well!!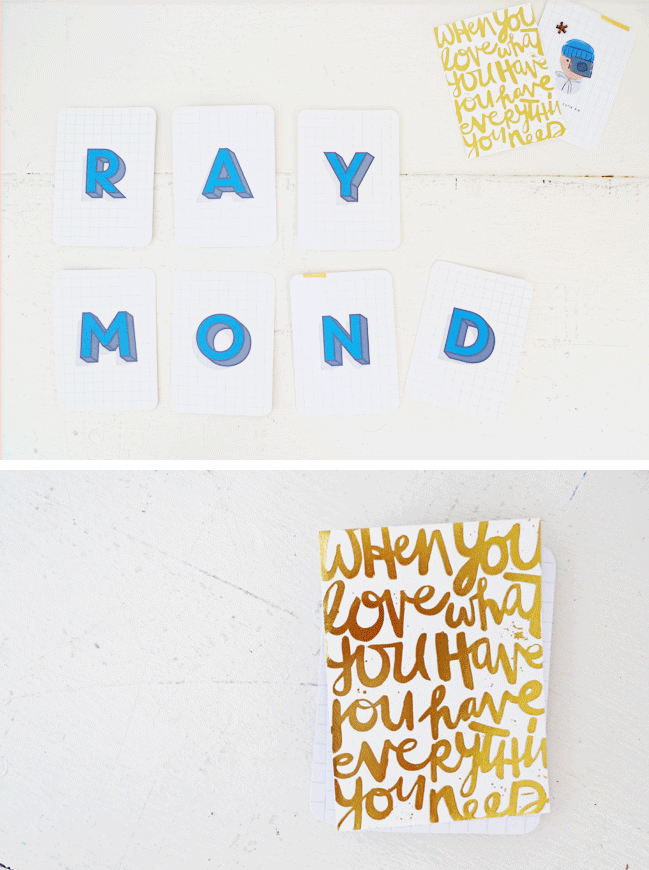 | | |
| --- | --- |
| Maria Lacuesta has loved paper for as long as she can remember. For her, cultivating a happy life means creating something everyday, often with the aid of Photoshop and some pretty paper. She started scrapbooking as a way to document the joys of everyday life and loves to incorporate graphic design and technology in different ways to create a more meaningful story. When she's not happily crafting away in her tiny studio, or obsessively collecting design inspiration on Pinterest you can find Maria enjoying the city of Boston where she lives with her boyfriend Ray. For more information on her personal projects, and to view Maria's layouts for various design teams, you can also visit her blog, Analog Paper. | |

Read more about:
11 March 2014

Next post: Five Ideas with the March Best of Both Worlds scrapbooking kit by Paige Evans
Previous post: Scrapbook Page Designs for Larger Photos