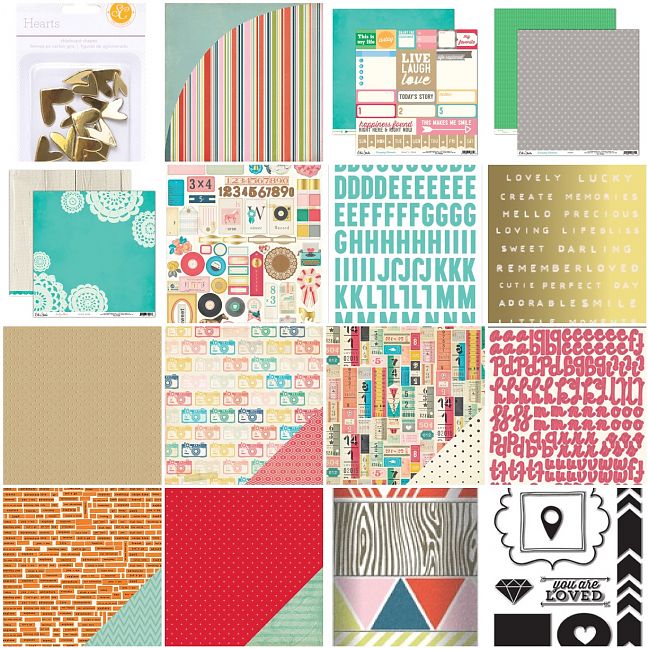 For March, I wanted to embrace the rainbow, I suppose! I was looking at all the different scrapbooking products hitting the store while sitting through day after day of grey rain, and then one sunny day reminded me that all that rain can come with its fair share of rainbows, and that's how this month's Best of Both Worlds scrapbooking kit came together: a little grey, a little gold, and a lot of the rainbow!
Click here to shop for the March 2014 Best of Both Worlds Scrapbooking Kit.
This kit mixes some brand new releases with a few great bargains in the sale. The stamps, tape set, and a couple papers are 25% off, making it possible to also include some fancy new things like kraft card stock with gold finish, a big pack of ephemera, and both flat letter stickers and Thickers. If you're digging the rainbow feel and want to carry that through in the lettering too, you might try the Bon Ami letter sticker sheet for something brand new or this rainbow alphabet for something that's on sale.
And let's talk gold embellishments for a moment. I will warn you: the gold label stickers have been really popular in the shop this week so there are not all that many left. If you're coming to this list by the time they are sold out, please don't panic! There are actually lots of really lovely gold embellishments in the store, and you can choose one that is just your style, assuming you like gold! Have a look here if you want to replace it with something else. (There is also the option to swap the chipboard hearts for chipboard stars that show up near the top of that list, in case hearts are just not your thing!)
Flair… well, today is the first of March and as of the time I'm writing this, the March flair hasn't appeared in the store just yet. As it's the weekend, I'm guessing these will appear in the store on Monday, but I didn't want to leave this any longer to post since I do try to make sure it's always here for you on the first! If you're a big fan of flair, then you may want to wait until Monday if you'd like some badges to coordinate, but you can always wait and add them to your next order too if that's better for your needs.
If you're new to the Best of Both Worlds concept, every month I post a list of products I really love together on the first. There is no subscription and there's no requirement to buy everything on the shopping list. If you want to use it as a starting point for your shopping, then make changes, you can! You're not locked in to paying for something you already have or wouldn't use. Likewise, if there's one item you know you would use multiple times, you can add more than one. You decide your budget and you can add more to the kit or bring it down a bit to fit how much you want to spend, how much scrapping you plan to do, and how much 'stuff' suits your personal scrapping style.
Each month in 2014, a guest artist gets the kit for the month and shares five projects she makes with it. You can see the January guest post and the February guest post currently, and this kit is on its way to the March guest artist right now! I also have new videos coming your way Sunday and Monday sharing projects I have made with recent kits. (Some, though not all, items from the January and February kits are still available.)
If you opt to spend a bit more shopping while you're there, the March shipping discount code is TQTBEX, which is good for $10 off US shipping and $5 off international shipping on orders that include at least $50 of physical, non-clearance product.
I think that's everything! After a several very exhausted days in a row, I'm enjoying getting new videos and articles lined up, so I hope you'll stop by for a good week ahead. You know… the kind of week where we embrace rainbows and naps and you can celebrate fancy things in your life like sleeping more than an hour without waking up for the loo. Maybe. I promise not to get jealous. Well, not very much, anyway.
Thanks so much for your continued support, and don't forget you can always come back to this post later and add a link to the comments to share what you have made with the March 2014 Best of Both Worlds scrapbooking kit!

Read more about: best-of-both-worlds-kit
01 March 2014

Next post: Scrapbook Page Designs for Larger Photos
Previous post: Crafting with Alice:: Envelope Cushion Tutorial