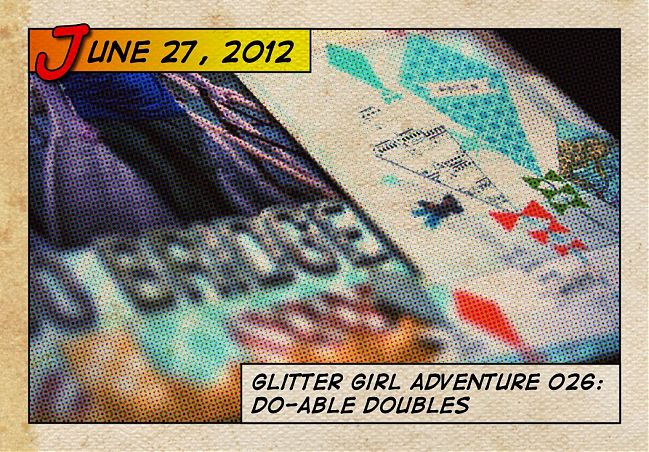 series content ©twopeasinabucket.com.
This week Glitter Girl posts her first double page layout! This week's adventure is about extending single page sketches to double page layouts, something being discussed here on the general scrapbooking message board. Her adventure takes her through the creation of a two page layout with four 4×6 photos, starting with this single page sketch meant for two photos.
You can find a full list of supplies here. If you're looking for additional ways to include more photos over a two page spread, you might find 4×6 Photo Love useful too – especially November.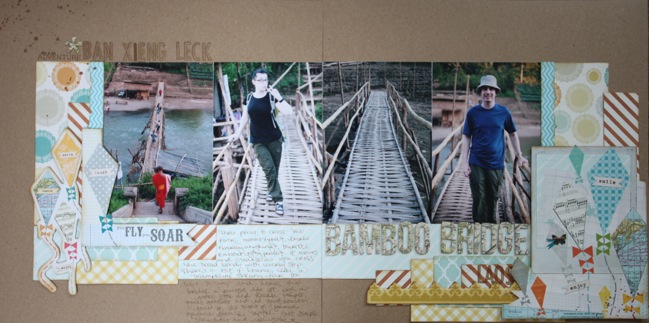 If you're thinking kits are a strange choice of embellishment for photos of a bridge, fair enough (though there are map prints in the kite design, so there is at least one tiny bit of travel theme, I promise). There's an interesting discussion brewing on that topic here, if you have an opinion either way on whether all embellishments should hold relevant symbolism or whether vaguer connections or total randomness are fair enough on your pages.
This week Glitter Girl challenges you to create a double page using any single page sketch, then share the results in the gallery! To get you started with sketches, you might try the two sketch resources at Two Peas – Stretch your Sketch by Jen Gallacher or Super Sketches by Kelly Purkey. You can also find plenty of ideas in sketch of the week or you're welcome to use a sketch from any other source too. – and share it in the Two Peas gallery. You can also leave a link in the comments here if you like.
Onward, covered in glitter, my dear scrapbookers!

The Adventures of Glitter Girl is a weekly series on Two Peas in a Bucket, and goes live every Wednesday. I'll share each adventure here shortly after that. I hope you enjoy her quests for crafting happiness, and if you ever have a scrapbooking dilemma yourself, you can always call her to action on the message board.

Read more about: adventures-of-glitter-girl two-peas-in-a-bucket
28 June 2012

Next post: Scrapbooking Giveaway Day
Previous post: True Scrap 3 :: Now available as individual classes