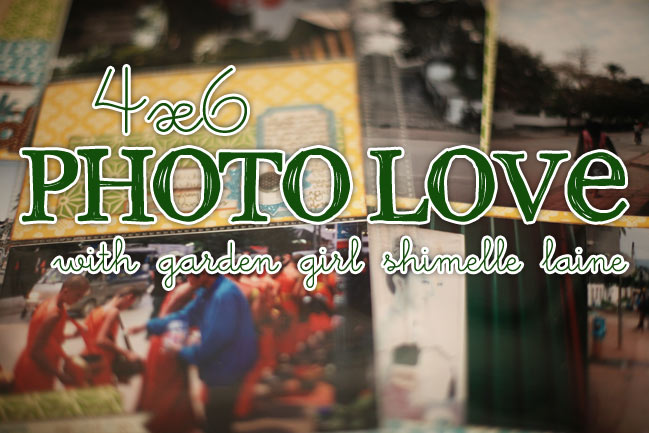 All class content ©twopeasinabucket.com. Click here to view supplies and full details.
It's the thirtieth of the month, so that means it's time for a brand new edition of 4×6 Photo Love! Since it's the eleventh month of the year, we're scrapbooking eleven 4×6 prints on one scrapbook layout – which is quite possibly an eye-crossing endeavour, but it is possible! Grab some photos and join in the fun and games.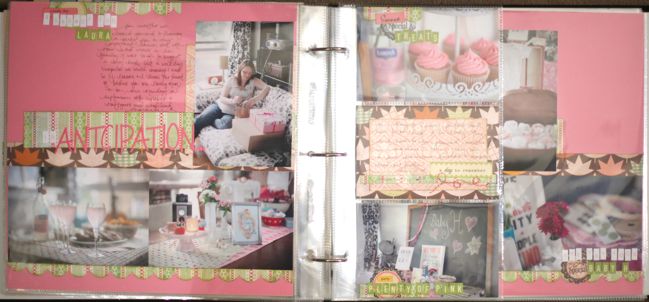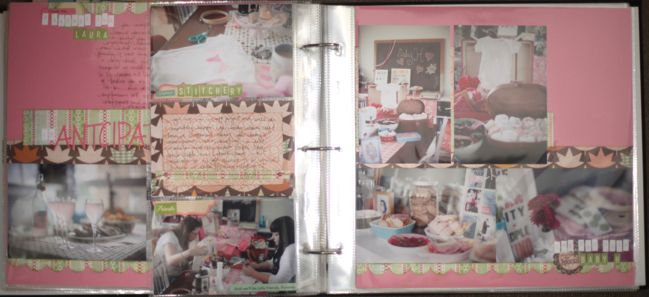 I shall swear up and down that this month's design isn't cheating – it still counts as one layout to me! It starts with a double page spread including seven 4×6 prints (I used three portraits and four landscapes) then an extra 6×12 page in the middle holds four more landscape images and two journaling cards.
With so many photos on the page, you'll find that it comes together rather quickly and without a huge stack of supplies, since more of the page than usual is filled with photographs. This month's pages are definitely easier to see on video than in still pictures, so watch this month's pages come together when you have a minute!
Stop by Two Peas to download a PDF with notes on this project and visit the Education message board for all the Two Peas classes.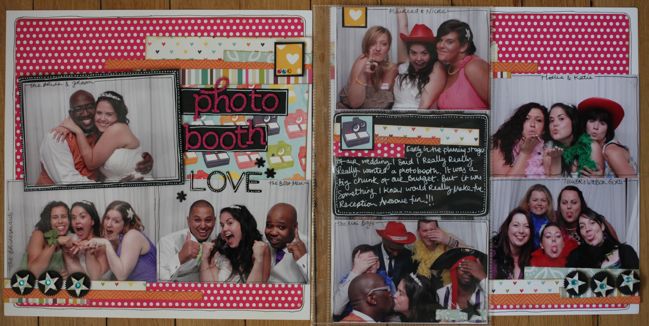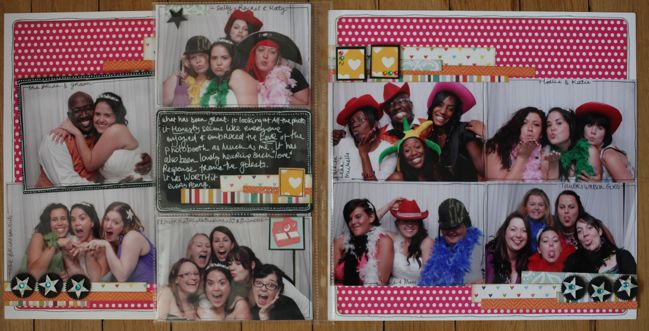 This month I'm joined by special guest (and scrapping friend!) Leanne Edwards with her take on this design principle. She printed a big stack of photos from her wedding reception at 4×6 and they are all landscape, so she adapted the design to work perfectly with the pictures she wanted to scrap. I love the bright colours and the party feel from all those polka dots!
You can find Leanne's project here at Two Peas to add to your bookmarks.
Now it's your turn…
Every month, there are two ways to win a prize for participating in 4×6 Photo Love! The first is at Two Peas: create your page and upload it to the gallery. Be sure to tick the box for this challenge in step four of the upload process. One participant will win a gift certificate to Two Peas to go shopping for whatever you like. But there's a second chance to win right here: on this post, leave a comment with a link to your page (in the gallery at Two Peas or on your blog, whatever you prefer) and one of those links will win Two Peas shopping money too! The deadline for both is the 29th of December.
Congratulations to Karen for winning the draw for last month's ten photo class! (Karen, I need your email address. Can you contact me at shimelle at gmail dot com please?) Will you be next? Just choose eleven 4×6 photos to scrap and follow along with this month's class prompt.
What if I don't have those page protectors?
Using these page protectors is not a requirement of entering the challenge. You can create one yourself or adapt the idea as it suits you. Plus, don't hit me but… these page protectors are out of stock at Two Peas after the big Thanksgiving weekend sale, darn it. But go here and you'll find them as the first thing in the supply list. Click the 'Request and Notify Me' button, and then when they are back in stock, you'll get an email so you can grab them before someone else. (Seriously, I use that button all the time for my standby items that I order again and again. Very useful!)
xlovesx
PS: Feel free to grab the button there on the left for your blog or to share this class with a friend – since it's free, the more the merrier! And you're welcome to use any supplies and any photos, so there's no boundaries to your scrapping with this year-long project.

Read more about: 4x6-photo-love two-peas-in-a-bucket
30 November 2011

Next post: Scrapbooking Sketch of the Week
Previous post: Journal your Christmas :: Flash Album Sale