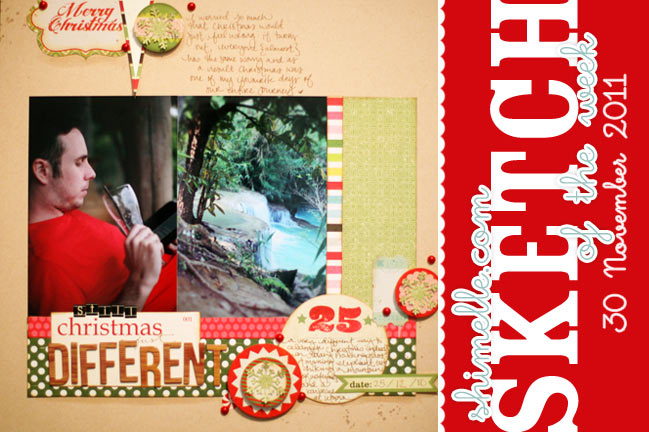 This week, how about a special Christmas edition of the sketch of the week? I revisited my 2010 Christmas journal to find a page to inspire the sketch, then scrapped a different kind of Christmas page with these two photos of what we did on actual Christmas day last year. Don't worry – we had a more traditional Christmas with family and friends before we left home, though I could get used to fresh watermelon smoothies and waterfall hikes at Christmas every year, I think. Or it might just be the cold talking: I finally caved this week and started wearing my gloves. It's only downhill from here in shivering on train platforms and so forth! (But I do have a rule for cold weather: if it's going to be cold, bring on the snow!)
By the way, the video this week includes that revisit to my 2010 journal, so if you wanted to see what a sample Christmas journal looks like in my world, this is the video for you.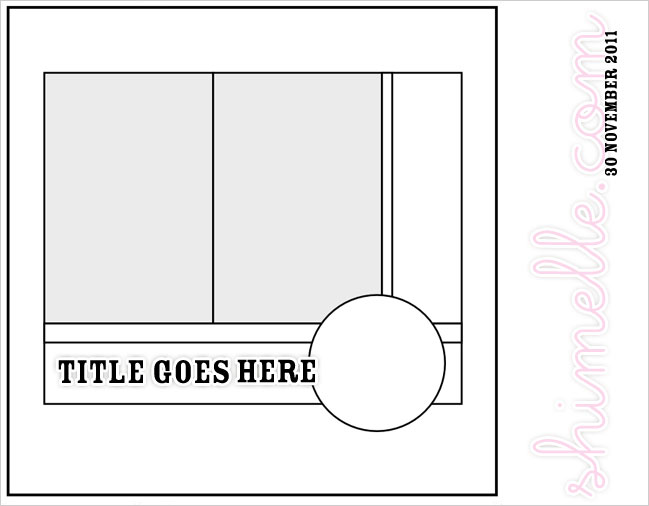 This sketch started very simple and in the end my embellishments became far more prevalent, but I wanted to include the simple sketch here so you can work with either option. Keep it more minimal like the sketch, or add more embellishment in the top left corner and surrounding the circle accent. Whatever suits your crafty this week!

Here's a look through my 2010 Christmas journal, plus a quick look at how the 'different Christmas' layout came to be. It's never too late to join Journal your Christmas but prompts start on the first so go ahead and join in so you can start with everyone! You don't need to have anything prepared, I promise. It's okay to jump in at any time.
As always, the weekly sketch is no-stress and just for fun! If you use it, I'd love to see, so please leave a link if you post your page online. I have to admit I am short on time and need to do a few round-ups of layouts from the past few sketches, so I'll get on that for next time with a sort of omnibus sketch post!
Now… are you up for some sketchy scrapping this week? I'm quite excited to see this sketch adapted to different styles. Give it a go and share it with us!

Read more about: sketch-of-the-week
30 November 2011

Next post: A Christmas Manifesto for 2011
Previous post: 4x6 Photo Love :: November 2011