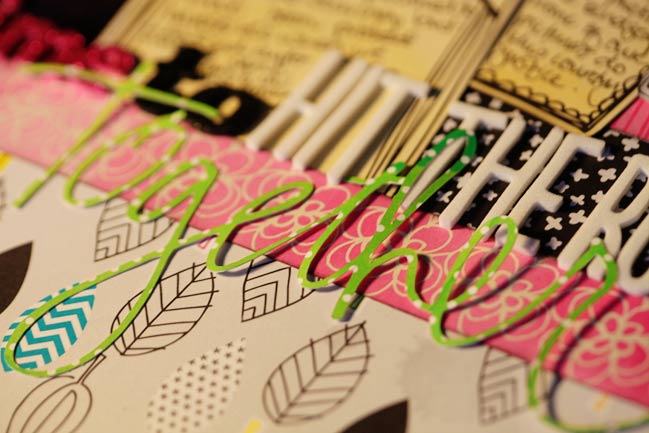 Last spring I shared my workshop for getting the most out of a collection pack with the crowd at True Scrap 3 – which is always great fun and a sort of online scrapbooking convention with so many different classes and ideas to take in. I know the whole shebang is a rather big purchase and not everyone's style, so if you really fancied just a few classes, then now is the time for you! All the True Scrap 3 classes are now available individually.
My workshop, The Perfect Collection, is all about taking one collection pack and using it until it's all gone – and I walk you through my process for making a full album from a collection pack. The video is just shy of forty minutes, plus there is a PDF with cutting guide diagrams and pictures of how those pieces of paper became the finished scrapbook pages. Other workshops available cover all sorts of topics, from embellishment and page design to writing, photography, creativity, stamping, symbolism, Project Life, digital and hybrid crafting and mixed media art techniques. You can sign up for any number of classes you like.
There are two ways to sign up for my True Scrap 3 class, The Perfect Collection. You can purchase it here at the True Scrap site. This includes quick access to the class and allows you to pick out additional classes from other teachers at the event. Or you can purchase it directly from me using the button below. This method only works for my class, gives you access within twenty-four hours from purchase and is handy if you want to add this class to your account at shimelle.com with other classes you have taken here. The price is the same at both sites, so you can simply pick the option that is best for you. From now until the 7th of July, individual classes from True Scrap 3 are $9.99. After that they will remain available, but the price will go up to $12.95. (That's in US dollars. To give you an estimate in British pounds, that's £6.40 today, increasing to £8.30 on the 8th of July. The payment will automatically exchange the currency for you at the rate of exchange for the time of your purchase, so it may change slightly of course.)

(Clicking this button will only let you purchase this class and it will be added to your shimelle.com account within twenty-four hours. If you would like quicker access or to shop for multiple classes, please use this link to shop at True Scrap.)

In other news, American Crafts just published a tutorial of my minibook using 4×6 photos and the new Shoreline collection. Find it here.
xlovesx

Read more about: american-crafts
27 June 2012

Next post: Glitter Girl and scrapbooking two page layouts from a single page sketch
Previous post: Hello London Bloggers