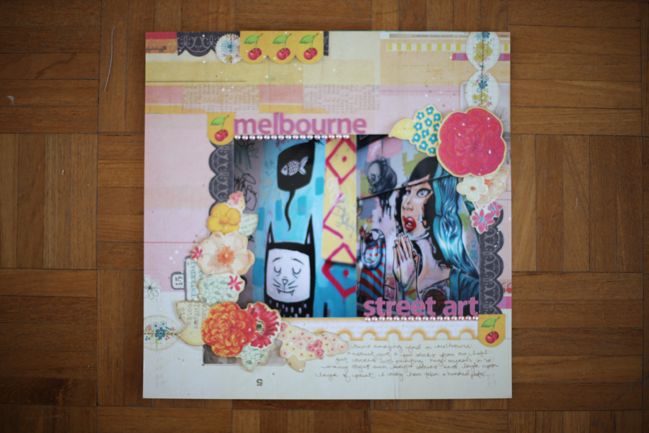 A little scrapbook page, just for fun. I have approximately two billion pictures of graffiti so um… I'll try to space them out. But I also have prize winners to announce! We don't need to space that out! We can do that right now!
So… over the NSD Scrapbooking Day weekend, there was a comment-to-enter giveaway and five challenges you could enter here… plus three prizes for random participants on Scrapbooking Day itself. Which means I have nine winners to announce. Drumroll please!
Getting started giveaway
Congratulations to winner Ruth.
Challenge 1: Use patterned paper for your background
Congratulations to winner Olivia.
Challenge 2: Create a triangle of embellishments
Congratulations to winner Mel.
Challenge 3: Add a border between two photos
Congratulations to winner Maja.
Challenge 4: Scrap a photo that needs an explanation
Congratulations to winner Louise.
Challenge 5: Try a new photo edit
Congratulations to winner Alisa Beth.
Plus three winners from all the comments and links left on Scrapbooking Day itself, just for fun. Congrats to Patience, Rinda and Carolyn – thanks for getting the party started!
If you are a winner, please email me (shimelle at gmail dot com) and let me know if you would prefer a scrapbooking prize pack sent to you in the post (in which case I need your address please) or a class pass for you and a friend that you can use on any shimelle.com class – past or future! It doesn't expire and there are new classes on the horizon, so you can keep it until you see something you like, if you prefer. Or you could invite two friends to join you for a class you already take, like Journal your Christmas or Learn Something New, if that's best for you.
Thank you to everyone who participated by creating a page, blogging, commenting, tweeting, pinning and so forth. I was really blown away with how many of you joined in with my little party day… so perhaps I can find an excuse to throw an even bigger party soon. You game?
xlovesx

Read more about: giveaways
16 May 2011

Next post: Travel Questions & Answers
Previous post: Scrapbooking giveaway winner