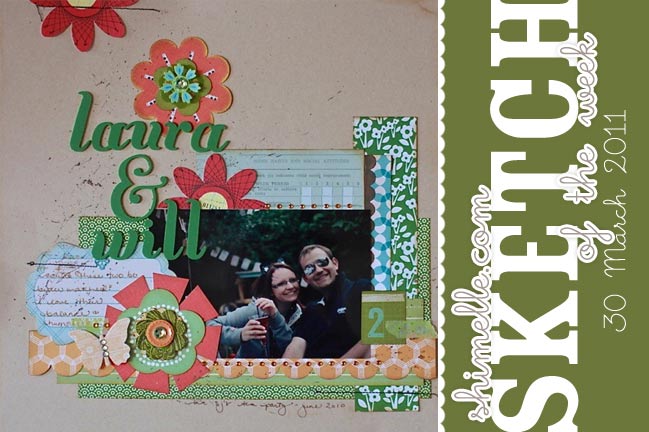 Layout ©twopeasinabucket.com. Click here for supply list.
It's Wednesday, so time for a page and a sketch! This sketch is not completely removed from the design concept featured in the January edition of 4×6 Photo Love – it's one 4×6 photo and a loose line of embellishments. But from there things are switched around, with layers of patterned paper and a different placement on the page. (By the way, that's Laura and Will, who recently announced something lovely!)

Here's a very quick look at how the page came together.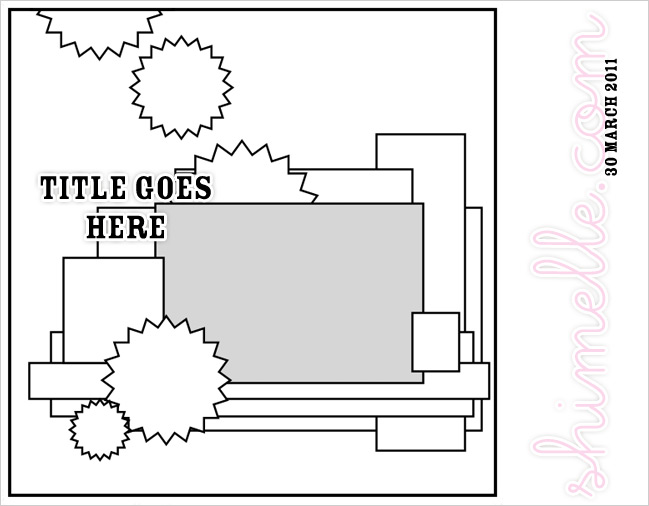 Here's how it breaks down, with one landscape photo and lots of blocks of patterned paper. You can simplify easily by replacing all those layers with just two or three. And you can swap out flowers for any other motif – snowflakes, butterflies, footballs, cupcakes, doilies… do you like how I threw in one that I don't tend to use on my pages? I'm sure you can think of others as you probably don't suffer from repetitive embellishment injury like I do! (Or maybe we all do!)
As always, the weekly sketch is a no-stress challenge to create something if you fancy! If you do, I'd love to see what you make – leave a link in the comments!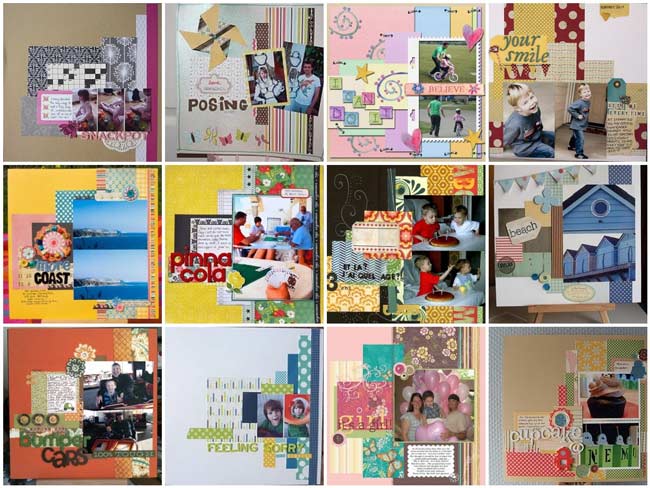 How about a dozen pages from last week's sketch? Click through to see any of them in more detail!
Top Row, L to R: one, two, three, four.
Middle Row, L to R: five, six, seven, eight.
Bottom Row, L to R: nine, ten, eleven, and twelve.
Thank you to everyone who has joined in or is saving the sketches for future crafting time. I love seeing what you've made and I'm so honoured that you like them!
And one little note from Monday – several people said a Q&A sounded cool, but there are only a few questions so far! If there's anything you want to know about our crazy round-the-world adventure, let me know so I can include it. Thanks!
Have a lovely Wednesday!
xlovesx

Read more about: sketch-of-the-week
30 March 2011

Next post: Five ideas with the Martha Stewart Score Board
Previous post: Notes from home