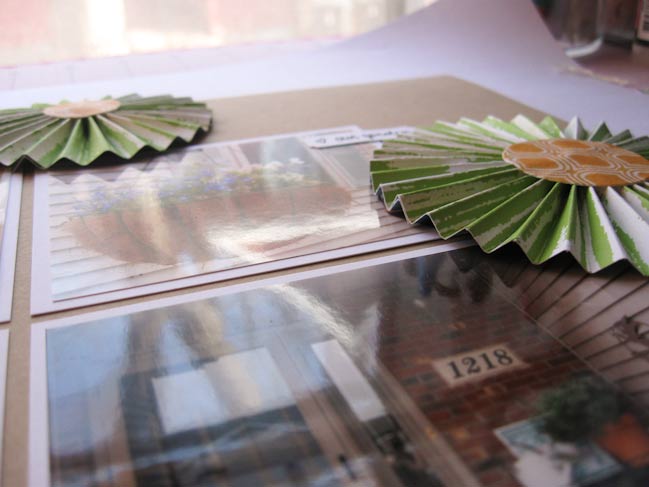 Please welcome a new guest blogger today – Britta! She's a big fan of the scoring board and I have to admit this is something I wanted to know more about as I don't have one! I hope you enjoy her five ideas this week!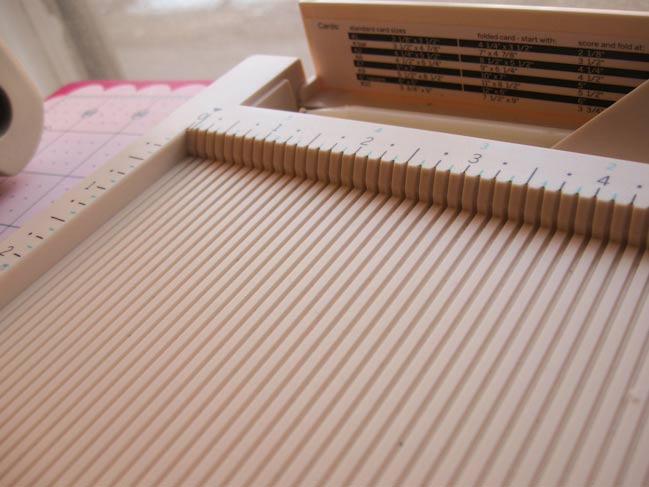 One of my favorite tools in my craft space is my Scoring Board. It's so easy to use and can be used to produce many looks. From layouts to cards to boxes, this tool is something that I'm constantly reaching for. Today I have five ideas to share with you so you can get the most from this versatile crafting tool.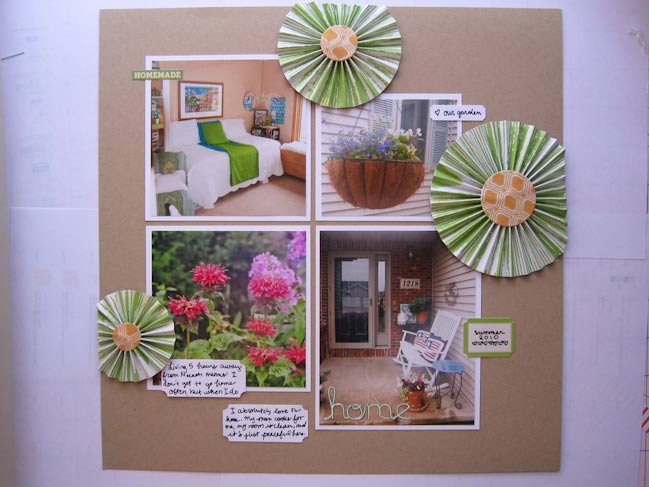 Scoring to Create Rosettes
Rosettes are a super hot trend right now in the crafting industry, and with a couple simple steps, you can create your own out of any paper.
Here, I just cut strips in different widths from patterned paper, scored every 1/2 inch, flipped the paper over, and scored in between the lines I made on the other side. Just fold the strips accordion-style (places where you scored become a mountain fold while places where you scored on the other side become a valley fold). Glue the ends together so that you have a contiguous zig-zag circle and then gather and press one of the edges into a rosette. Use strong dry glue and liquid adhesive (I used Glossy Accents by Ranger) to keep everything in place. Set an object on top of the rosette to help everything stay in place while drying. Embellish as desired.

Scoring to Add Emphasis
Measure and draw out straight lines in a square on the inside of a card. Score the lines from the inside of the card, making sure to stop where the lines intersect. Cut a piece of paper down to fit inside the scored square that is slightly smaller. The scoring around the outside of the focal piece provides texture and a level of sophistication.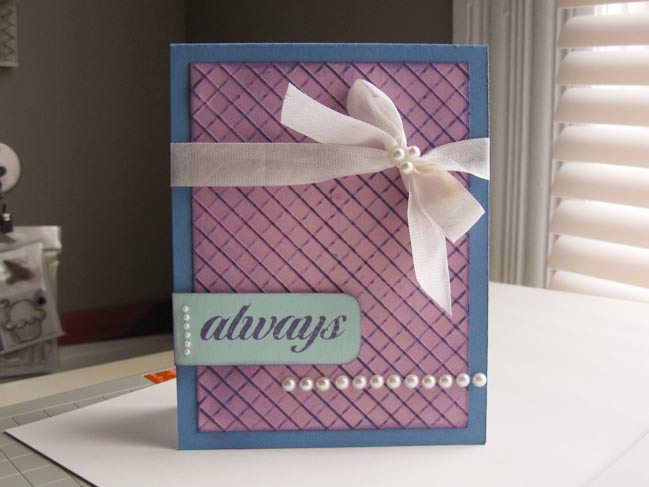 Scoring to Create Texture
Using the diagonal envelope guide included with the Martha Stewart Score Board, Line up a card on the diagonal and score every 1/4 inch. Turn the card 90 degrees to the left or right, and then score going the opposite direction to create a diagonal grid. Use an ink pad directly to the paper as well as with a blending tool to emphasize the texture with a coordinating colour.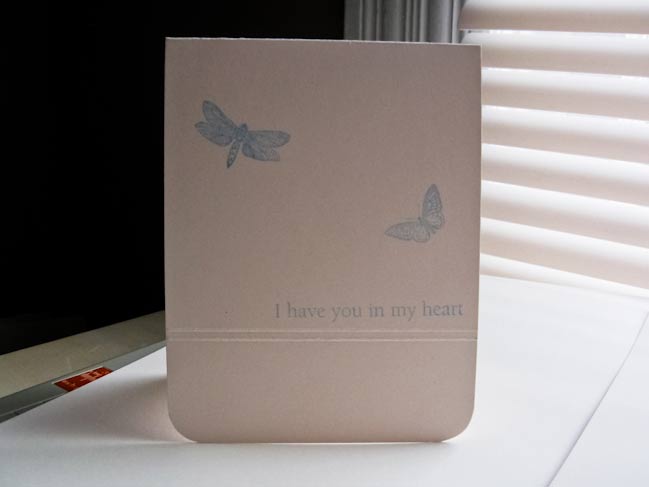 Scoring to Keep it Clean and Simple
Simple cards are easy, fun and elegant. Scoring on the front of a simple card like this adds a lot of interest and texture without overpowering the message.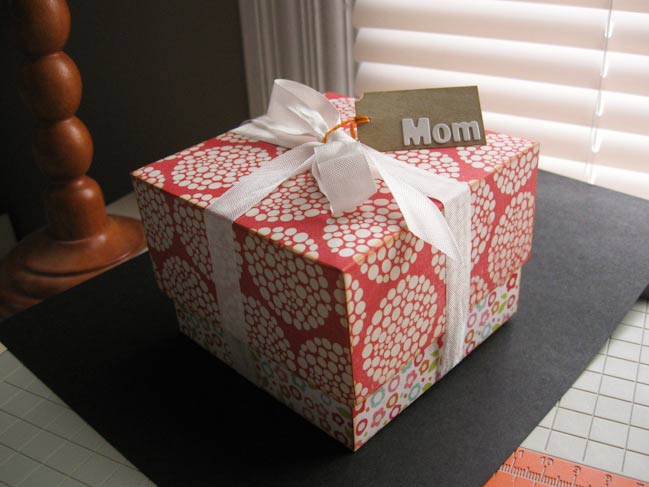 Scoring to Create Clean and Accurate Folds on 3D Projects
Create quick and easy gift boxes using just two sheets of double-sided patterned paper and a few embellishments. The score board helps to keep all of your sides the same measurement and create nice, clean folds that look like you spent a lot of money on the box and the gift inside.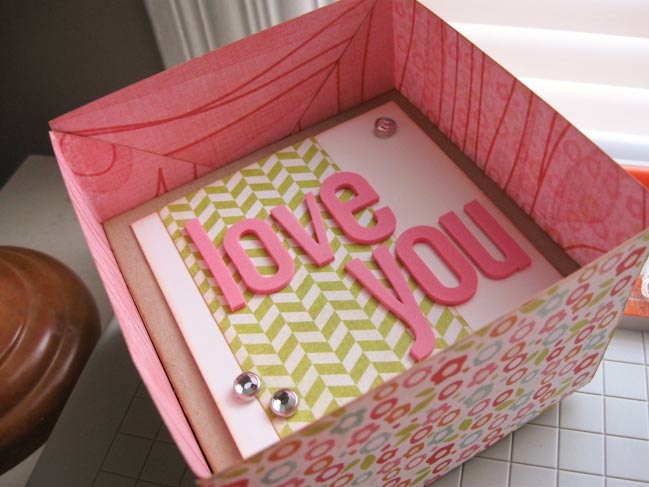 To make the bottom, I started out with a sheet of paper cut down to 10 inches by 10 inches and scored 3 inches in from each side. Cut down one of the folds from the outside to each corner, and use the remaining extra flap for each side to glue everything together. I followed the same process for the top as well, just using an 8 ¼ inch by 8 ¼ inch piece of paper and scoring 2 inches in from the side. The result is a fantastic box that your recipient will love almost as much as the gift you put inside.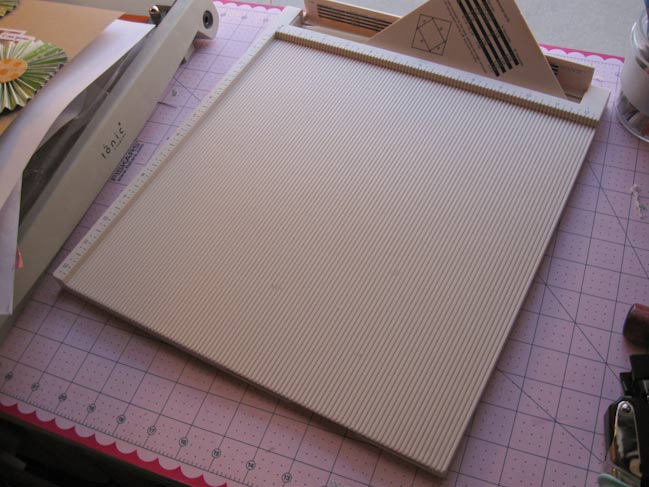 Do you have a scoring board? We'd love to hear your favourite techniques!

---
| | |
| --- | --- |
| Britta Swiderski is a 21-year-old Graphic Design major at the University of Minnesota and spends her free time inking and making projects. She's tried pretty much every hobby out there but always seems to gravitate towards paper and all of the amazing things that are possible with it. To see more of her stamping, scrapping, and cardmaking projects, visit her blog and check out the tutorial videos she posts at least once a week on her YouTube channel. | |

Read more about:
01 April 2011

Next post: Scrapbookers: Enter the Scrap Factor Contest!
Previous post: Scrapbooking Sketch of the week