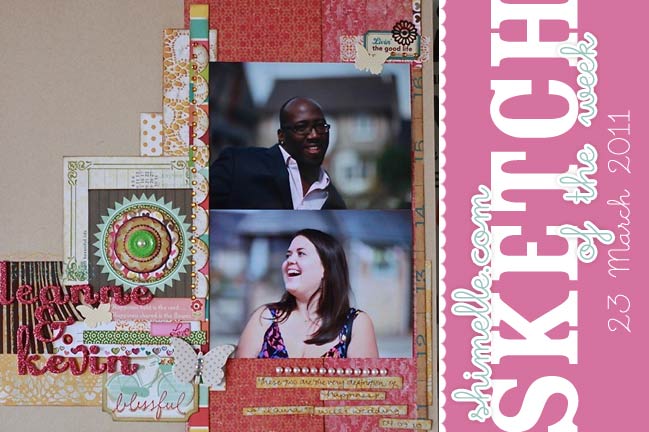 layout ©twopeasinabucket.com. Click here for supplies or to add to your Two Peas bookmarks.
Say hello to lovely friends Leanne and Kevin on this week's page, one from the garden at Two Peas. They are getting married this summer and I am so excited to catch up with them when I get home (so soon now!) to hear all about their wedding plans. And these photos? Taken at another wedding, so there we go!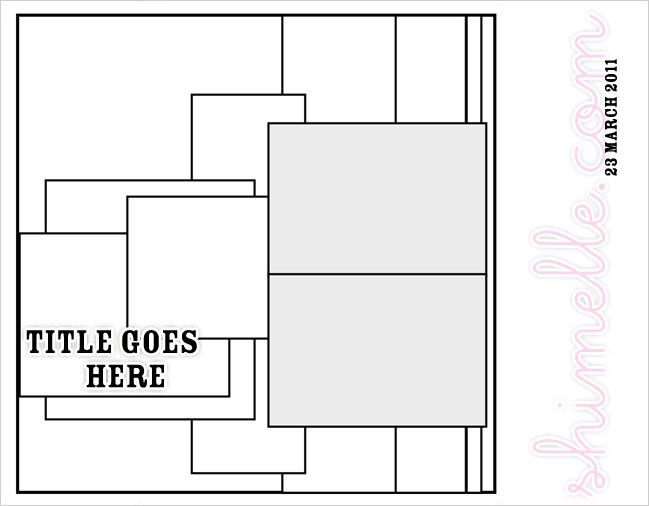 I suppose this sketch could look a tiny bit crazy, but I promise there is method to my madness. Or at least that's what I tell myself. Look at the sketch from right to left (probably opposite to how your eyes naturally flow) and see how the boxes of patterned paper start quite big on the right (12" strips of paper) and then get smaller and boxier as they head toward the left edge of the page. Great for using lots of patterns or colours, and you can just skim through your scraps to find some strips for the longer pieces of paper and smaller boxes for the area to the left of the photos. (Again, it's two four by six pictures! How I swoon.) Once in the habit of using up all those bits and pieces of paper, I just carried on with the embellishment, so I grabbed lots of sticker sheets that were three-quarters used and just had a few bits left and threw quite a few of them at this page. You can do the same or you can keep it much cleaner if you prefer!
As always, the sketch is for fun and no stress! If you create something, please link us up in the comments as I'd love to see and share it here too.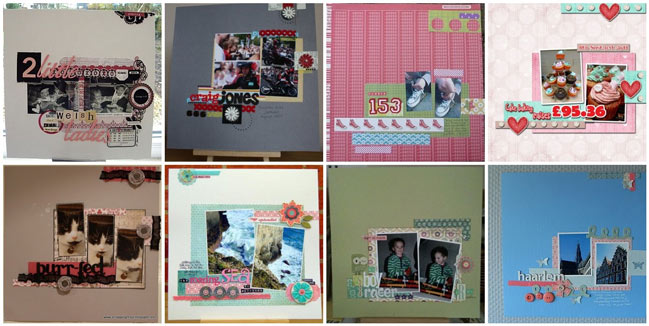 And here are eight of my favourite pages submitted for the last sketch. Thanks to everyone who shared a page! Click any of these links to see these in more detail:
Top row, L to R: one, two, three, four.
Bottom row, L to R: five, six, seven and eight.
xlovesx

Read more about: sketch-of-the-week
23 March 2011

Next post: Notes from home
Previous post: Scrapbooking giveaway winner