layout ©twopeasinabucket.com. Click here for supply list and other details.
This week's sketch is a little more open to interpretation, since it's easy to change the number of photos, size of the pictures or the placement on the page without having to make too many changes to the original design. (Also, while we're looking at this layout, don't you think the cardstock companies need to embrace grey even more? I love grey cardstock as a background! Grey dotted swiss would seriously make my year. The world needs a steady stream of beautiful grey papers, I do believe.)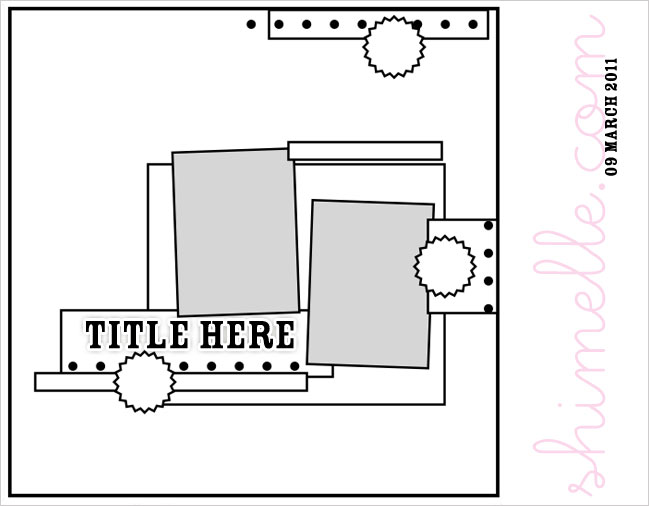 While several of the sketches I've shared are great for using lots of patterned paper, this sketch is a stash-buster of another kind: it's great for using lots of bits and pieces of papers and stickers. Perfect for the sort of stuff that ends up sitting on your table once you've finished one layout, so you can keep this sketch handy and just create a second page instead of worrying about where to put even more small pieces of paper and unstuck border stickers!
I'm loving a bit of acrylic paint splashed over the embellishment for a finishing touch. I used black and yellow paints on this page, and just use a dry paint brush to splatter it over different elements of the page. Easy! Now it's your turn – I wonder what you'll scrap with this sketch! If you create something, I hope you'll leave us a comment below so we can see.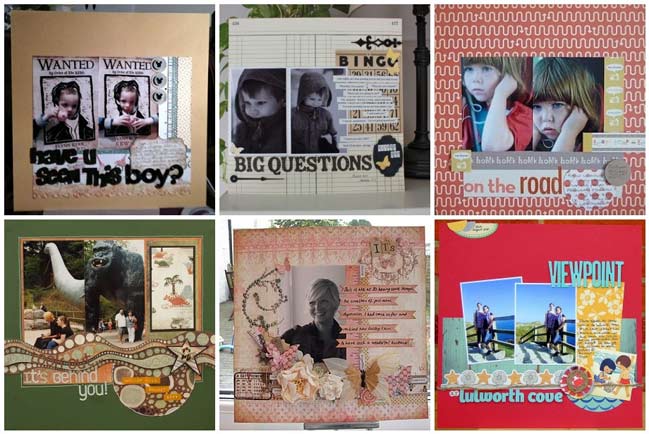 And on that note, here are some favourites from our last sketch! (Actually, sketch of the week skipped a week since last week's Jenni Bowlin challenge had a sketch of its own… and I think one sketch a week is quite enough for here!) Click these links to see these pages in more detail:
Top row, L to R: one, two, three.
Bottom row, L to R: four, five and six.
I hope you like this sketch. Happy scrapping!
xlovesx

Read more about: sketch-of-the-week
09 March 2011

Next post: Scrapbooking giveaway day
Previous post: 4x6 Photo Love Scrapbooking Class :: Highlights from Lesson One