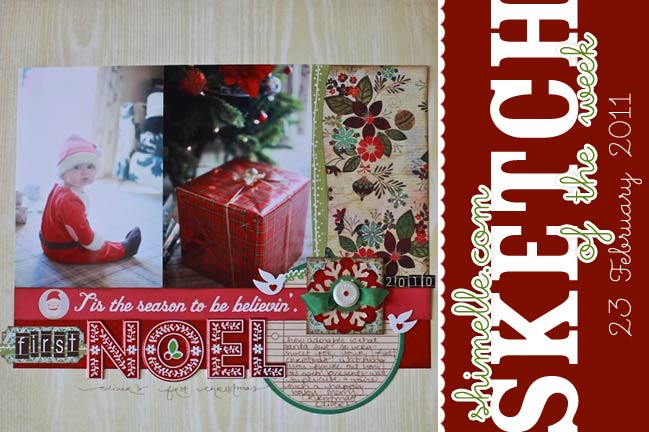 ~Layout ©twopeasinabucket.com. Click here for supply list.
This week's layout is a little Christmassy! It's a page that recently appeared in the Garden at Two Peas, and that woodgrain background paper by Studio Calico is one of my very favourite patterns, so perfect for just enough pattern to create interest but not take the attention away from all the important elements.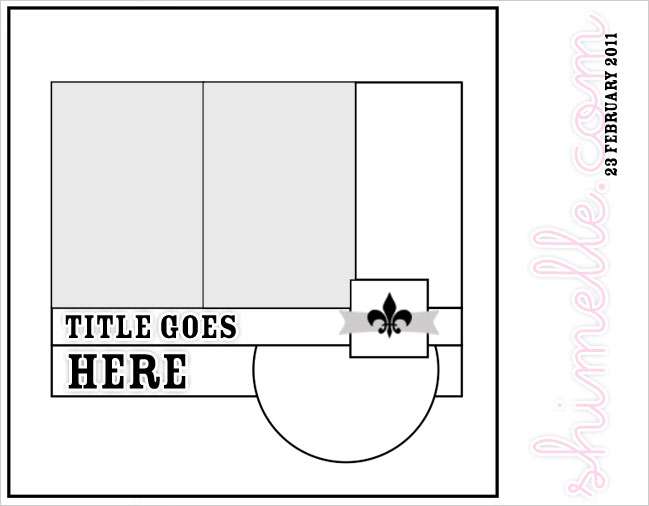 I used two 4×6 photos for this page, but you can adapt it to just one by adding an additional block of patterned paper or you can include more photos by replacing the paper at the right with an additional photo. The journaling circle could also be swapped for a photo if you like, though I am rather partial to those JBS die cut circles for writing.
As always, feel free to make the sketch work for you by turning it on its side, shrinking it to smaller photos or anything else that suits your style. And don't feel like you have to scrap Christmas photos either – use anything you like.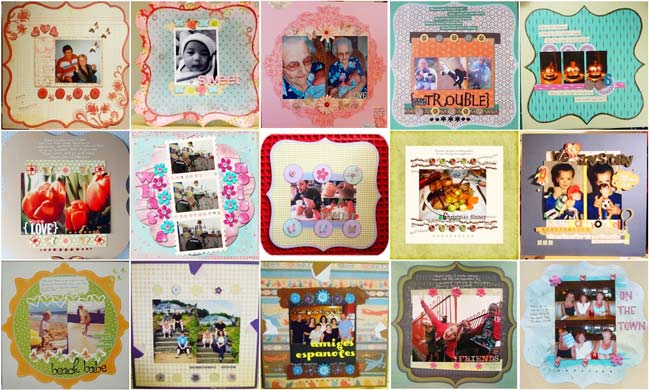 Fancy a go at last week's sketch? Here are fifteen different pages all from the same start!
Top row, L to R: one, two, three, four, five.
Middle row, L to R: six, seven, eight, nine, ten.
Bottom row, L to R: eleven, twelve, thirteen, fourteen, fifteen.
If you create a page with this week's sketch, upload it and share it with us! You can share via your blog, Flickr, Two Peas, UKScrappers or any other page gallery you like. Just leave a link in the comments and your page could be here in next week's post.
xlovesx

Read more about:
23 February 2011

Next post: 4x6 Photo Love Scrapbooking Class :: February 2011
Previous post: Scrapbooking giveaway winner