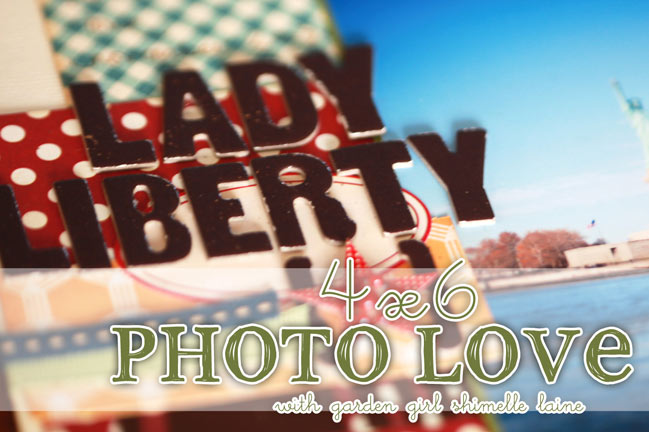 ©twopeasinabucket.com. Click here for supplies and class details.
With February already drawing to a close, it's time for the second edition of my free scrapbooking class for 2011, 4×6 Photo Love! As it's the second month of the year, we're creating layouts with two 4×6 photos, a number I just love.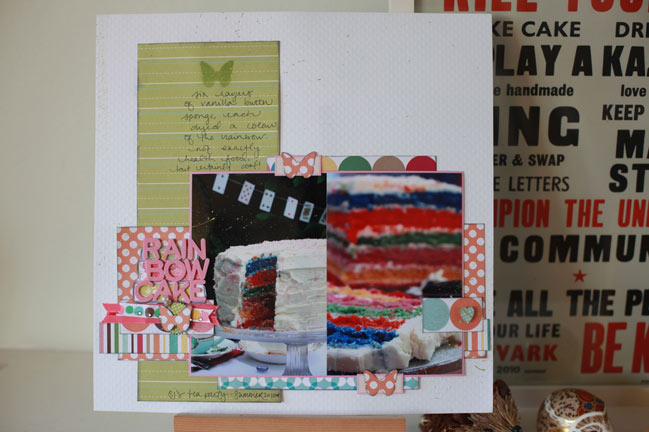 Two photos are my default option for pages, because two images can show two different elements of any one moment or event. If you're a fellow lover of crazy shallow depth of field, you can create a diptych of two images that show the same scene, but with different points in focus, so one focuses on the foreground and the other shows the background. Or you can show one detail shot and one wider shot of an entire scene. Or two different people at the same party, two angles of the same monument, one shot from the beginning and one from the end of the day, one in-progress picture and one of the finished item… so many ways to pair two photos to tell a story!
In this month's video, we look at one design principle that works well with two 4×6 pictures, and I walk you through the creation of the Lady Liberty layout. I hope you enjoy!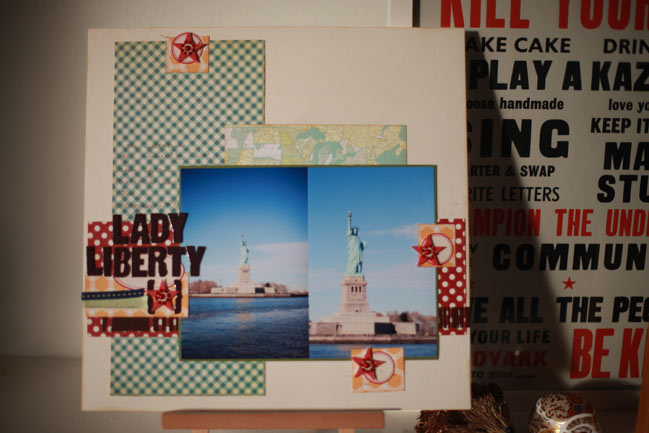 If you prefer a written version to the video, you can download the class materials as a PDF and view it on your screen or print it out to have right there on your table as you scrapbook. You can find the PDF download link here. There's also a thread on the message board for chatting about this month's class.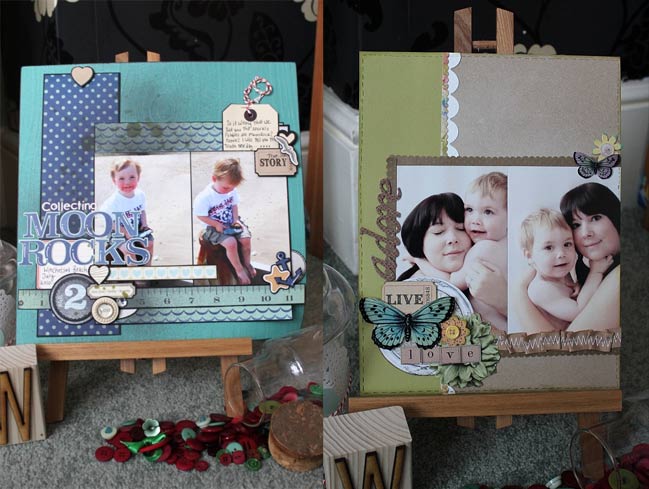 Throughout the year, some special guests will be showing their own take on the design principles outlined in 4×6 Photo Love. This month, dear friend SJ had an early peek at the class and created two layouts in her beautiful style. I love them! I still have another month before I am back to my scrapping supplies but these pages just make me want to get scrapbooking right this second. Sigh! Please visit SJ's blog to say hello and read a bit more about her creative process.
Now, each month you have two chances to win a prize for participating in class. (And you don't need to have participated in the first class to take part in this month's class!) Your first chance is to upload your page to the gallery at Two Peas and be sure to click the box for 4×6 Photo Love in step 4 of the uploading process. Your second chance to win is to then post a link in the comments here on this blog post to your layout (in the gallery or on your blog, etc). At the end of the month, a winner is randomly chosen for each way to enter and wins a gift certificate to Two Peas, so you can go shopping for whatever you like!
And one little request from me: since this class is free, care to invite a scrappy or crafting friend to join in? You don't need any certain supplies to participate and can use whatever you have on hand and most of us have at least two 4×6 prints sitting around somewhere. Use the share button at the bottom right of this post or just email a friend with a link. I'd love for anyone to join us for this year of fun! Thanks!
Happy scrapping!
xlovesx
PS: I know some of you love to collect badges for your blog sidebars, so you can add one for 4×6 Photo Love if you like! Copy and paste this html into your blog sidebar to display it:
<a href="http://www.shimelle.com/category/4x6-photo-love/" title="online scrapbooking class :: 4x6 photo love"><img src="http://www.shimelle.com/images/1868.jpg" alt="4x6 photo love" /></a>

Read more about: 4x6-photo-love two-peas-in-a-bucket
01 March 2011

Next post: Scrapbooking Events - Mark your calendars!
Previous post: Scrapbooking sketch of the week