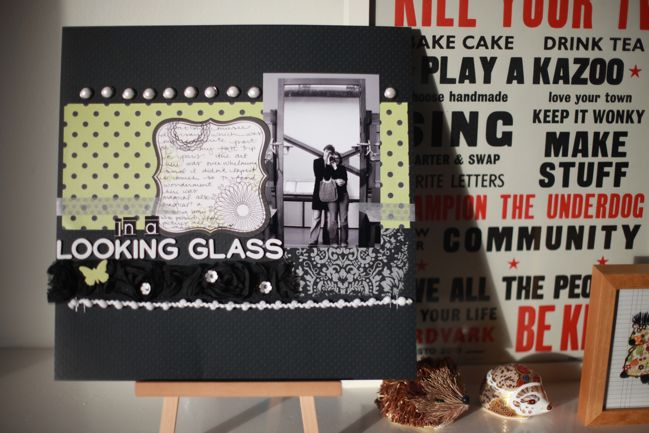 All this weekend, Jenni Bowlin Studio is hosting an online crop party, complete with challenges and prizes and chats! It's my turn to host the challenge, and you have three options, so I hope you'll find something that fits your style!
My challenge all starts with this layout, In a Looking Glass. Here's a look at how it came together from the scrapdesk cam!

Now it's your turn to create a project – it can be a scrapbook page, card, tag, clothing project or anything else that comes to mind. You can even go bake cupcakes with option one, I think! Pick your poison from three challenges.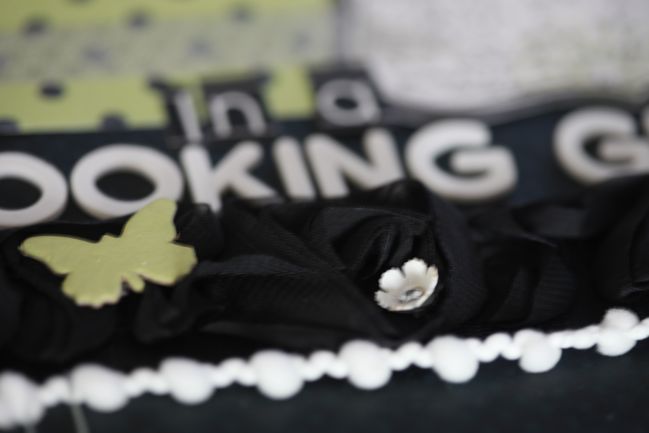 Option 1: Use this colour scheme as your inspiration.
Create your project in black, white and green for something that's a little unexpected but very simple and elegant!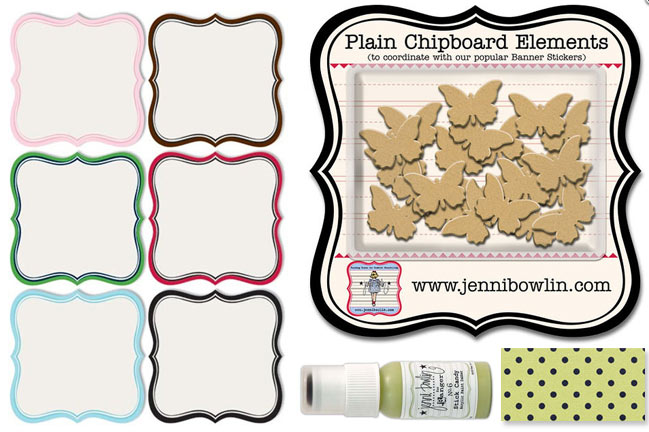 Option 2: Use these products as your inspiration.
Create a project using butterflies, die-cut label papers, polka dot papers or paint dabbers! They don't need to be the exact same products that I used – feel free to choose what you have in your own stash, using these as an inspiration point.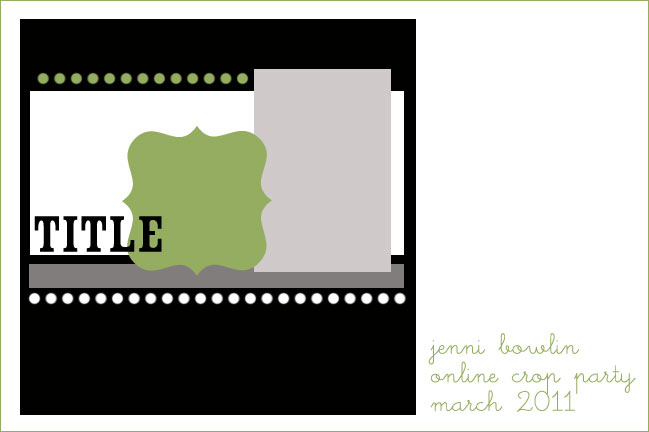 Option 3: Use this sketch as your inspiration.
Create any project you like, using this sketch as a guide for placing your elements. Feel free to rotate, reverse, add more photos or whatever else makes it work for you.
How to enter: Head over to the Jenni Bowlin Studio message board where you'll find a special section just for this weekend's online crop. Each challenge has a thread there and that's where you enter. You can either link to your project or display it right there on the board, whatever you prefer. While you're there, be sure to check out the various challenges throughout the weekend, as sometimes you can win a prize just for joining in a chat, plus there are lots of crafty challenges you can enter all week.
What you can win: There are two types of prizes up for grabs. Each challenge (like this one) has a JBS gift certificate as a prize and that will go to a randomly chosen participant. There are also some special prizes on offer that are not randomly chosen: throughout the crop, Jenni and her team will be looking for some stand-out crafting. One runner-up will win a JBS giftbox worth $75 and one grand prize winner will win $150 of JBS goodies – plus both the runner-up and the grand prize winner get to guest on the design team and have their projects highlighted.
Remember, the deadline is Sunday, the 13th of March. Jenni will announce all the winners on Monday the 14th.
Now, this blog post isn't the place to enter, but if you would like to leave a link to your projects here, you're most welcome to share them with everyone!
Have a great weekend and happy scrapping!
xlovesx

Read more about: jenni-bowlin-studio
04 March 2011

Next post: 4x6 Photo Love Scrapbooking Class :: Highlights from Lesson One
Previous post: Five ideas with watercolours