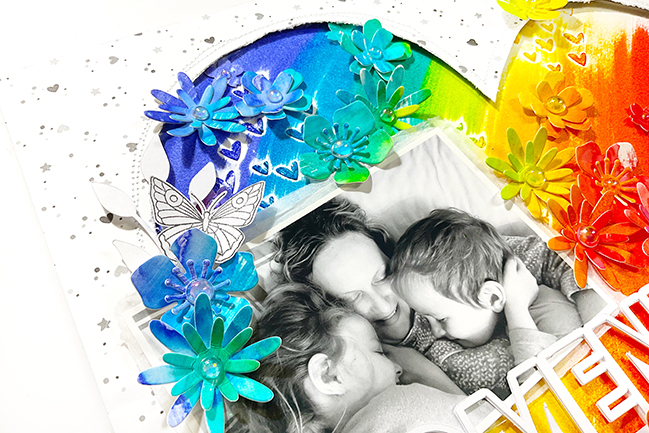 Hands up if those hands are inky today! Guest artist Monique has a beautiful rainbow to share with you today – all made with Distress Inks in her favourite colours. And yep, I've added affiliate links to those Distress Inks in this post if you want to go shopping. And yep, it kinda feels silly that I have to disclose that at the beginning of every blog post, but I don't like getting in trouble so I'm just here to follow those rules and scrapbook with rainbow colours. I'm sure you understand. And now over to Monique! -Shimelle
Rainbow colours bring me so much joy so I find myself naturally drawn to using all the colours when I create. As far as favourites go, a close second is making something beautiful, from scratch. It's such a little thing but never fails to fill my creative cup to the brim. This layout captures both of these elements, along with a sweet memory, so it goes without saying, that I loved every minute of crafting this page.
!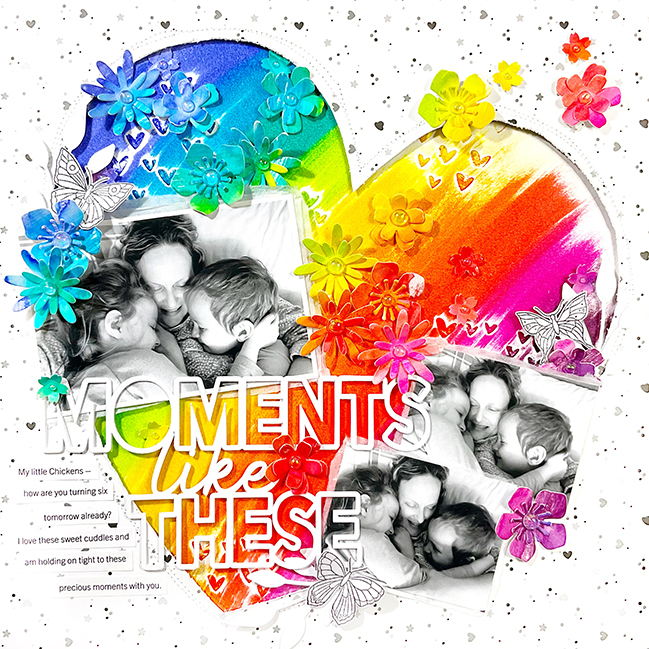 My layout comprises of two main layers, a sheet of patterned paper with a subtle black, grey and white print (with a heart shape cut out of the centre) and a white mixed media cardstock background, which I add a rainbow of colour to.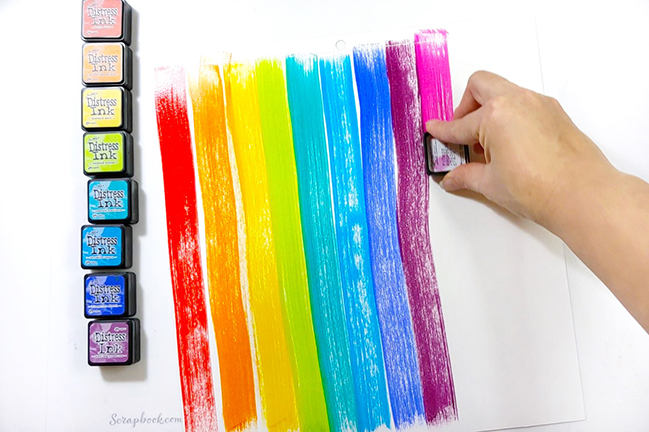 Beginning with the background, I started off by adding some stencilled little hearts using opaque white texture paste. Once dry, I chose a variety of mini Distress Ink Pads in my favourite rainbow colours and 'swooshed' each ink pad diagonally across the cardstock, working in rainbow sequence. The fun part about applying the ink pad directly to the background, is the lovely visual texture and sense of movement you can achieve by seeing the swoosh marks. This rainbow 'swoosh' technique is a really quick way of adding fun pops of colour to a page.
For some handmade floral embellishments, I repeated this same rainbow process on a new sheet of mixed media cardstock. I swooshed each colour in a vertical stripe down my page until I'd worked through all the colours. I then took my wet paintbrush and added dabs of water where each colour met, creating a lovely watercolour effect. I was careful not to completely paint over all the swoosh marks as I wanted to keep some of that visual texture too. This technique works well with both Distress Ink Pads and Distress Oxides as they react beautifully to water.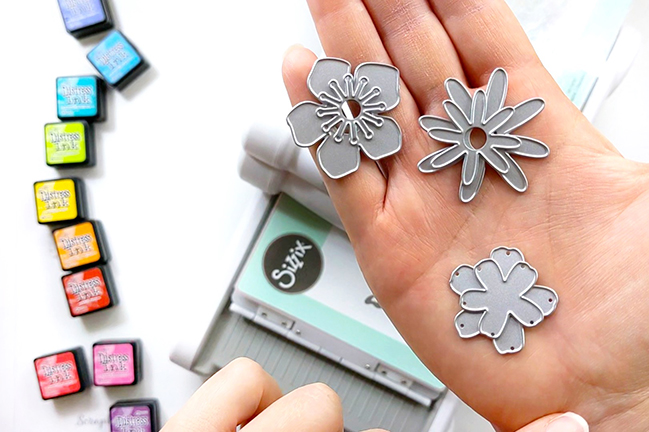 Once dry, I used a variety of Sizzix floral dies to cut flowers of various shapes and sizes. I then layered and glued different sized flowers, in similar colours together to create 3D floral ephemera. With my patterned paper heart frame stuck down in place, I added in my title and 3 photos and placed my florals within the heart, working tone on tone with the background.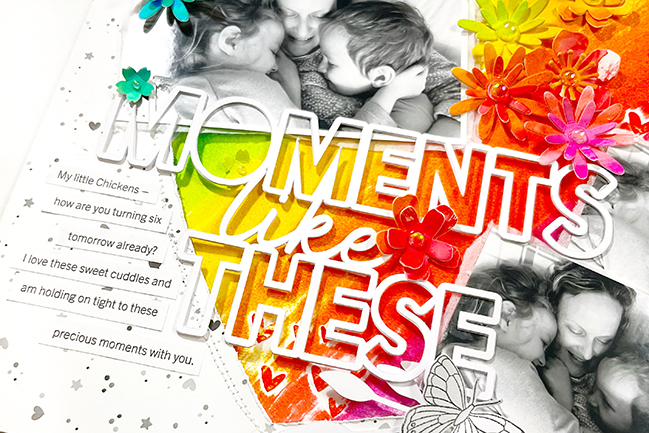 Last but not least, a short and sweet story for my journaling to accompany precious pics with my twins, the night before they turned six. These cuddles felt extra precious because they are growing up so very fast and I just want to treasure these little moments forever. I have such a clear memory from my own childhood on the eve of my 6th birthday so I really wanted to document the same moment with own babies.
While I've used hearts and flowers for my layout, any shapes would be just as effective, and punches or hand cut shapes could easily be used instead of metal dies. Equally so, you could pick a more muted or alternative rainbow for your colour palette. If you have larger ink pads or prefer distress oxides, you could still use this technique but have slightly broader swooshes. For me, the main thing is to have fun with the process and see where it takes you. I'm never too certain how a layout will turn out as I tend to venture off, letting the process of creating lead the way. But, whatever route your creative journey takes you, I hope something I've shared today inspires you to create, document a memory or just have some fun playing with colour.
| | | |
| --- | --- | --- |
| Originally from South Africa, Monique Lowe now lives in Scotland with her husband, twins, and two cocker spaniels. She is a part time school teacher and full time passionate crafter and chaos creator. She draws on sunshine and bright colours when creating and particularly loves playing with mixed media. . Find more from Monique on Instagram,Facebook and Youtube. | | |

Read more about: tutorials
28 April 2022

Next post: Bold Patterns and Multiple Photos with Becky Powell Reames
Previous post: Hidden Journaling with Natsuko Suzuki