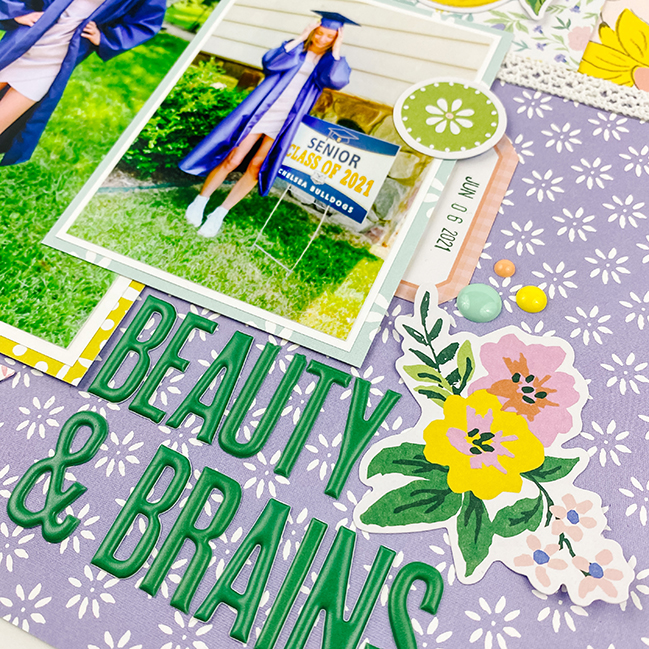 Hello friends! Only a few days until International Scrapbook Day, so I hope you are having a fun and crafty week already. Today please welcome guest artist Becky Powell Reames, who loves Instagram and memory keeping! A reminder that affiliate links are used for products where possible. Thanks! -Shimelle
I love finding inspiration from the layouts that others post on Instagram. I follow over 800 different creators on IG because each of them has grabbed my attention at one time or another in some kind of way. Maybe I loved a photo they took, or a color scheme they used for a layout. Maybe their journaling was especially poignant or I loved a title they built for a page. Usually, it is because I like their scrapbooking style; it spoke to me, it made me want to scraplift their work or challenge myself in a new way.
One of the accounts I follow is Shimelle. I recently was looking through her feed and found a couple of her layouts that really jumped out at me. In the past, I have focused on double page spreads, but for the past couple of years I have been really into single page spreads, usually with only one photo. Shimelle is so good at adding more than one photo to a single page spread and making it look amazing. The layouts of hers that inspired me most recently were one where she used multiple photos on a single page spread and one where she used a bold pattern paper at the top of her layout. I LOVE a bold pattern print paper but sometimes struggle with how to combine it on my layouts. I fear overpowering my photo/s.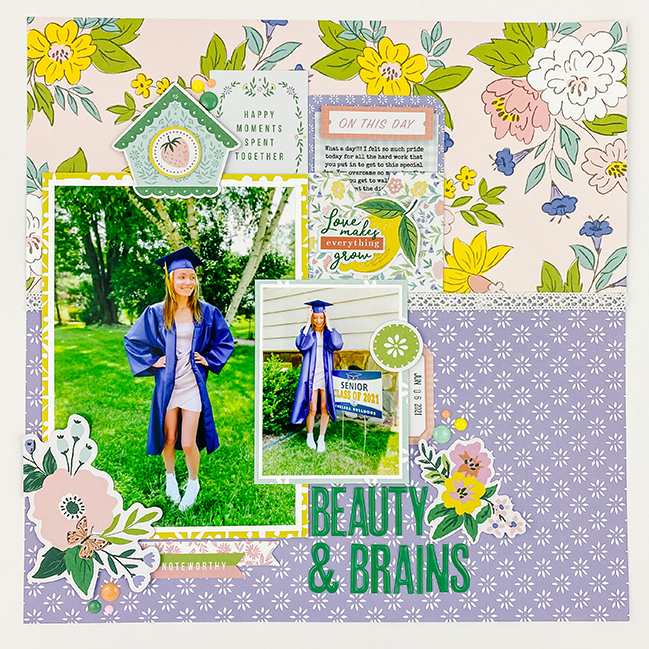 Seeing these two layouts of Shimelle's in quick succession inspired me to try a scraplift of sorts. I decided to try a bold pattern paper at the top, and to add more than one photo to my single page layout. I chose to work with the Happy Blooms collection from Pinkfresh Studio for my page, because I love the bright greens in it and I felt like it had a good purple to go with my photos as well. I often choose product for a layout based on the colors in my photo/s. The photos on my layout are of my youngest daughter on the afternoon of her high school graduation where she is wearing a light purple dress under her graduation gown and is standing on the very green grass of late spring. I printed the main photo of my layout a little larger, as a 5×7 since the patterned paper at the top had such a bold print, and kept the bulk of my page to one side in order to allow for some white space for the eye to rest on the opposite side of the page. My journaling is somewhat hidden in a pocket and is printed on clear sticker paper. I then added the "special day" sticker at the bottom of my journaling and raised the "on this day" label on some foam tape at the top of the journaling.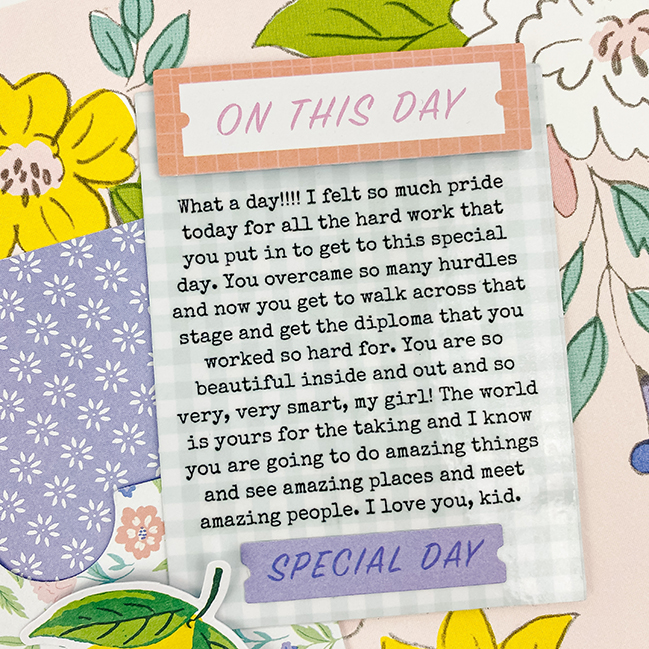 I hope that you enjoyed seeing my layout and maybe found some inspiration for yourself! I would love to connect with you on Instagram where we can inspire each other, perhaps!
| | | |
| --- | --- | --- |
| Becky Powell Reames is a single mom of two adult humans and two rescued cats, all of whom keep her on my toes and help her to keep a fresh outlook on life. A former elementary school teacher who now works in the world of philanthropy, she loves to spend her spare time working in mhery craft room on scrapbooking! She began scrapbooking in 1998 when she made a scrapbook of her now ex-husband and childhood and family photos to put out at her wedding. Becky loves to learn new techniques and try new things, and in the past couple of years has embraced stamping as an added element to her scrapbook pages. Becky records memories in 12×12 albums or Traveler's Notebooks with the occasional odd sized album thrown in for seasonal projects. You can see her work on Instagram, where she would love to meet you. | | |

Read more about: tutorials
05 May 2022

Next post: Glitter and Detail Cutting with Veronika Seňová
Previous post: Distress Ink Rainbows with Monique Lowe