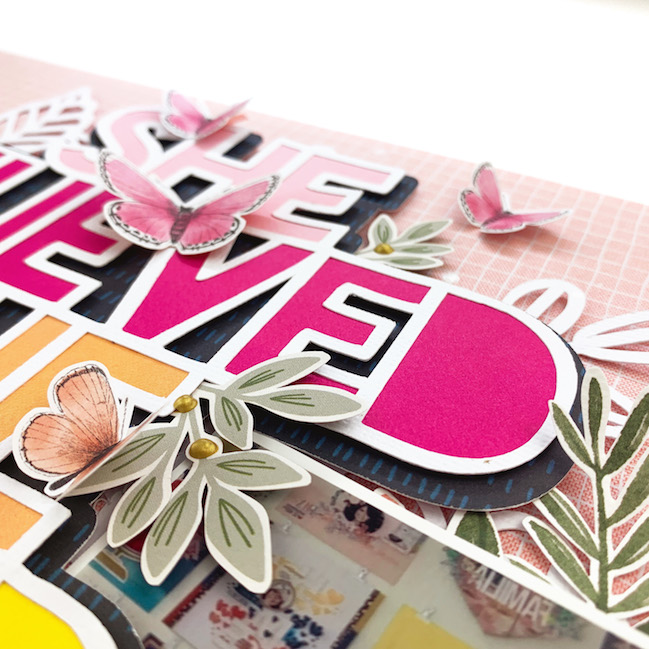 A fresh new year and a few new projects to go along with it. One of my biggest goals for 2022 is to share as much love as I can across the scrapbooking community. Yes, that sounds corny. Hi, have we met? Corniness aside, I mean things like sharing the work of talented crafters who you may or may not already know. I'm still scrapbooking, but I've also been scrapbooking a very long time, and if I can use this space to highlight fabulous ideas from other crafters too, then I'm game. The plan is to share projects from two guest artists a week, and it starts today! Please note these posts contain affiliate links for the supplies where possible. Shopping through these links doesn't change the price for you but the retailer sends me a commission. Those commissions are making this series of guest posts possible, as I am a big believer in paying artists for their hard work in actual money, so every guest artist you see in this series for 2022 gets paid. Yay. Also the end of each post includes where you can find more work from each artist so you can follow them on Instagram, YouTube, or wherever else. I hope you will follow some new favourites and share that crafty love!
I think that's enough introduction so I hand you over to our first guest, Andrea, who walks you through her process for scrapbooking with a title cut file to kick off this festival of scrappy inspiration! I hope you enjoy! -Shimelle
Hi Friends! My name is Andrea Lake and I am sharing one of my favorite layouts I've ever made with you today. Yes, this is definitely one of my favorite pages because it combines many of my favorite things and techniques altogether. First, I would like to confess that I sometimes feel overwhelmed when I sit down to create a layout. I think it is the fear of not exactly knowing how is it going to turn out in the end, especially since we are talking about projects that normally take a few hours to put together. That is one of the reasons why I try to plan my pages in advance and I think of different techniques I feel comfortable applying as well as working with products I LOVE. That sometimes means I am working with a single collection and sometimes I am mixing and matching my favorite ones. I also love vibrant colors, so, as long as I include these in my projects, I am confident it is going to turn out well.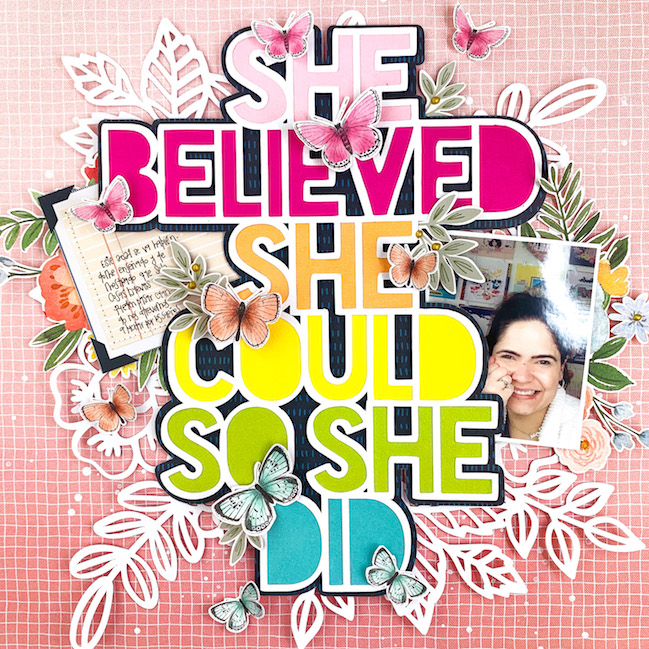 One of my favorite techniques when working on any paper crafting project is layering. I love the texture I get and I love dimension. Layering is a great resource to achieve both of those things. I love seeing a layout and finding new and hidden elements every time. I like to create pages that make you want to touch them and feel them. So let's talk about all the layers on this page. Also, this is one of those projects in which I mixed collections and manufacturers to achieve the results I wanted.
I started by choosing one of my favorite patterned papers from the Bungalow Lane Collection by Paige Evans with American Crafts for my background. I knew from the beginning I wanted to use a title cut file by Paige Evans as the focal point of my page. Our photo or the story behind it don't always have to be the focal point of our layouts. I wanted the title to give you a hint of what the page is about, then you'll be directed to the photo, and after that, you'll read the story. I backed my cut file with colorful Simple Stories cardstock sheets in rainbow order. I then off set it and printed a solid piece on a much darker paper to create some contrast between the actual cut file and the patterned paper from the background.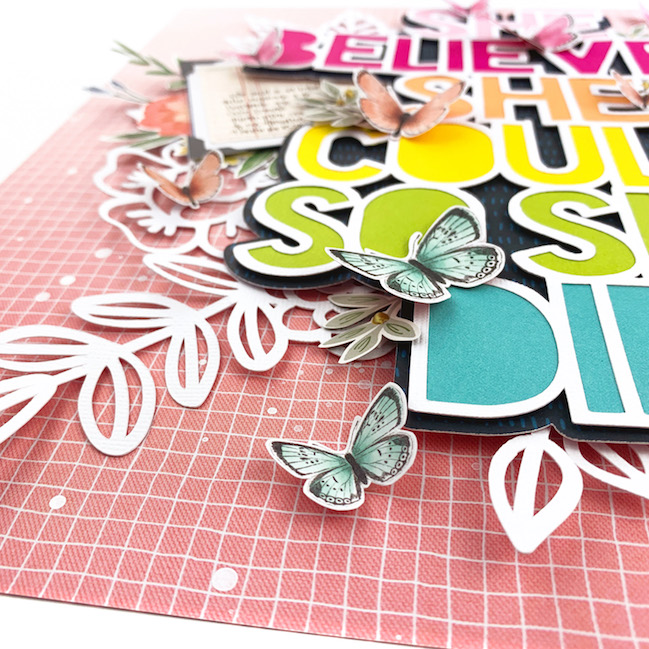 It is now time to start peeling the layers of this onion one by one. I first added some white splatters directly onto the background with white acrylic paint watered down and a brush. While my splatters were drying, I cut a second cut file. This one is a floral bunch cut file also by Paige Evans. I did not back this cut file, I just want it to peek through the title and photo. I machined stitched the centre of the flower cut file to the background and did not add any adhesive to the rest. I then adhered the title cut file to the page using some foam adhesive. At this point, with only those few elements, we have created a lot of dimension already. I placed my photo on one side of the cut file and the journaling piece on the opposite side to keep my layout balanced. I fussy cut a few floral clusters from a Carta Bella patterned paper and a few leaves from a patterned paper from the Jen Hadfield Peaceful Heart collection and spread them out throughout the page adhering them down with regular glue and adhesive foam squares to create depth and different effects.
I finish my layout by adding a few Cocoa Vanilla Studio detail cut butterflies on different spots. I placed them also in rainbow order and had them match the colors of the letters from my title. I love how the page turned out. Using elements such as cut files, die cuts, and detail cut shapes, you can create a vibrant and dimensional page that ends up telling more than just the story of the photo. This page is about remembering the day I finished decorating my current craft room. It is a tiny space but it looks exactly the way I want and it allows me to be happy and creative. The title is also a reminder for myself that I am here to chase my dreams and work hard to make them come true.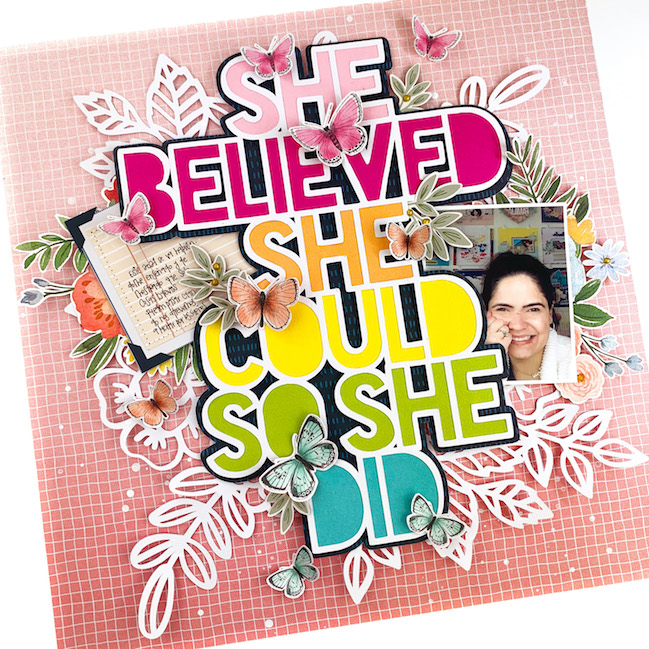 I hope this inspires you to work on your own pages and use some of the techniques and tips I shared today. Please let me know if you have any questions. I am happy to provide clarification and share more details if you need/want them.
My name is Andrea Lake, I am a Venezuelan-Argentine crafting lover currently living in Denver, Colorado, with my family. I have always enjoyed coloring and all kinds of papercrafts. I have been recording memories in different ways for many years now. I am a big fan of creating mini albums,

DIY

projects, and more recently, scrapbook layouts. I am a full-time Sales and Catering Manager at a full-service hotel during the day and a passionate crafter at night. You can also add wife, stepmom, and dog mom as my titles. You will always find me dreaming of my next projects, setting goals to achieve them, and recording the process. Here are a few things you may or may not know about me: I have to write everything down in my planner. If it's not there, we didn't even talk about it. I

LOVE

to wear socks. I wear them every day, all day. And, you might hear me say "I need a Happy Hour" at least three times a day. What that really means is that I need to get in my craft room and be happy for at least one hour each day. You can see more of my work on my Instagram, Facebook, and my Youtube Channel.

Read more about: tutorials
20 January 2022

Next post: Snowy Scrapbooking with Karlla Dauer
Previous post: 2021 Christmas Stamps - Ready to Ship