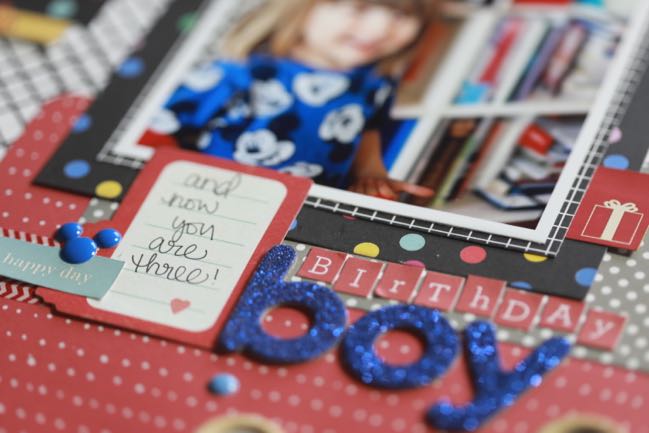 I feel like my layouts all follows the same design, even though I try to make them different. I wish I created pages that always looked fresh and exciting. Is there some special trick I can remember? Glitter Girl, can you help?
Of course she can! Start with a layout you made that you love but you haven't made recently, so you have some visual inspiration that isn't conforming to your most recent design habits. From there, we can create a new page that will look new by changing three specific things but keeping the rest the same. Glitter Girl starts with this page from NSD 2012, which came from a challenge to scrap lift a beautiful page by Jaime Warren. (There are so many beautiful interpretations of that challenge on that post!) Jaime works in photography these days and you can see her beautiful work here, but her archive of scrapbooking inspiration is still online as well.
This page includes a fair amount of 'vintage' scrapbook supplies, including Love Elsie papers from 2007 and my favourite blue Thickers that are at least six years old. There are a few more recent things though, I promise! The black and white patterned paper from Crate Paper's Heart Day, a few things from Amy Tangerine's On a Whim collection, and the colourful grid paper and wood buttons from Little by Little. Those enamel dots are by Doodlebug (and were a good mix of sizes to make the Mickey heads).
And Happy National Scrapbook Day 2017! This weekend I'm going to develop one product from start to finish and take you along for the ride, and you can help decide what we make and how it looks. Join in the fun at Scrapbook like a Superhero.
Plus I'm pinning the NSD sales, challenges, and excitement I can find to this Pinterest board. Feel free to let me know about anything I should add and I'll get it pinned!
Happy scrapping!

Read more about: adventures-of-glitter-girl
06 May 2017

Next post: A Bit of Real Life: How we designed a stamp set together in about a day
Previous post: Glitter Girl Adventure 151: Faces in a Crowd