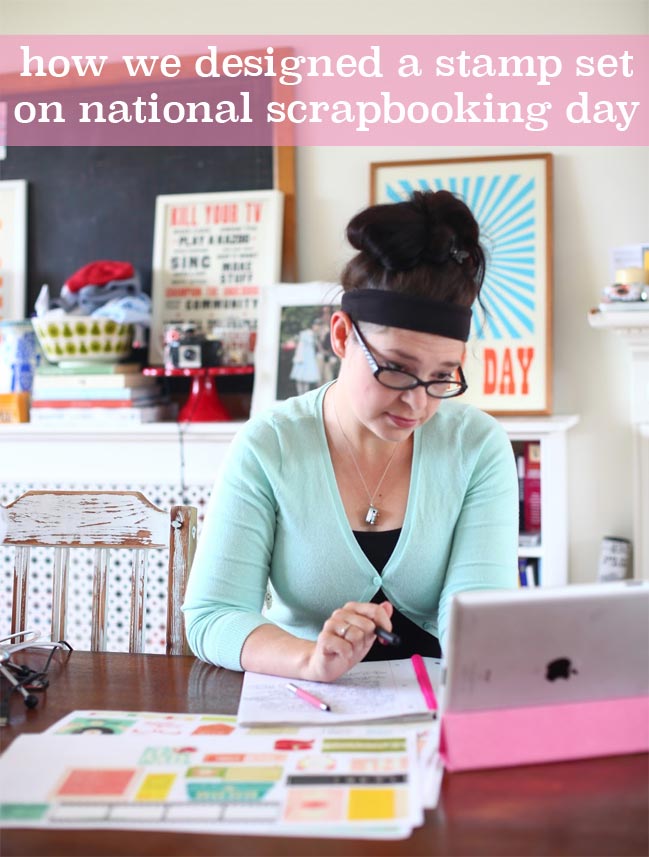 I did not think to make this entire adventure beautifully photogenic, so have a photo from working on the first collection I did with AC. I'm told I make this face a lot when I'm trying to fix something I don't like.
With so many scrapbooking challenges around on National Scrapbooking Day, this year I wanted to do something a little different, something a little bit behind-the-scenes and choose-your-own-adventure. With plenty of input from the members of the Scrapbook Like a Superhero Facebook group, we made a product in just a bit more than a day, and at the end of this post you can even place a pre-order! (Feel free to skip right to the end if you're not interested in my long-winded description of how we got there. I promise that's fine.)
We started Friday night with a simple request: name a word you would like to see on more scrapbooking products. You can see the full list of answers here but the list was long and varied. Several suggestions of words like 'really' and 'seriously' stuck out to me at the beginning, and I read those in a slightly sarcastic tone, like really?? and seriously??, which I later realised may not have been the intended interpretation, but at any rate it gave us a starting point that is pretty much the same starting point I use when we put together whole collections at American Crafts: choosing a word and playing with its shape and style until I feel like there is more potential for all the other designs to come.
Admittedly I don't work on a 24 hour time frame when we do an AC collection, so I scaled everything back a bit. For a collection, I'd choose a word and then write it many ways myself – on different papers, with different pens, brushes, and paints – and then I'd also gather a few dozen fonts and look at the styles there and how they might mix and match with either the other fonts or the handwritten examples. We probably look at at least a hundred versions of that one word when we start a collection but for this project, we started with nine iterations of the word 'seriously', all written by hand but in a digital form.
As it goes, eight of them were script (with three different brush pen styles represented) and only one of them was printed. I'll admit that comes from my own style at the moment: I prefer script to print, especially when it's my print! But we can all be hard on our own writing. Putting it to a vote on the Facebook group, the printed version had the most votes by far – but if you added all the script options together, more people preferred script of some sort to print. It's also interesting to note that there was no universal NO answer: each of the nine versions was picked multiple times and two people stated they didn't like any of them and would prefer a typed font. Which is fine and illustrates perfectly one of the biggest things I've had to learn about design over the years: it is impossible to please everyone all the time.
While I mulled over what the long list of words and the styles choices might mean, I put the product type to a vote: I wanted to limit us to something I could actually make real on my own, so I wasn't looking for us to create an entire line of paper or embellishments that need factory equipment. Our options went up in a poll: clear stamps, cut files, printable paper, or printable stickers. Clear stamps was the run away winner from the outset. Once that was clear, we needed to put the theme to a vote, and I thought we might see whether or not I had been misjudging the sarcasm in the word list: would a 'real life' option be preferred over something more aspirational? Yup. By a mile.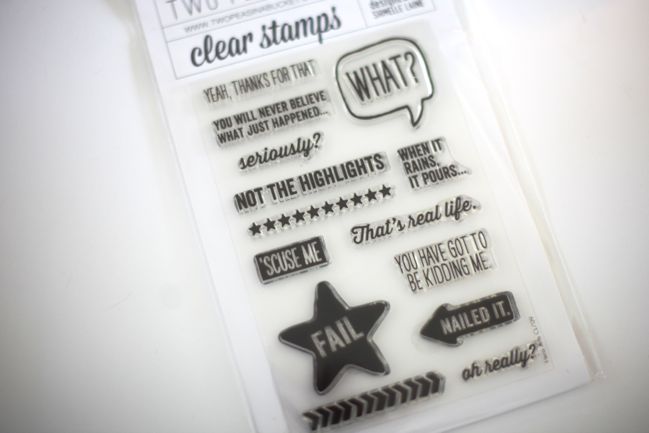 Funnily enough, I've made a set of real life clear stamps before – but it was a long time ago and they haven't been available for years. They were quite simple in design but that seems to have worked in their favour because I hear often that they are still in heavy rotation on crafters' desks, and that is an awesome feeling. Obviously I don't want to make exactly the same thing again, so before this stage in the process I thought we might be mixing some handwriting, some drawing, and some typed lettering, and I'll be honest: I was worried about the time frame with any drawing because that takes me far longer! But with 'real life sayings' as the favourite, and having done that typed before, making it all handwritten made perfect sense. Most, if not all, of the remaining words and phrases came from that original list, which is something I find myself doing with collections too: even when we are in the final stages, I go back to the original notes and style board to keep checking that I haven't lost my way and to find something that might be just right but had fallen off my radar. I'd totally forgotten about 'worst day ever' as a suggestion, and as much as I love Rapunzel for her best day ever, I think even she would approve of needing a worst day stamp to counter the dozen best day stamps I have in my stash.
There is also practicality in the design process, so one poll asked if a set price seemed right on or too high, which is helpful before everything is finished because I cannot describe how annoying it is to make up the most amazing thing in your head and then find out it's retail price would be one million pounds. It's really, really annoying. Good to check that early on then.
Then as I drafted more, I could ask for more specific feedback: do these two lettering styles look good together? Should this phrase have a box around it or just words? Is this better with or without punctuation? There are some times when going with the majority vote doesn't seem like the best option and the punctuation was one of those: more people preferred the phrase 'I really need a do-over' without a full stop at the end than with the punctuation, but it's super easy to cut the dot off the end of a clear stamp or just not ink it. If you've ever tried to correct imperfect stamping with a pen, you know it can be really difficult to get a good match if you wanted to add that dot. So the dot stayed. I hope no one is heartbroken about that.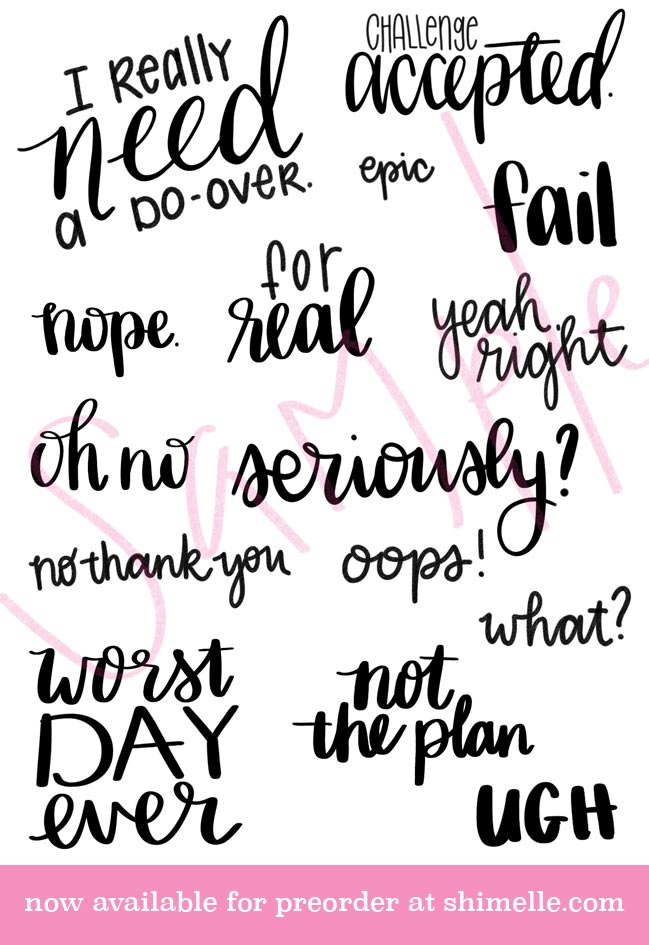 And eventually, we got to a finished draft! There will be a tiny bit of fine tuning to come: there are a few letters that are a little uneven and I'd like to take the time to do that individual pixel work to get them just right, and I will need to move things around a bit to make sure the stamp lines with cut properly. I'm also going to order a few different versions of the word 'seriously' in stamp form and use them a bit so I can see what is most legible before committing to a single version, and all of that is stuff that is definitely part of the design process but best not to rush into a one day window. Then I weighed some stamp sets and envelopes of the same size so we could get postage prices and here we are: an actual product to pre-order!
It will take four to six weeks for these to ship, as I'll submit the plates this week for testing, get them back from the stamp maker and test them plenty, then put in the order. They will be made in the UK with high quality photo polymer. Once I receive it, I'll package them into envelopes and send them out. With that time frame in mind, I'll offer two options for the pre-order: pay a deposit now and the remaining total when your stamps are ready to ship, or go ahead and pay the full amount now being aware that there is not an exact shipping date on these since they need to be produced. Absolutely your choice of which you'd prefer! For UK address, the stamp set is £12 including shipping (that's UK pounds). For addresses anywhere in the world outside the UK, the stamp set is $16.50 including international shipping (that's US dollars).
And that's everything! You can go ahead and place your preorder now, and I estimate preorders will be open for about two weeks. I'll close them when I have the test stamps back and I'm happy that everything is working as planned. (I'll post on the Facebook group when I'm ready to close the preorders, but go ahead and order now if you're worried you'll forget!)
UK address, full payment – £12.00

GBP

Non-UK address, full payment – $16.50

USD

UK address, deposit of £6

GBP

(£6 more will be invoiced when ready to ship)
Non-UK address, deposit of $8.25

USD

($8.25 more to be invoiced when ready to ship)
Thanks so much to everyone who took part in this adventure! It was lots of fun for me and I hope the stamps are something you will love and use for a long time to come.

Read more about:
07 May 2017

Next post: Glitter Girl Adventure 153: Take Away Crafting
Previous post: Glitter Girl Adventure 152: Getting Unstuck