Have you every taken a "scrapbook on the go" kit? Sadly I'm not going to a crop, but as summer arrives my family tends to spend more time away from home. I'd love to be able to scrapbook while we're there, but I can't pack everything in my stash. Glitter Girl, can you help?
Of course she can! Using a kit that's either purchased and ready to go or inspired by one using the inspiration of something like the Counterfeit Kit Challenge can be the perfect way to have just enough to keep you going while you craft away from your usual home.
If you have the March 2017 kit from Gossamer Blue, then you can basically follow along! I didn't change much at all because I had most of it to hand, but I did swap one sheet of patterned paper, one sheet of embellishments (I didn't have the puffy stickers from Oh My Heart so I used a sheet of chipboard stickers that were in my field of vision), and some wood veneer pieces. The kit is largely my Little by Little collection along with Paige's Oh My Heart collection. If you don't have those to hand, no problem! Check out the different combinations created by the design team for the Counterfeit Kit Challenge, who all put together something similar from the supplies they had on hand, new and old!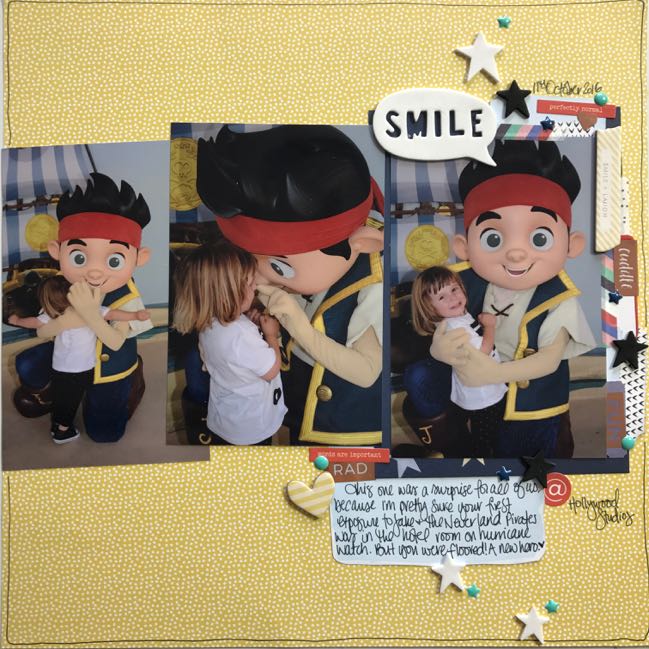 I'm really looking forward to making the facing page for this now, with lots of aqua to pull out that tiny bit of accent in the enamel dots. I need to figure out what photos those should be, then I'll get that committed to paper. I'll also be using the rest of this kit, so I look forward to making more and sharing soon!
If you've tried the Counterfeit Kit concept or if you have made packing your scrap supplies into a art and a science, do share! We'd always love to hear from you here or at Scrapbook Like a Superhero. Happy scrapping!

Read more about: adventures-of-glitter-girl
10 May 2017

Next post: Making one big choice: A new scrapbooking video series
Previous post: A Bit of Real Life: How we designed a stamp set together in about a day