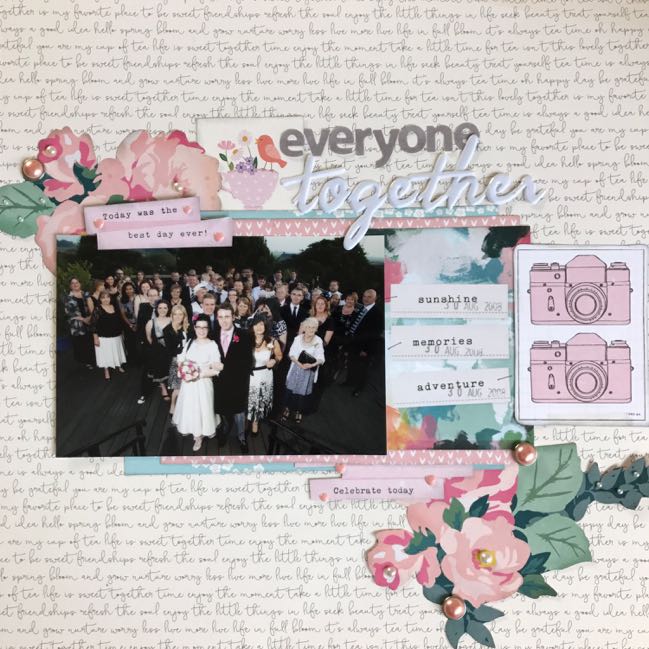 I have a photo from a wedding where there are literally 100 faces in a single 4×6 landscape print. I keep looking at embellishments, but I'm not sure what to use that won't overwhelm the photo. Glitter Girl, can you help?
Of course she can! Try using mostly paper for your embellishment and an overlay of vellum to preserve a roll call for your crowded group photo.
Supplies for this page include plenty of patterned papers from the Tealightful collection from Pebbles and Chasing Dreams by Maggie Holmes. Both letter sticker sets are older (grey Sassafras letters and white puffy Thickers from Dear Lizzy), and the only other embellishments are enamel dots, pearl dots, and pearl brads. You'll need a sheet of vellum to make the overlay, of course.
As always, Glitter Girl would love to see what you're making and hear your questions! Please stop by our Facebook group Scrapbook like a Superhero and say hello.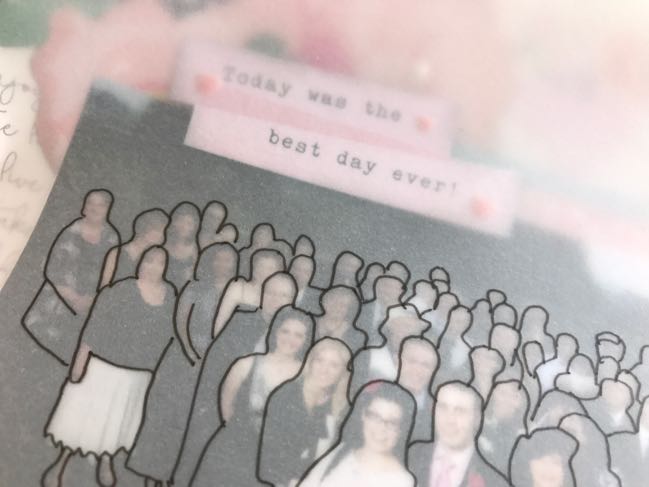 Have you scrapbooked a group photo that made you think twice about your usual embellishment process? We'd love to see your solution! Please join the link up below to share what you've made – you can link to your blog, social media account, or scrapbooking gallery OR just upload the photo from your computer. Happy scrapping!

Read more about: adventures-of-glitter-girl scrapbooking-videos
25 April 2017

Next post: Glitter Girl Adventure 152: Getting Unstuck
Previous post: Folding Circle Punches :: Two Looks on Scrapbook Pages