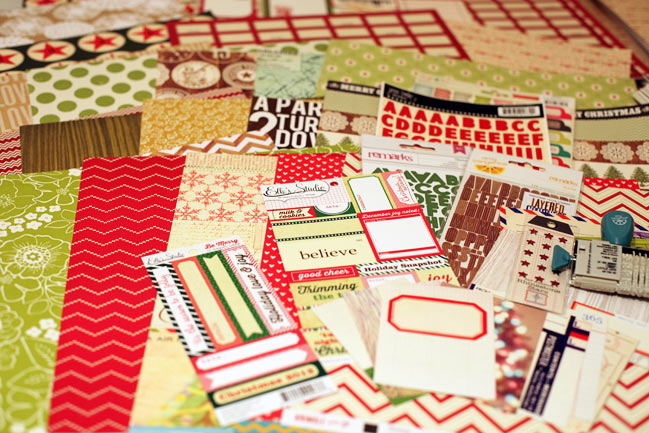 Yes, I know it's July.
Yes, I know those are supplies from last Christmas.
Hear me out anyway.
This week is the summer trade show for the craft industry in the US, and that's when all the new Christmas collections are debuted and I order supplies for what will become the annual Christmas in a Box scrapbooking kit!
I've been offering Christmas kits (called Christmas in a Box) to UK addresses for the past six years or so, and for the last two years I worked with Two Peas to also be able to offer the same supplies from their shop, shipping to anywhere in the world. That will continue this year. Every year the UK supply of these kits sold out on the first day, so last year I introduced a deposit and reserve system that worked pretty well. This year I will do the same, and I have a version for both UK and rest of world addresses. The two work in different ways, so please read the details that apply to you before clicking to reserve.
For shipping addresses in the UK: if you would be ordering to a UK address and would like to reserve a kit, you can do so by paying a £5 deposit today. Kits will ship around the first of November (earlier if possible – manufacturers' shipping dates are an important part of picking what will go in the kits). The £5 will be deducted from the total price of your kit. In past years, the kits have been priced at £40 to £45, including first class postage, and that is the same price range I will use this year: it will be no less than £40 and no more than £45, including first class post to a UK address. So you would simply pay £5 now to guarantee your kit, then the £35 to £40 balance will be due when the kit is ready to ship to you. If you choose not to pay the remaining balance for your kit, the £5 will not be refunded and you will not receive the kit, but that's all: no further action will be taken.
That's exactly as I ran things last year and for 2013, I'm adding just one change to that: a set time in which you need to pay before your box will go back up for sale. The only snag I had on this project last year was a handful of boxes that were reserved but not paid in full despite several claims that they would be paid any day. I totally know what it's like to try to manage a crafty treat for yourself when the budget is tight, so I kept letting those days go by… but in the end those boxes were never paid for and I found myself with Christmas boxes in January, which are not really a hot item. Also, there is no room here for these boxes to stick around! So here is what I think is fair: you will get ten days from the first invoice to pay the balance. I'll email at least two more reminders before the tenth day. On day eleven, I'm going to go ahead and list those boxes for sale at the full price. If you don't feel that is fair, don't reserve a kit. I'm hoping that seems pretty sensible and fair.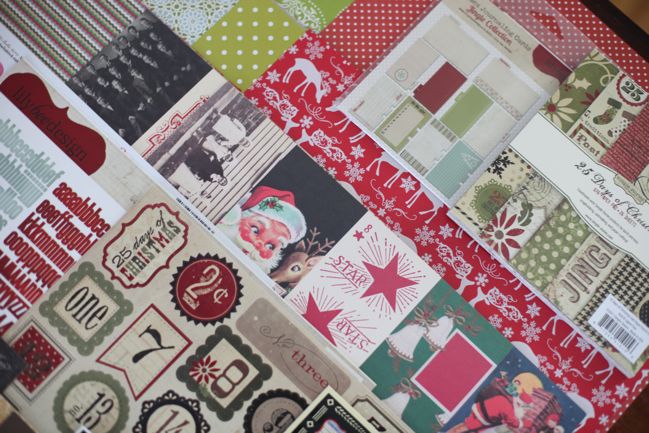 and those supplies are from Christmas 2011.
For shipping addresses in the US and rest of world: your kit will be fulfilled by Two Peas in a Bucket, and like the Best of Both Worlds kits, you'll have the freedom to make some changes if you would like. But the most important thing for us to get the numbers right, so we don't vastly underestimate how many scrappers would like a kit. To gauge that number, I'm offering a deposit on this too, but it will work a little differently. Unfortunately, with the flexible kit structure, I cannot guarantee every item to every person, because everyone is free to increase the quantities on items they like. So instead of a deposit that goes to a credit, your deposit will be returned to you via a Two Peas gift certificate. You'll pay a $5 deposit now, and you'll receive a $5 gift certificate before the kit goes live. You'll also get an email with a heads up of when the kit will be live to order, and this way we can make sure that each item on the shopping list has more stock than the number of people who have paid that deposit. There may be minor differences between the US and UK kits – each year there has been one or two little items that wouldn't arrive to another country on time, etc, and I just made little changes to find something very, very close that could get there on time.
To be very transparent about where your money is going between now and November: you're paying your $5 deposit to shimelle.com, and when the kit is ready, I will send you a $5 gift certificate to spend at Two Peas. If you decide you don't like the kit, you're free to spend that $5 on anything you want at Two Peas, and if that means you want to spend it later in the new year, you're welcome to do that. The gift certificate does not cancel out any discount codes or loyalty discounts, so you can still use the free US shipping code, etc. Just know your $5 will be sent back to you as a gift certificate, not cash, and as you're sending the deposit to shimelle.com, you'll need to contact me if there is a problem between now and then, not Two Peas customer service. You can reach me by email any time (shimelle at gmail dot com).
Yes, I definitely realise it's a bit different to consider paying a deposit to reserve a kit sight unseen, and by no means do I feel you have to do that! There will be a very (very!) limited number of kits further available to UK addresses at the time should you wish to see the kit in full. Or there is the option of ordering the kit contents from Two Peas, which requires no deposit (and Two Peas ships internationally). It's totally up to you which option is best.
To get an idea of the value of scrapbooking supplies packed into the kits, you can see kits from 2012 and 2011 as examples. There will be a similar balance: plenty of paper, letter stickers in a range of sizes, versatile pieces for layering and writing, quick-to-use embellishments and pieces with dimension. The kit does not include an album and can be used easily for different sizes of scrapbook, from a tiny mini album to a full 12×12 book. I always look to create a kit that can be used to the very end, so instead of everything being loudly Christmas in nature, you'll find Christmas prints with simpler b-side prints (polka dots, stripes, ledgers) and elements that are Christmas in colour rather than pattern, so you can easily use those papers for non-Christmas projects by mixing and matching with other elements from your stash.
You don't need to participate in Journal your Christmas to purchase the kit, and the kit is not required to participate in Journal your Christmas. It's just for fun, and it can be a great way to treat yourself to a lovely mix of brand new products for Christmas crafting when the calendar is extra busy with holiday celebration leaving you little time to shop. In case it's not obvious, Journal your Christmas will run again this year. It had a big refresh last year and will have a few smaller updates this year, and you can sign up at any time and have access to all the materials from previous years. (Rest assured, all previous participants are still welcome to join in at no extra cost.)
Okay, I think that is everything! Please be sure to select the right deposit – £5 for UK addresses, $5 for anywhere else in the world. It will get really messy if you click the wrong one, so please triple check!
Reservations will close at the end of this Saturday, 27th July 2013.
Reservations have now closed. Thank you!

Read more about:
24 July 2013

Next post: Five Ways to use a Grid Design by Jennifer Hufford
Previous post: Origami Arrows:: A Scrapbook Tutorial by Marcy Penner