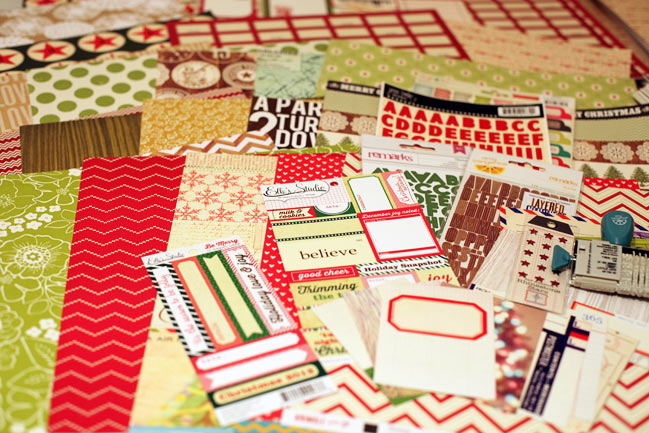 The past few weeks I have been surrounded by Christmas scrapbooking supplies and I wasn't allowed to cut and paste any of them! I've been preparing the preordered Christmas in a Box kits for UK addresses, and they've started posting and yesterday I had an email from one scrapper who had unpacked her kit – that always makes it feel quite real! Today I can share details about that kit and it is now available for purchase in the US and worldwide, complete with a discount code!
For pre-ordered kits in the UK
If you pre-ordered in July you were sent a click-to-pay invoice email for the balance of the kit and these started shipping last week. All remaining boxes here that have been paid will be posted tomorrow (Monday, 12th November). I even have a car for the day to make that happen – how fancy! If you haven't paid your invoice, your box won't ship until that's paid of course.
Also, there is a little something extra coming to each of you in a separate little delivery that will arrive right around the first of December. It's just a little bit of Christmas happiness from me to you and I hope it brings you some Christmas cheer!
For those in the UK who did not pre-order
There are a very limited number of extra kits available here. These will go on sale here Tuesday morning at 6am, and they will be shipped straight away. Kits are £44, which includes postage. There may also be a few later on if some pre-ordered kits are not paid for by mid-November, but please don't bank on getting a kit that way as you know there are not many scrappers out there who don't like a box of new crafting stash!
For those anywhere in the world
The kit is available from today from Two Peas in a Bucket, who will ship to anywhere in the world. You can find my kit list here, and just add one of each to your bucket to order your kit. There are just a few small differences between that kit and what I've boxed up here: sadly there are no more of the Jenni Bowlin rhinestone stars (unless you find them in a store that still has stock) as they were a limited edition item, so I've suggested enamel dots as a replacement as they are also red and can be used in the same way. There are two sheets of paper different, plus I've added a set of Thickers and the Two Peas exclusive Christmas stamp set. The list lets you pick and choose what you would like so you can make any changes you fancy and you can stick to whatever budget you would like. But there is a great reason to add the stamp set to your kit: if you spend at least $50 with your purchase and use code DDKP25, you'll receive 25% off your items! That's $12.50 off a $50 purchase, so that's almost enough to cover the fab stamp set! But it doesn't have to just be things from my list, so if you wanted to add an album or more shopping, go for it as the 25% discount will cover that too. (It cannot be combined with a free shipping code, but it can be used for any amount of shopping past $50, so it's quite likely your savings will be much greater than the shipping discount – plus it can be used for international orders and those usually only get a $5 discount on the shipping.)
Please don't wait to order as the discount code expires on the 16th of November and items may sell out, so go ahead and go shopping now to get everything you want, including the discount.
What about an album?
The kits do not include an album so you are free to choose whatever album style you would like! This year I am using the Studio Calico Handbook album with the coordinating page protectors. It comes in a few different cover styles (all the same size but different patterns embossed on the cover) and is a neutral cover designed to be customised however you would like. You can find the albums and the page protectors here, and if you're spending more than $50 at Two Peas then use that DDKP25 discount code to get the 25% off these too. If you're in the UK and looking to source these albums, they are available locally from Sarah's Cards. (I will not be stocking these albums.)
If you would like some other album types to consider, check out this list of those available at Two Peas and see if something suits your style. You might also want to make your own album and not need a formal book at all – that works too and can help keep the cost down if that's a priority for you this year.
Do I have to have a kit?
There is no requirement to use any certain supplies for Journal your Christmas, of course! You can use any supplies you would like! But it can be fun to treat yourself to a lovely box of new goodies to enjoy throughout the holiday season, and these are the supplies I will be using throughout my 2012-2013 album, which means you'll see them in the prompts and videos of this year's class. Having some or all of the same supplies can make it super easy to follow along if time is limited throughout the holidays, but you are always, always welcome to use your own supplies and scrap in your own style, so please don't feel it's a requirement in the slightest.
Thanks so much, and if there are any questions just let me know!
xlovesx

Read more about: two-peas-in-a-bucket
11 November 2012

Next post: Grab a Christmas Scrapbooking Kit
Previous post: 10 things I want to scrapbook soon