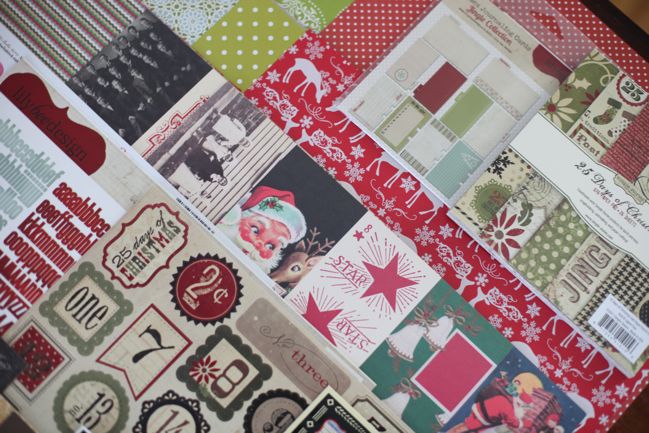 So it's the first of November – that means I am officially allowed to talk about Christmas! First up: scrapbooking supplies. Every Christmas for the past several years I've assembled a 'Christmas in a Box', which is a Christmas-themed scrapbooking kit perfect for Journal your Christmas or other Christmas crafting projects. But I'm not a big shop – I'm just one girl really, so I could only send the boxes to addresses here in the UK. This year there are two options for ordering, and one of them includes a way to order in the States (or to ship internationally from the US), so hurrah!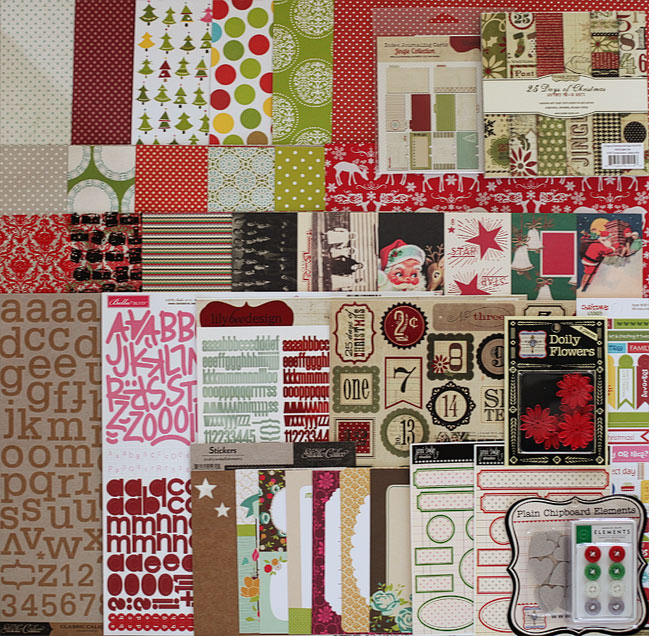 This is the complete kit – Christmas in a Box 2011. This ships to UK addresses only and is available in very limited number. First come, first served.
The Christmas goodie box is filled with supplies perfect for your Christmas crafting, but many designs are not overtly Christmas themed so you can use this stash throughout the year by mixing it with other colours.
Although certainly not a requirement of Journal your Christmas, this kit includes the supplies used in the technique tutorials highlighted in the 2011 class and during the preparation crop weekend (11-13 November), so you can follow along if you like. Or use as you wish for your Christmas journal, December album or any other crafting project.
Kit includes:
15 sheets of 12×12 patterned paper, including one screen printed, two accessory sheets and one mini pattern sheet
Classic Calico 12X12 Alpha Sticker Sheet (Studio Calico)
Peep & Saffron 12X12 Quattrofina Alphabet Stickers (Bella Blvd)
25 Days Of Christmas Countdown Sticker (Simple Stories)
Jingle 12X12 Abcs Stickers (Lily Bee)
Red Mini Brocade Overlay 12×12 Transparency (Hambly)
Black Camera Collection Overlay 12×12 (Hambly)
Jingle Index Journaling Cards (Lily Bee)
25 Days Of Christmas 6X6 Paper Pad (Simple Stories)
Miniatures Christmas Wishes Stickers (Bella Blvd)
Green/Pink Dotted Label stickers (Jenni Bowlin Studio)
Red/Black Dotted Label stickers (Jenni Bowlin Studio)
Red Doily Flowers (Jenni Bowlin Studio)
Hearts Plain Mini Chipboard Pieces (Jenni Bowlin Studio)
Hollyday Glitter Rimmed Buttons Elements (American Crafts)
Garden Café Just Write Journaling Cards (American Crafts) *partial pack – 6 cards
Classic Calico Kraft Star Stickers (Studio Calico)
PLUS screenprinted cardstock numbers, made especially for this box and not shown here. Just a little handmade surprise for you!
Christmas in a Box is available as a kit to UK addresses at the same price as last year – £45 including first class postage.
Christmas in a Box is now sold out. Please consider shopping at Two Peas or use the list above to shop from your favourite retailers. Or use your own stash, of course! Thank you for your support.
But what if I'm not in the UK or I only want part of the kit?
This year there is an answer for that too! Click here to view the Christmas kit items at Two Peas. From that list, you can select the items you would like – some or all of them – and you're ready to go!
But how about an extra little bonus? Like… free shipping for US addresses or $5 off shipping for international orders? Why yes, we can do that. But just for today, tomorrow and the next day – the 1st to the 3rd of November. Use code RLRXWA at checkout for free domestic shipping on non-digital and non-phaseout product on orders over $35, and $5 off international shipping for the same type of order.
I'll be back with even more Christmas fun later today!
xlovesx

Read more about:
01 November 2011

Next post: Scrapbooking Sketch of the Week
Previous post: Scrapbooking blog hop :: Meet the Garden Girls