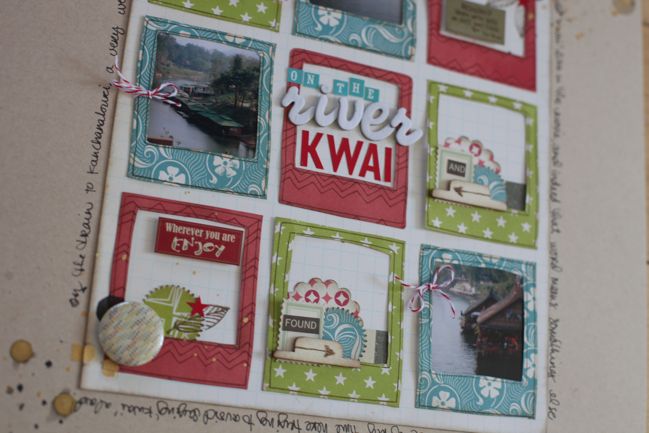 So far I haven't joined the camp of scrapbookers who take pretty much all their photos with their phone, but I do take plenty with it. It's just that I take a zillion with my 'proper' camera too! Though I don't post anything near all of my phone photos to Instagram, I do tend to edit the images to squares, or take them in Hipstamatic, which only shoots square photos. And yet, I didn't quite realise that square images are definitely in the minority when it comes to my albums. Just trying to find examples for this post proved a bit more challenging than I expected.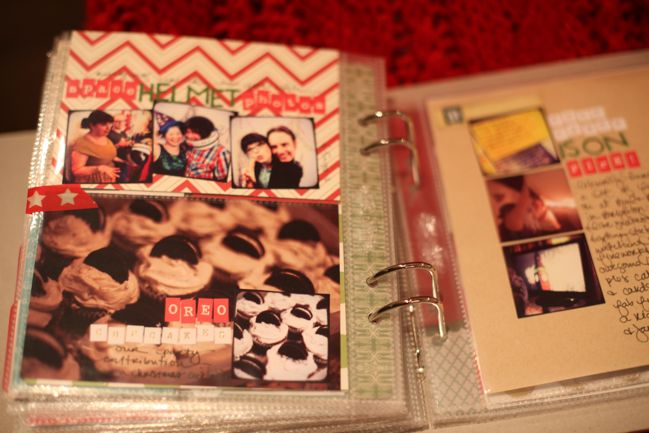 I have been on a kick recently of using my Instagram images having ordered a pack of prints from Origrami, and I have them sitting at my desk so perhaps being surrounded by the square photos made me think more of them had appeared on my pages! The project that did include plenty of squares in one place was my journal from last December, and I liked how the small square images meant I could still include plenty of photos even with the smaller page size. Useful!

Interestingly enough, the very first Glitter Girl Adventure featured a square photo, and I remember our discussion that this factor alone could make or break whether people were going to like the series! We had a lot of worried discussions in the weeks before making Glitter Girl live, actually. Maybe just a little overthinking, possibly due to my enthusiasm for a pretty oddball idea and then my surprise when my boss thought it sounded like a good idea. (Well, that's what she said. It could have been that she was thinking something else entirely, like 'where do I find these oddballs?' but she was more polite about it than that!) Speaking of the boss…
And now for guest artist Kristina Nicolai-White, who is definitely pro-square when it comes to photos.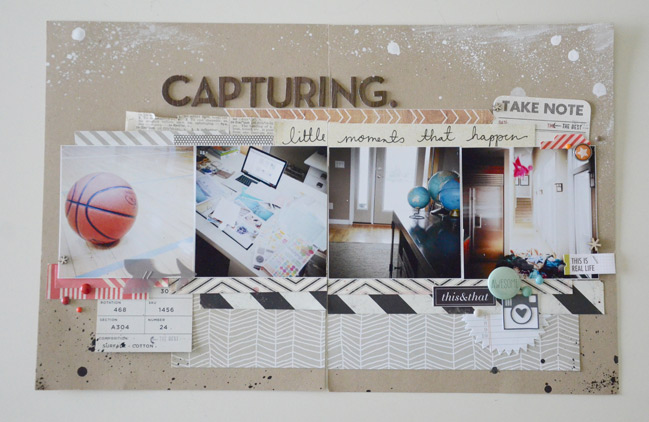 _I am addicted to square photos. Once I got my iPhone and started using the Hipstamatic app, I was done for. I was taking photos with it constantly. I grew even more enthralled with the arrival of Instagram. At this point, even if I am not instagramming my photo, I am still editing them in an app or program and cropping them into a square. There is just something that feels so right about it.
As a result, I have a lot of edited photos that are square. I really like the way they look on a scrapbook layout. (No surprise. I think I would like them anywhere really). I am an 8.5×11 scrapbooker, and I can fit two 4×4 inch square photos across the middle. If I do a two page layout, which I usually am doing, I like to do 4 across. If you are doing a 12×12 page, you can nicely fit three 4 inch photos across. or you can fit nine on the whole page._
_All of the photos I printed for this page, which I knew was going to be about how I capture pieces of life with my iPhone camera, turned out to have no people in them. I had not done that intentionally, but I really liked it once I realized that I had been doing that. For me, it really adds to my feeling that I really do capture every piece of my everyday, of my life, whether there are people around or not.
I used two plain kraft card stock sheets as the starting point for this line of photos. I created layers of papers and other bits to lift and accent the photos. I used the heavier pattern—the thick black and white stripe on the bottom to create the weight there rather than at the top. Most of the product used is neutral, grays, whites, cream, tans and a little black. I used the red pieces in the lower left corner, hoping that your eye is drawn to the orange in the farther upper right corner and then to the aqua in the lower right. All of the bits and pieces that contain words create somewhat of a sentiment if read all together. Capturing little moments that happen, awesome this & that._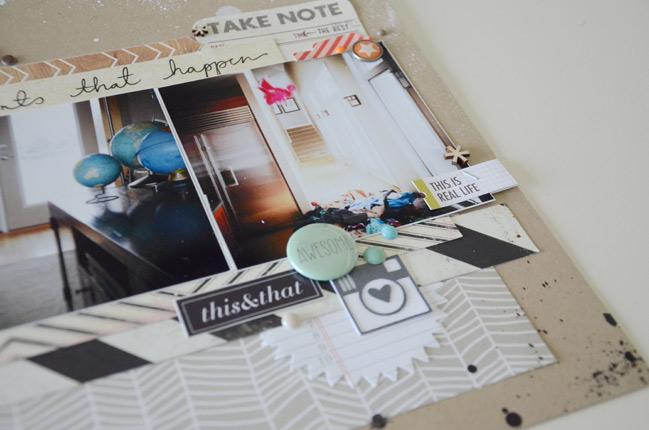 About the Artist
Kristina Nicolai-White has been scrapbooking and memory keeping in various forms for most of her life. Founding and owning the online scrapbooking company Two Peas in a Bucket has kept her active and part of the scrapbooking industry for more than fifteen years. Kristina loves using her iPhone to document the craziness of her everyday life with three active teenage children, two giant dogs and her high school sweetheart husband. Her work is usually full of color, products and blurry photos. You can find more of Kristina's work in her Two Peas gallery, of course, and her new blog We Blow Kisses.
Your twenty-second challenge is to scrap with squares! Entries close at the end of next Sunday, the 12th of May. Please check back on the 14th of May to see if you have won a prize.




Read more about: inspiration-party
04 May 2013

Next post: Get more from your scrapbooking investment
Previous post: Ideas for scrapbooking with divided page protectors