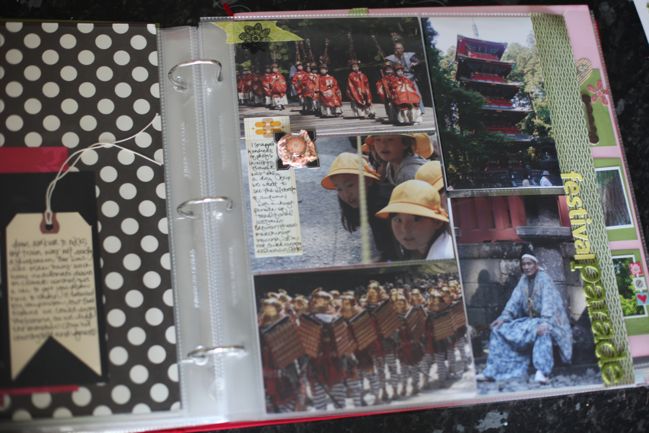 Whatever did we do before divided page protectors? I am not exactly sure. I didn't sit around thinking I needed my page protectors divided into handy-dandy pockets, but they do seem to come in ever so useful that now I wouldn't want to give them up.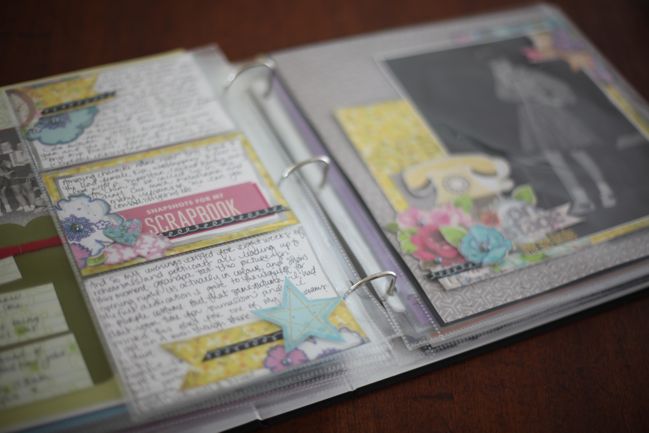 I'm particularly fond of using them to go back to existing layouts and improve them with a bit more writing or supporting photos – or sometimes using them right alongside the process in a case like this where the photo is large but the story is also of significant length. The divided page protector makes room for both of those plus pretty paper and embellishment. Happy times!

Glitter Girl has a few tips for using divided page protectors to help with stacks of photos that you really want to get into your albums, and I applaud her doing that because well… that stack of a thousand photos she mentions in this video isn't really shrinking much despite all the layouts I've made! Turns out a thousand is a pretty big number when it comes to photos to scrap. (Please see this page for further details on this Glitter Girl Adventure.)
And now for guest artist Linda Auclair, who is going a bit meta and scrapbooking about scrapbooking!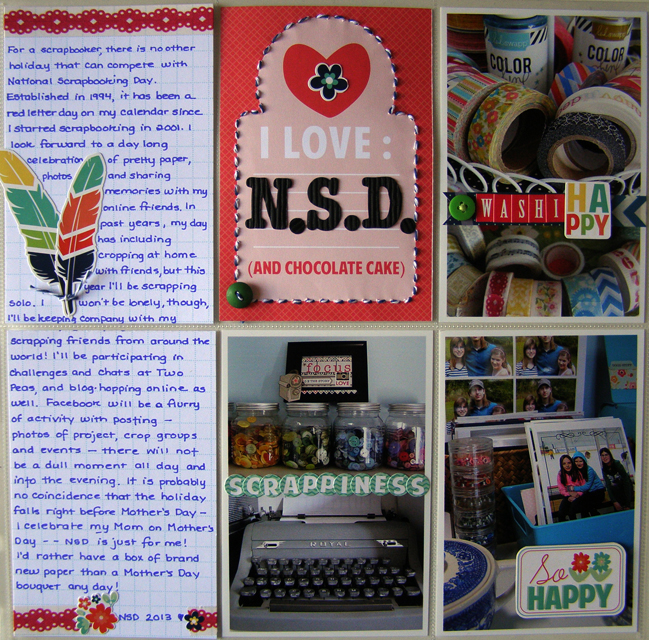 On National Scrapbooking Day a unique opportunity to interact with scrapbookers from around the world, unconstrained by the limits of packing and travel, is merely a click or two away. Participating in online challenges is one of the highlights of the holiday for me. I enjoy working with a set of guidelines defined by the challenger and find it incredibly freeing. Having an organized worktable and a variety of photos printed and ready to go are an advantage if there is a time limit involved – working within a specific "kit" of favorite products and papers that are close to hand makes it even easier. I have been working with divided pages a lot this year; creating weekly Project Life pages using a wide range of products specifically designed for this scrapbooking format alongside my favorite "traditional" products. My page for this challenge uses Echo Park Paper's Photo Freedom collection, Happy Go Lucky. The addition of buttons, washi tape and twine personalizes the pre-printed elements and lets me tell my story without a lot of fuss. I embellished my scrapbook room photos with stickers and phrases from the collection. It always surprises me how quickly my divided page layouts come together, and I attribute that to being able to focus on one 4 ×6 section of the page at a time. My scrapbooking mantra has been "Glue and Go!" for a long time, and this format makes that philosophy a reality.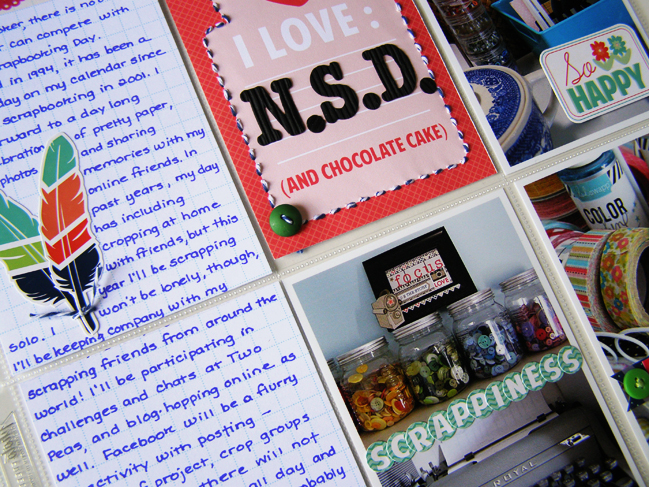 About the Artist
Linda Auclair has always loved pretty paper. Long before the scrapbooking hobby took over her life, she kept illustrated journals with photos and clippings. One of her favorite jobs was in the Product Development department of a greeting card company. Working with all those great artists, colors and textures drew her into the paper-crafting medium, and once the hobby took hold, there was no turning back. In the past decade, she has had the opportunity to work for a variety of companies, such as Fiskars, Creative Imaginations, Epiphany Crafts, and her current Design Team post at Echo Park Paper, as well as a number of online retailers. You can follow Linda via her blog and Pinterest.
Your twenty-first challenge is to divide your page! It might be with a divided page protector, but you could also use the idea of a blocked page design to inspire your work on a standard 12×12 or 8.5×11 page too. Entries close at the end of next Sunday, the 12th of May. Please check back on the 14th of May to see if you have won a prize.




Read more about: inspiration-party
04 May 2013

Next post: Scrapbooking with square photos
Previous post: Scrapbooking smaller photos