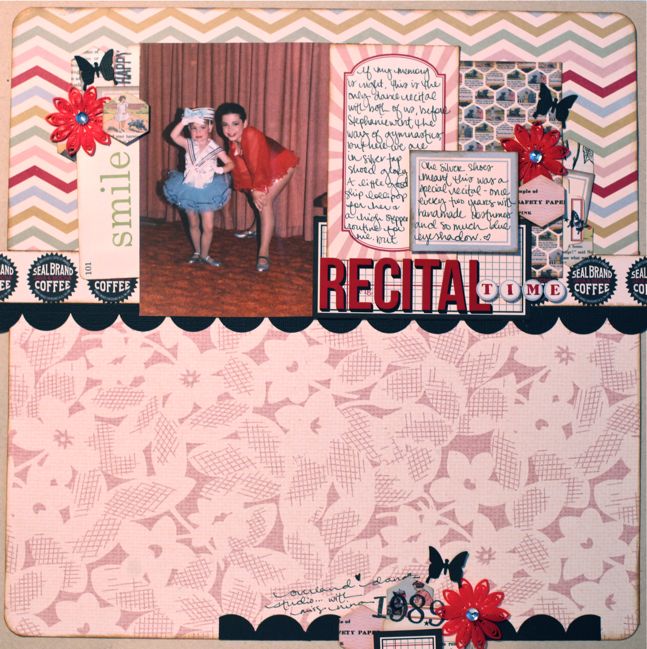 There are definite downsides to scrapbooking since 1998: I remember all too well the time when the supplies were so few and far between and not particularly inspiring, it took me a very long time to develop a style I really like while I see new scrappers now jump right in with beautiful pages, and I survived the days of when it a significant part of the hobby had a slightly more narrow view of its potential: that scrapbooking was just for pictures of your children or grandchildren. The upside is that having seen the huge change over the years, it is a tremendous feeling to know more and more scrapbookers have embraced the idea of scrapbooking about themselves, and writing their own memoirs one scrapbook page at a time.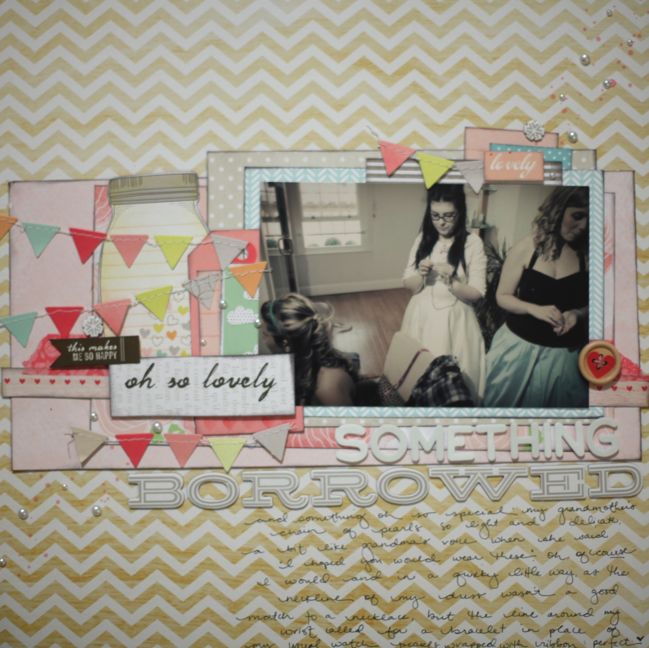 After fifteen years of scrapbooking without kids, it's safe to say I have quite a few pages about myself in one way or another! And I'm okay with that. I know it has helped my perspective on life and it keeps my memory pretty darn clean, both of which are happy side-effects of this hobby. I know if you don't scrapbook about yourself or purposely stay behind the camera to avoid being in the pictures, it seems so very hard. Even when you get used to being in the pictures, there are times when it's not easy! I go for ages without wanting my face in a photo – unhappy with my hair or my skin or just feeling awkward. Welcome to real life, right?! The thing that helps me push through this is to use teenage photos as a big note-to-self. I was harshest on myself in my teenage years – something I'm sure many of you understand! Of course I thought I needed to fix about a million things about myself just to be acceptable, and yet when I see those photos now, I realise that wasn't really the case. There are plenty of things I wish I had appreciated then, and I try to tell myself that the same will be true with today's pictures years from now. I'm especially dedicated to getting more group shots now – pictures with family, friends, and all the important people in my life – with all of us together rather than just one person per shot. I know that even though group shots may be less perfect in photos, they grow to be far more precious, showing more context of that particular moment in life.

Glitter Girl has a few ideas for scrapbooking herself, complete with a rather unfortunate hairstyle at the Junior Prom. Bad haircuts are not a requirement for this challenge, but I am inclined to give you bonus points for bravery! (See this page for further details of this Glitter Girl Adventure.)
And now for our guest artist, Janna Werner, who has far better luck with white and cream papers together than I do!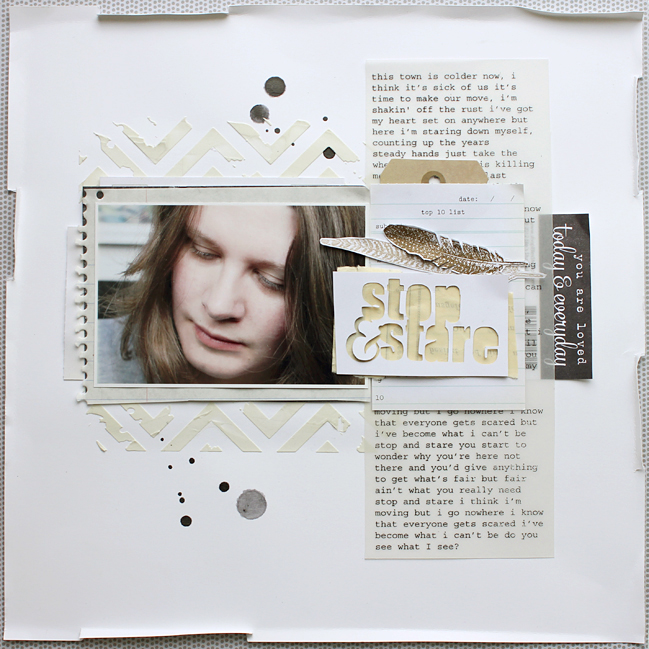 When I read the topic of this challenge I knew immediately that I wanted to scrap about "some serious stuff" – scrapbooking is a great way of documenting the fun parts of one's life, but also to express thoughts, struggles and sad stories. I named my page after a song by OneRepublic, called "Stop and Stare", where the singer sings about finding yourself in a place or position you never wanted to be in and to realize you are kind of stuck, living something that you aren't and don't want to be. I can relate to this feeling, I think it's the normal struggle of finding yourself in a position you never wanted to be in, being the grown up you never wanted to be when you were a child and having responsibility for lots of things you never imagined. My experience is that I can not change everything that I would like to change, but I do have control about a few things. Sometimes it requires to step back, to stop and stare, to trust that I am being loved and that there is something out there – whatever it might be – that guides me through life and helps me to become the best me possible.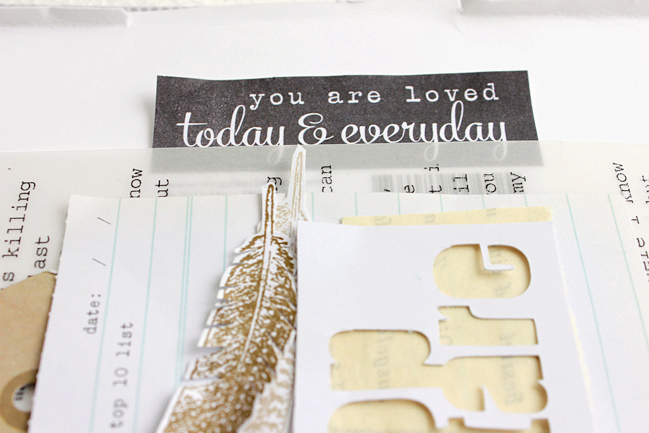 About the Artist
Janna Werner is an artist, freelance writer and teacher. She lives in North Germany, together with her husband of nearly 3 years. Janna´s love for papercrafts and mixed media art evolved in 2010 when a friend introduced her to scrapbooking. Since then she has been working together with well-known papercrafting companies, magazines and international artists. She is currently doing design work for Crate Paper, entreArtistes magazine, Sizzix and Two Peas in a Bucket. You can find her on her blog and her other Social Media sites: Instagram, Twitter, Pinterest, Facebook, and Youtube.
Your eighth challenge is to scrap about yourself! Entries close at the end of next Sunday, the 12th of May. Please check back on the 14th of May to see if you have won a prize.




Read more about: inspiration-party
04 May 2013

Next post: Is a digital cutter just what your scrapbooking needs?
Previous post: Using unexpected supplies on your scrapbook pages