And now it's time to step back from the craft room shelves and find inspiration in the everyday items that surround us. SJ Dowsett has wandered round her house for you and made some scrapbook embellishments from items we wouldn't normally use on our pages. Toilet tissue for example!
She explains that making a 3D embellishment from toilet paper and glue is wonderfully simple.
All you need is some heavy card, toilet paper and PVA glue. I added some water to my PVA to thin it slightly as it had been sitting on the kitchen window sill for some time and had thickened! – then all you do, is "draw" your chosen design (you could even print it!) on the card. Twist lengths of the toilet paper into rope and then glue down following the design. Because the toilet paper is so fine, it almost melts with the glue and you can mold it with a paintbrush if you needed once it is on the card. Leave to dry somewhere sunny or warm for around 24 hours. Once it is dry, you can either paint the whole card, or do as I did and trim your shape out. Covering it is the fun part, use washi tape, paint or even wrap it in wool. I made a big ampersand shape which I covered in chevron design tape. I am going to be using it as a filler card for my project life album.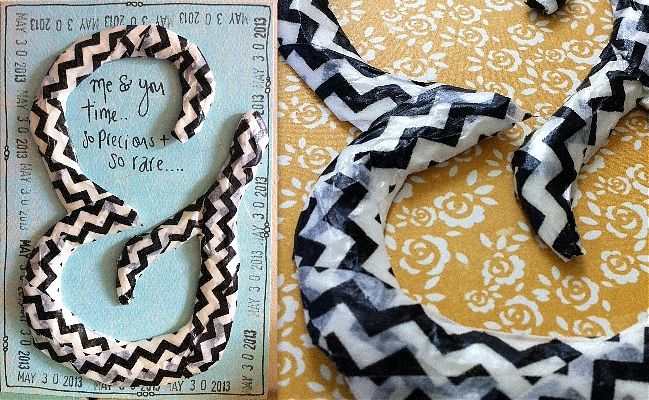 I sing a song by Mindy Gledhill called Hourglass to my son every night before he goes to bed, it is a precious time for me, which I know won't last. When he is grown and I become a hindrance rather than an wonder to him I want to look back on the time with fondness. I made a felt rocket from colours my son chose, he also chose the size and shape and letter for the front.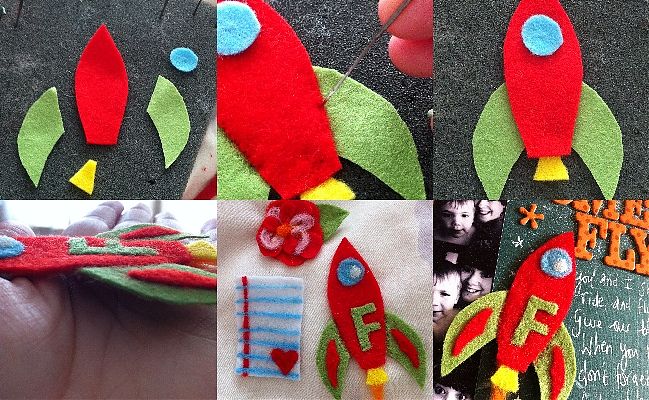 His involvement in the process made it even more lovely. The start of the song is our favourite part, which mentions flying to Neverland – so this is the section of the song that I decided to remember in layout form. Whilst I was needle felting, I knocked up a little list embellishment to go on a project life insert.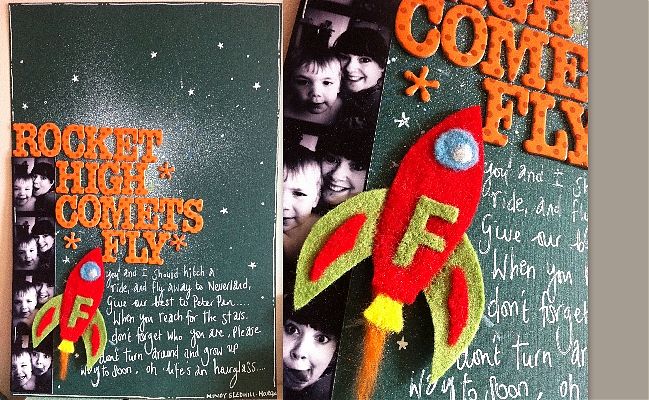 Other things I made were journal card embellishments for her project life using cross stitch fabric and simple straight stitch.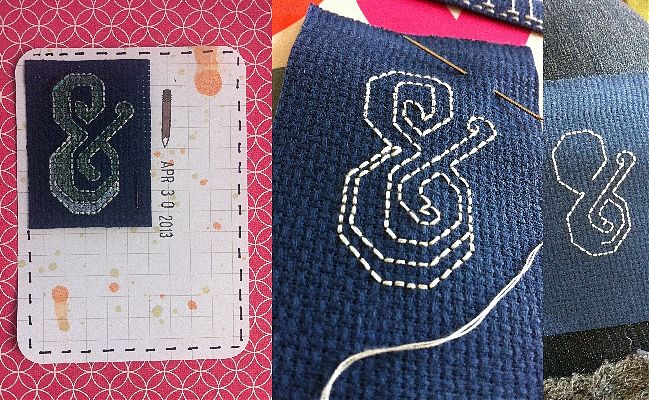 About the Artist
SJ lives by the sea and runs a little business called Little Musings from where she sells Personalised prints, hand painted quotations and Craft Stamps. She loves photography, typography and daydreaming.
Her typography prints are the end product of the peculiar thoughts that drift around her head. Whilst you and I might wait at a bus stop pondering the yellow-sticker-reduced price-food-bargains in the supermarket, SJ ponders such things as:
What is at the edge of space……
Do Whales worry they have too much blubber?
Where are all my hair bands?
I wonder if Jane Austen ever had a pyjama day?
Isn't Pyjama a funny word?
And other such nonsensicals that she traps in a jar in her mind, and stores up for later.
Your seventh challenge is to use unexpected supplies! Entries close at the end of next Sunday, the 12th of May. Please check back on the 14th of May to see if you have won a prize.




Read more about: inspiration-party
04 May 2013

Next post: Never be afraid to scrapbook yourself
Previous post: How to find your scrapbooking style: scraplift yourself!