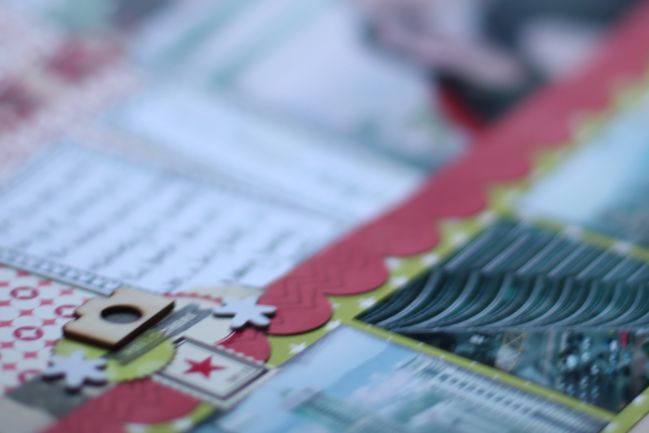 I share enough pages that you can easily put together an idea of my general process. I don't really reinvent the wheel or worry about replicating a design I've used previously. For all the times I start a page by piling a mix of rectangles on top of a subtly patterned background, I like the chance to balance that with a look that's a little more tidy and inspired by dividing the page into different blocks.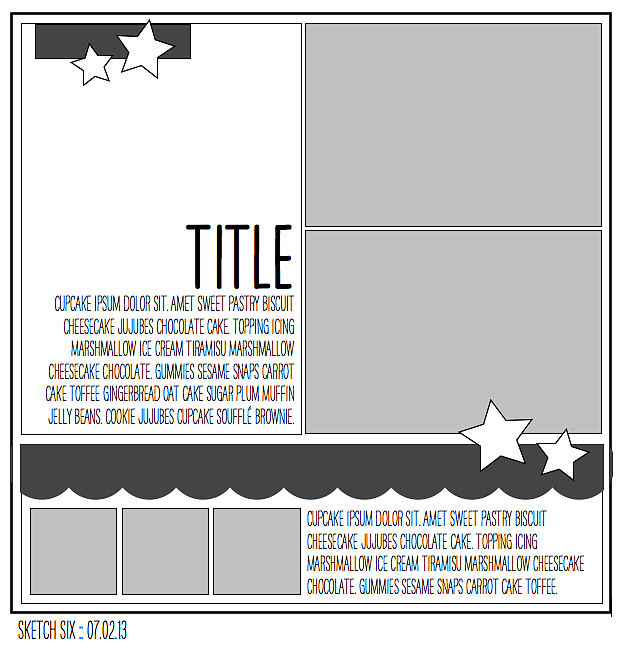 Today's sketch is not wholly unlike this one in the archives. But this time it's a bit streamlined and includes more photographs – the same idea of two landscape 4×6 prints but also three small square pictures. This makes it perfect for using with photo photos (Instagram or otherwise) but it's also handy for cropping into details that might be lost in a larger, less-than-perfect shot. That latter option is what I included on this page.

Again, I'm working a bit simply, but not quite as sparsely as the diagonal sketch. And the recent episode of the Paperclipping Roundtable inspired me to get some of our silly self-portraits onto a page. In addition to the difficulty of taking such a picture, these particular photos make me laugh as this marked the point in the trip where my hair started to get really awkward. Because we had no checked luggage, I couldn't travel with scissors, and I had a lot better luck getting a mani/pedi on the road than a haircut! By Malaysia, I had definitely reached that point where my fringe was so long it was in my eyes, but not long enough to pin back! I did eventually just take matters into my own hands… I bought some scissors in New Zealand and used the wing mirror on the van to cut it back to something more manageable. We've all had these moments of frustration, right? I suppose that's something that needs to go in the Kiwi volume of these scrapbooks! Anyway, back to this page, these photos were taken when we toured the Petronas Towers in Kuala Lumpur, Malaysia. The smaller photos are cropped images of the view from the bridge that connects the two skyscrapers.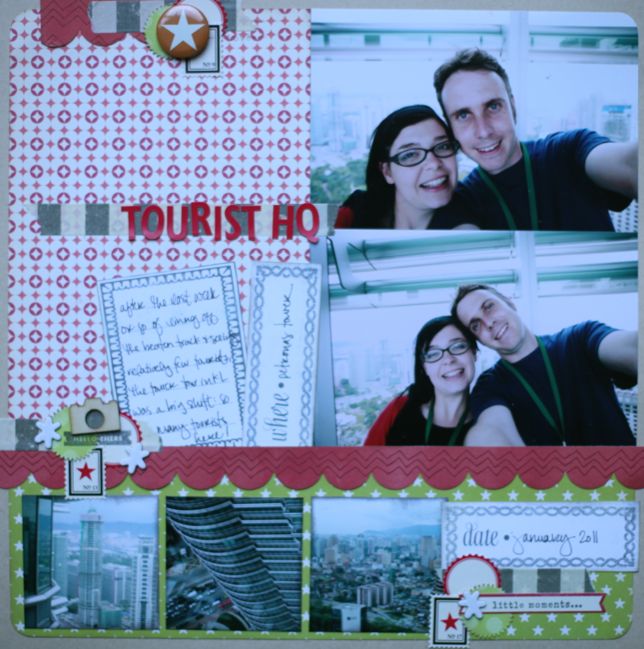 This page was made with the February product picks for Best of Both Worlds. If you ordered the same, you're welcome to put it to use in the same way, but of course you can use any supplies you would like! There are just a couple small pieces not taken from the kit – a sheet of kraft cardstock for the background and the wood veneer camera used in the final bit of embellishment. I used Staz-On ink in black for the stamping, since the surface of the JBS stickers is a bit more glossy and while some other inks work perfectly well with that surface, it is a bit more slippery and I'm just less likely to make a mess of it with Staz-On!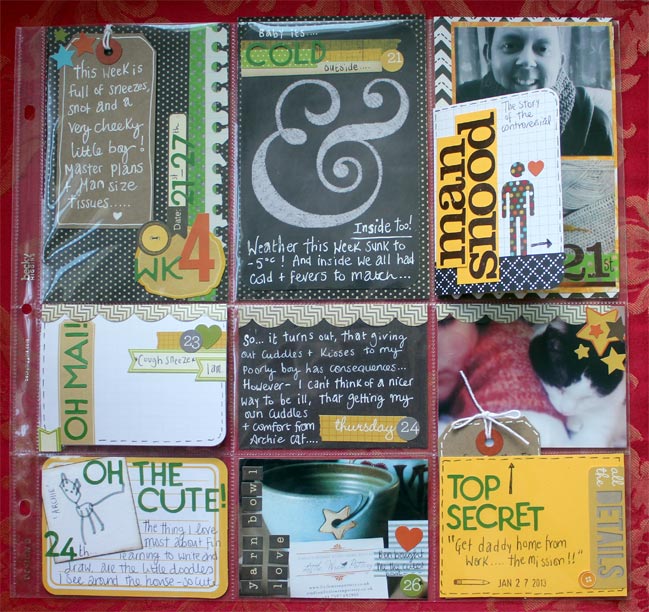 I had a slightly different challenge in mind for today's sketch guest, SJ Dowsett, and that involved taking a page sketch and adapting it to a Project Life entry with divided page protectors. I think there's quite a bit of potential for adapting sketches in this sort of way, and a more blocked page design seemed the best place to start, but I was really enlightened by SJ's creative process for making it work:
Using a sketch in conjunction with Project Life presented me with a challenge I hoped I could rise too! – breaking the sketch up into segments so it fit into a divided page protector was harder than I initially thought. But instead of panicking, I got a pen and ruler and drew over the sketch so I could see what areas I needed to focus on.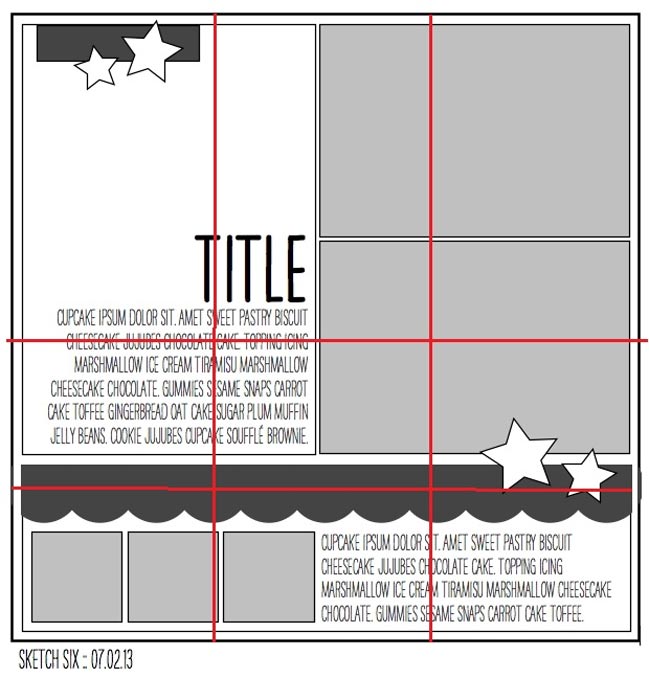 I applied the rules, of being able to flip and turn the sketch and although it may look loosely based, the double photo, stars, scallops and left hand title are all there. I used an Ampersand card as a focal point, which is a digital download from my _Chalk it up kit available from my digital store has made me want to explore the idea of breaking up sketches like this again for Project Life. Sometimes it is a great chance for your brain to take a break of the planning the weekly layout when it's already laid out in front of you to work from the sketch._
SJ is a stay at home mum and freelance graphic designer. Creating digital stamps and prints, she spends her days within arms reach of pen and paper for doodling all the random thoughts that wander through her mind. She believes in finding cost effective ways to scrapbook, making pretty printables and noting down the tiny things in life that ordinarily she'd forget. Read more about SJ on her blog and find her digital and printable designs at Little Musings.
And now it's your turn! Create a page in your style with this sketch, post it online, and share it with us. You can upload to your blog or to a scrapbooking gallery like Two Peas or UKScrappers, then just follow the steps to link to your project wherever it can be found online!

Read more about: sketch-of-the-week scrapbooking-videos
24 February 2013

Next post: Using Color Wheels as a Motif: a Scrapbook Tutorial by Leah Farquharson
Previous post: Sketch to Scrapbook Page :: Simple Designs for Patterned Papers on the Diagonal