Wow, this has been quite a day already, but the videos are a-loading and it's definitely all systems go around here! I have one video and sketch for you now, and then I'll pick up again in the morning with the rest of this catching up session! I hope you find something useful in the mix.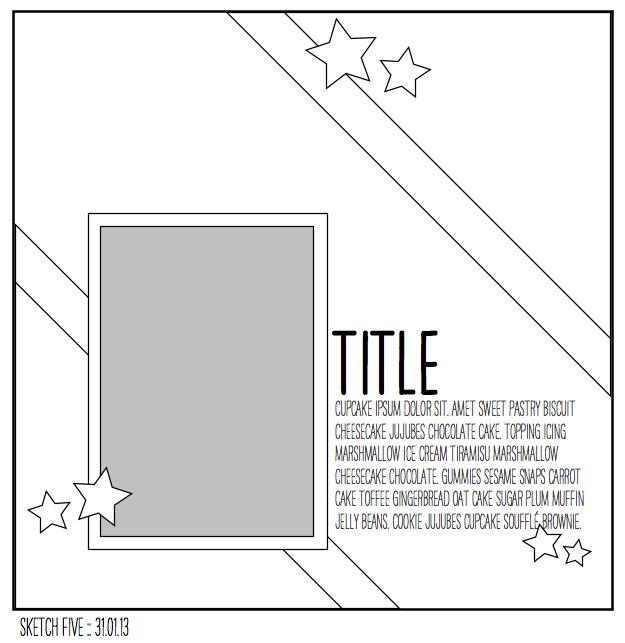 This sketch is meant for a scrapbook page with a single, portrait photo. It's shown as 4×6 but could easily be bigger – especially if paired with quite simple patterned papers. The smaller strips on the diagonals could be paper, but they could be all sorts of other things – border stickers, washi tape, ribbon, stitches, and so on. This could easily work with additional photos too with a bit of rearranging to the other elements. Feel free to move it around to make it work for you!

I worked very close to the sketch this time around, and the resulting page is quite simple in style. Considering some of the major embellishing I've done on some pages in that album, I've wanted to add a few simpler pages to give a bit of balance. I love embellishing but I also want the focus of a book to be on the writing and photos, not just 'wow, you added a lot of stuff there', so some more stream-lined pages are in order.
For this page, I'm working with the supplies from the February Best of Both Worlds kit. Of course you're welcome to join in with any supplies you choose.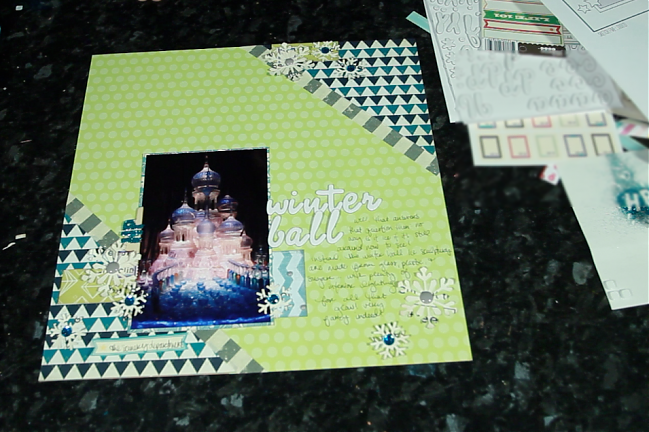 Why yes, that will be much prettier when photographed properly in some daylight tomorrow morning! But in case you don't have time to watch the video right this second, here's a still image for now to show the final project.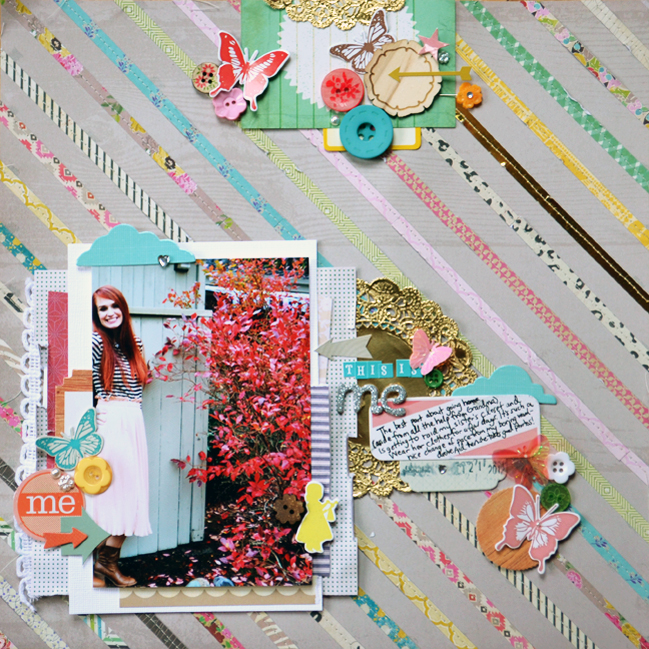 This page from today's guest Paige Evans makes me swoon. I love that stitched strip detail she chose to emphasise the diagonal! Paige has a few further notes:
I made this layout while I was at home in Washington state. I didn't have my scrapbooking supplies with me, but luckily my sister is also an avid scrapper so we rummaged through her stash and found some super fun things to work with! The sketch was such a great start. I liked the two diagonal lines and decided to keep going with that idea and make diagonal lines of patterned paper across the entire layout. I mostly used the On Trend collection by Crate Paper, with some gold accents thrown into the mix. The placement of the photo, title, three embellishment clusters, and journaling are right where they are in the sketch – sketches make things so easy peasy!
You can find more of Paige's work on her blog. She designs for American Crafts and Two Peas in a Bucket, and also works for Northridge Publishing, the company behind Scrapbook Trends magazine. She loves to create on a daily basis and enjoys dabbling in everything from fine arts (painting, drawing, sculpting, printmaking), to bookbinding, basketweaving, photography, graphic design, and more.
And now it's your turn! Create a page in your style with this sketch, post it online, and share it with us. You can upload to your blog or to a scrapbooking gallery like Two Peas or UKScrappers, then just follow the steps to link to your project wherever it can be found online!

Read more about: sketch-of-the-week scrapbooking-videos
23 February 2013

Next post: Sketch to Scrapbook Page :: Adapting a page sketch for Project Life
Previous post: A weekend of sketches and scrapbooking