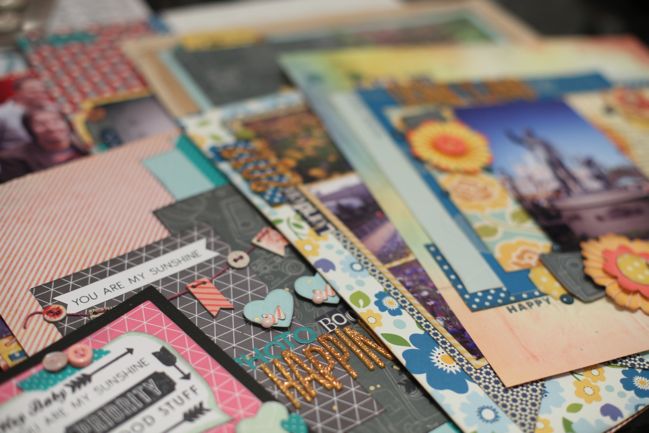 All told, my January kit (with the help of one extra sheet of cardstock, one of patterned paper, a few paper scraps and some enamel dots) made six single-page scrapbook pages and one card. And just in time, I am ready to roll onto February with new product picks for the month. (And I have a little video to show you both things – all those finished pages from January plus a look at the February kit!)

February and March present something rather interesting: in late January and early February, prices on current scrapbooking products are slashed to make room for all the brand new products that start to hit the shelves over the next few weeks. So this month, we can get quite a bit for our money! Next month will have fewer items but they will be brand new releases. I like that balance – hope you find it useful too!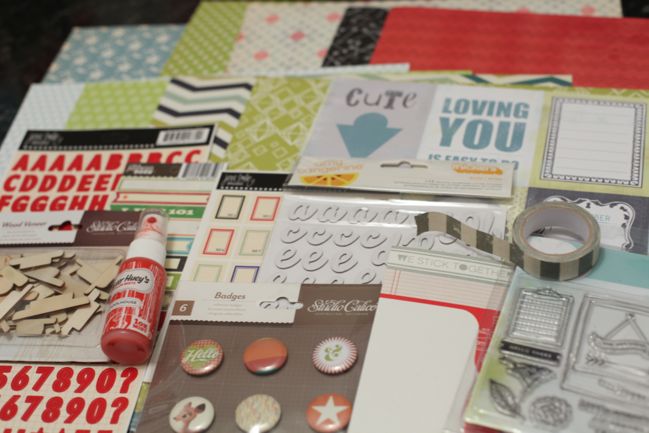 Click here to shop the February edition of Best of Both Worlds!
(Also, the original cut-apart sheet has now sold out, so I added the second design to the list while it is still in stock. You can see all remaining designs from that line here in case something is to your liking!)
If you're new to the Best of Both Worlds idea (and don't worry – this is only the second month I've done this!), the basic premise is that you can pick up the whole kit just like I'm using by going here and adding one of each to your order. But Best of Both Worlds gives you the freedom to customise so you get exactly what works for you. If you don't stamp, remove the stamps and save that price. If you already have some of the items in your stash, don't buy them again and wind up with duplicates. Or if there is something you really love, add more. I don't use much cardstock on my layouts, so I don't include it in the list, but if you want cardstock you can either add it (find it here) or you can replace some of the patterned papers with solid cardstock so you're not adding to the overall price. There's no subscription and no obligation. But if you would like something simple to assemble a nice box of goodies for you and you like the sort of things I tend to use, then there you go. All nice and easy.
A few questions that came up last time around…
International shipping
I totally understand that the shipping may not work out to make these the best prices for you in the world. But it might not be as bad as you think. Two Peas is working on improvements in their international shipping system, which often over quotes the price. If you open a service ticket on their site (there's a link at the bottom of the screen), they will credit the difference if you report it within thirty days. (The thirty days is important!) I know that's not perfect (and they know too, and are working to improve it), but if you didn't ever think about the difference in the quote and what was on the box, that is important information so I'm sharing it with you. I do it on my orders too. If you have a local source that makes the shopping better for you, then fair enough! You can replicate the items as best as possible with your own source if that's a much better option for you. (Several people asked why I didn't set this up with insert name here shop. I like craft shops everywhere, I absolutely promise. Two Peas goes out of their way to work with me, and they support my crazy ideas. So for me, it's a good match.)
What if things sell out?
As of the turn of midnight on the first of February, there is good stock on all the chosen items. But that doesn't mean they will all sit around forever, of course. You can take a look at what is and isn't in stock from the January kit here to get an idea. Some of those items went out of stock earlier in the month and were reordered because many people clicked the 'request and notify me' button so they are now back in stock. If you come to this post later in the month and some of the items you want are no longer available, never underestimate the power of that 'request and notify' button.
How do I get free shipping at Two Peas?
You need to subscribe to their free email newsletter (you'll find that in your account settings). Every month they have a code you can add to your order. If you spend more than $50 on physical, non-close-out items, you qualify for free US shipping OR $5 off your shipping to anywhere else in the world. The kit alone would not qualify you for that, but if you had other things to add to your order, then you're not ridiculously far from the $50 either, and it might work out better for you to spend a little more on product rather than spend the same amount on shipping. Remember you can always see your shipping cost by going part way through the checkout process – you can see the shipping cost before you pay, so you can back up and make changes if needed.
What's the deal with the Two Peas customer loyalty programme?
It changed over the past month. They had the same loyalty programme since it started, more than a dozen years ago. This industry has changed so much and I can tell you flat out the profit margins a dozen years ago were far, far higher than they are now. Plus inflation meant the amounts for the levels of discounts were not a fair comparison. I mean… think about what you spent for a cup of coffee twelve years ago versus what you pay today and you'll know prices are not the same. Patterned paper is the same thing: when I started buying 12×12 scrapbooking paper by the sheet, the retail price was lower than the wholesale price in 2013. That's extreme. To offer such a high discount at such a low threshold in a market with such little profit margin left must have been dangerous to the bottom line. (Please understand that statement is complete speculation from my knowledge of the industry and a bit of simple maths – I do not have any information about the financial side of Two Peas specifically.) They have revamped their loyalty programme and yes, it means that many people (myself included) had their percentage discount diminished. That is sad all around, but I would be sadder if Two Peas didn't exist! The difference per order from my old percentage discount to my new discount is less than five bucks. And having just been to California, I paid more than that for a cup of coffee. So I'm trying to use that information to put it into perspective for myself. Short answer, yes, you will likely find your loyalty discount is not as great as it once was. However, there are also opportunities now to get loyalty points by chatting on the scrapping boards and uploading projects the gallery, which didn't exist before. And there will be special opportunities to earn bonus points throughout the year in all sorts of different ways. I love that the end result will be value added to the scrapbooking community at Two Peas. But yes, there have been changes, no, I don't have any say in them, and above all I really hope it means Two Peas can continue to offer such a great variety of scrapbooking products all in one place. Also: since late November, Two Peas has offered better sales than they ever have before. Loving that.
*What's the shipping turnaround right now?
I ordered yesterday. It shipped today. I would say things are pretty in the zone in their warehouse right now!
How long does it take an order to arrive from the US to the UK
Once it has shipped, my orders tend to be at my door in 10 to 14 days. If you order a lot, it may need to go through customs, which adds charges and time, yes.
Can I post the kit contents earlier?
No, it will always be the first of the month, and then I'll use that kit throughout the month. The videos and blog posts don't expire, I promise, and you can use them at any time. Because you are not subscribing, I need to have one day when I check all the inventory and make sure everything I will be using is in good stock, so it wouldn't matter what day of the month that was, the same conundrum would exist. The first of the month to share the product picks and then that month to share the projects keeps my brain from imploding.
I think that's all! I look forward to sharing projects from this kit with you throughout February!
Click here to shop the February edition of Best of Both Worlds!

Read more about: best-of-both-worlds-kit scrapbooking-videos
31 January 2013

Next post: Five Imaginative Ways to Scrapbook with Paper Doilies by Cindy Stevens
Previous post: One Last Look :: Using the very last pieces of a scrapbooking kit