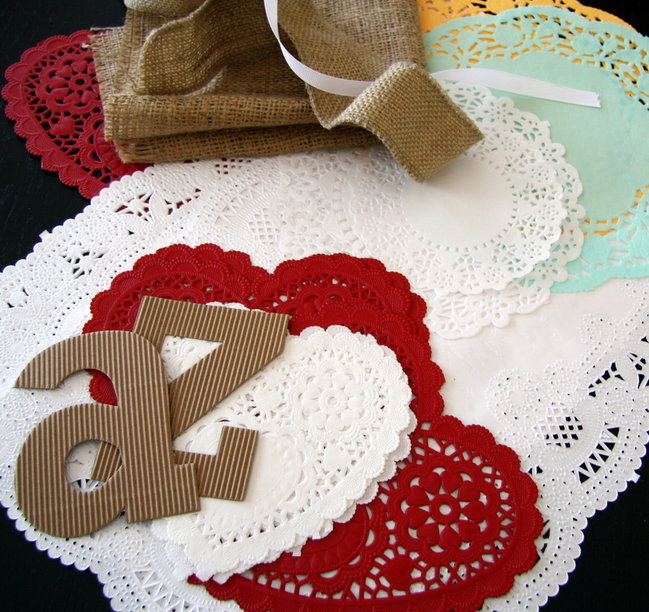 I'm delighted to welcome Cindy Stevens to shimelle.com today, to share five ideas with a supply for which I have much, much appreciation! I hope you find her ideas inspiring, perhaps for a Valentine project this month!
An ongoing trend that I have fully embraced is the paper doily. Not only is it affordable and readily available at most big box and bargain stores, it is a pretty little embellishment that really adds a bit of something extra to a paper project. In this economy, I like finding little gems like this as it allows me to add to my scrappy stash and spend my money where I think it really counts: paper!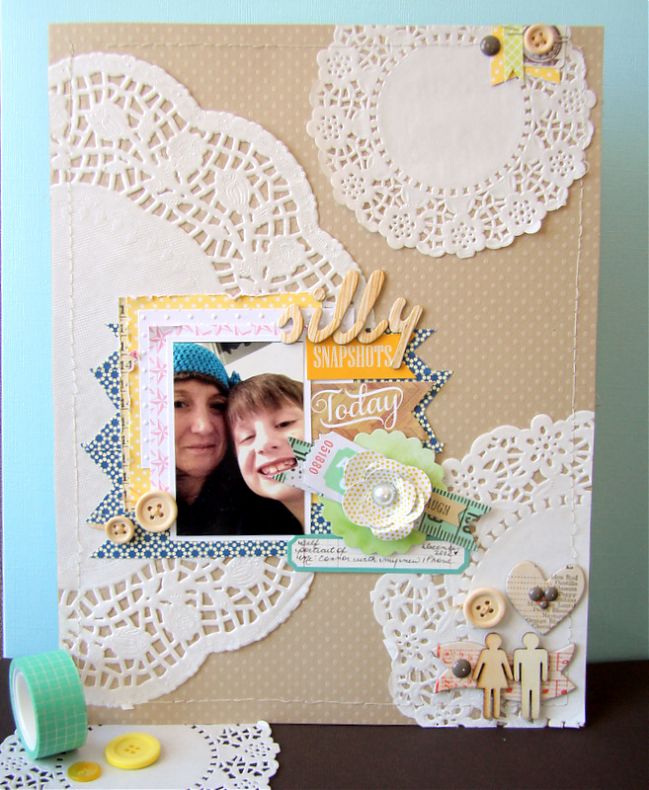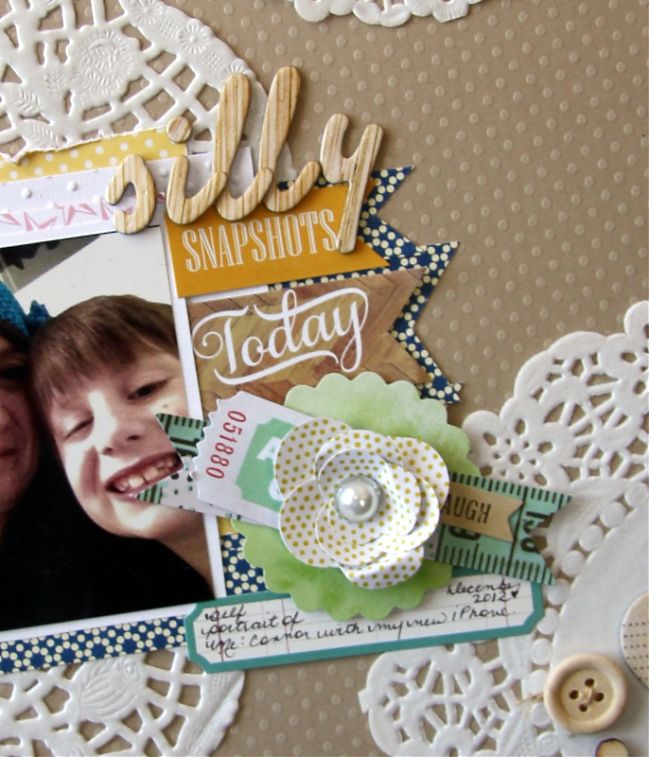 Cover a background
For this first scrapbook page, I started with a neutral card stock baseand added doilies in different sizes (trimmed to flow off the page) and made the doilies my main focus. I then added little embellishments from the American Crafts Dear Lizzy line in soft shades to finish off my layout. The texture the design of the doilies gives my little project a little extra something.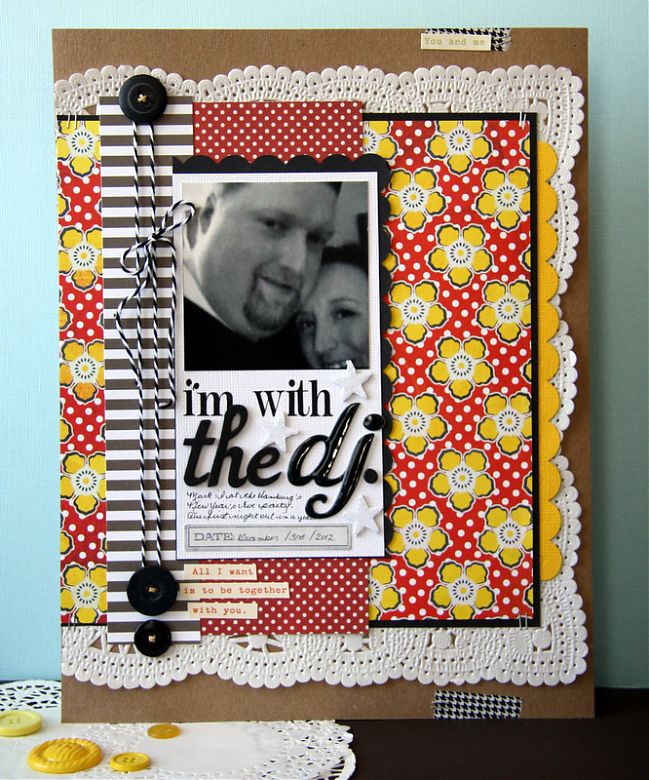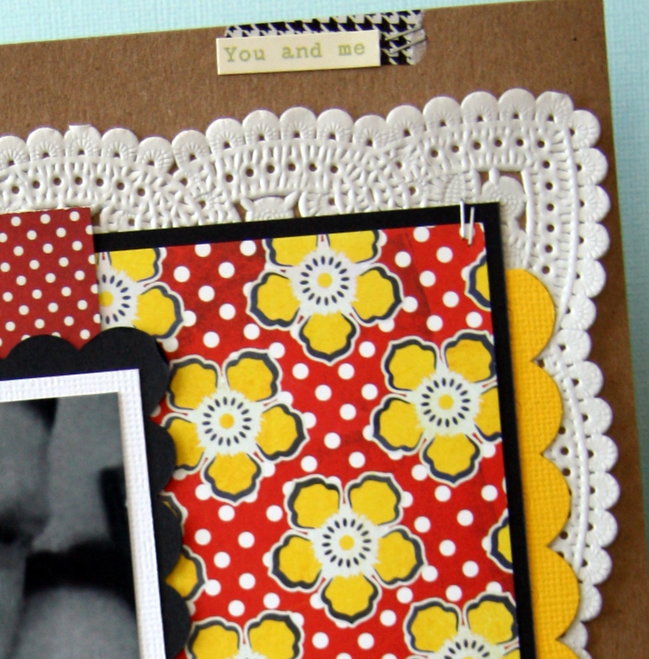 Make a fancy paper mat
This layout is a bit different. I chose a vibrant paper pattern (BasicGrey), mixed with smaller scale polka dot papers & (My Mind's Eye) black and white striped elements (American Crafts). I used a white, rectangular paper doily as my background element (inking, sponging or misting is a great way to change the colour on paper doilies as well). This allows the bright patterns to really shine without making my LO look too fussy, frilly or feminine.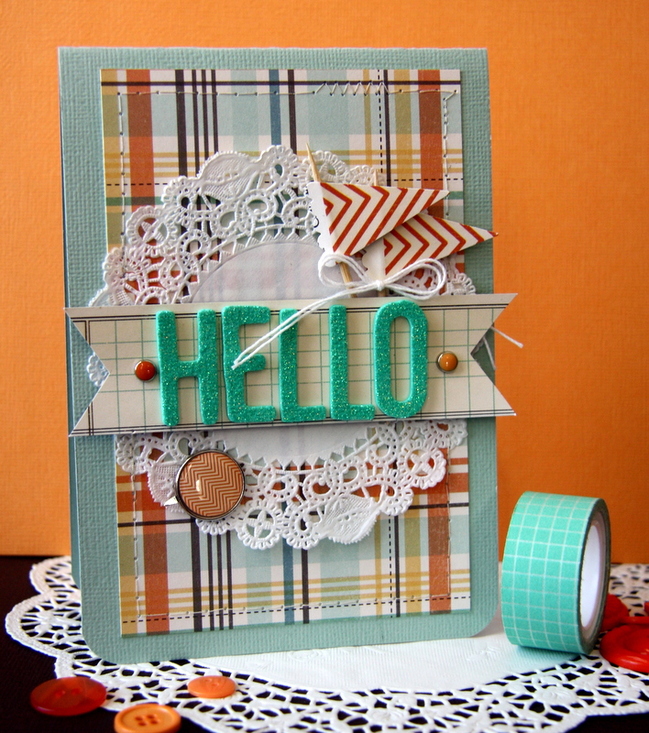 Anchor your design elements
On this happy card, I used the doily as a way to anchor my sentiment & embellishments. Anchoring draws your eye to the focal point.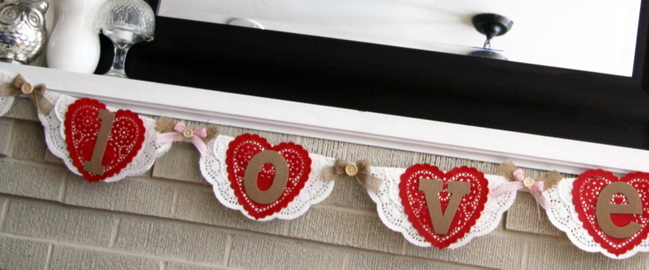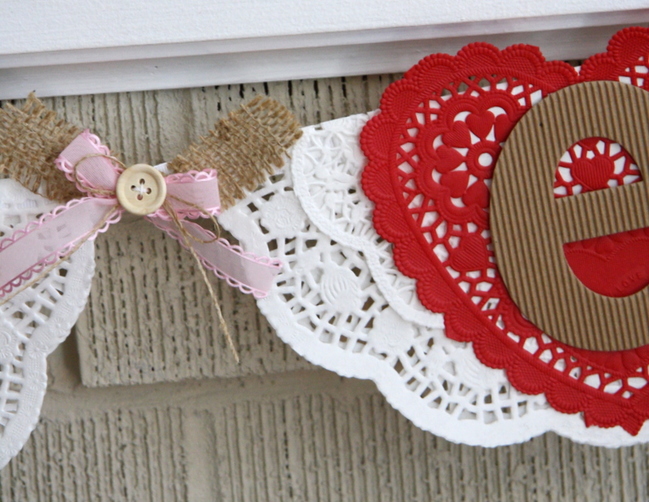 Dress up a banner
These last two projects, I am thrilled to say, finally put a slight dent in my paper doily stash. If you look closely, you will notice that most of the banner pieces use two or three individual doilies. This project came together in about two hours since I didn't have anything to cut and very little to glue. I used staples to keep everything in place and foam adhesive to adhere the strategically placed letters.
I sewed the bow embellishments to the ribbon.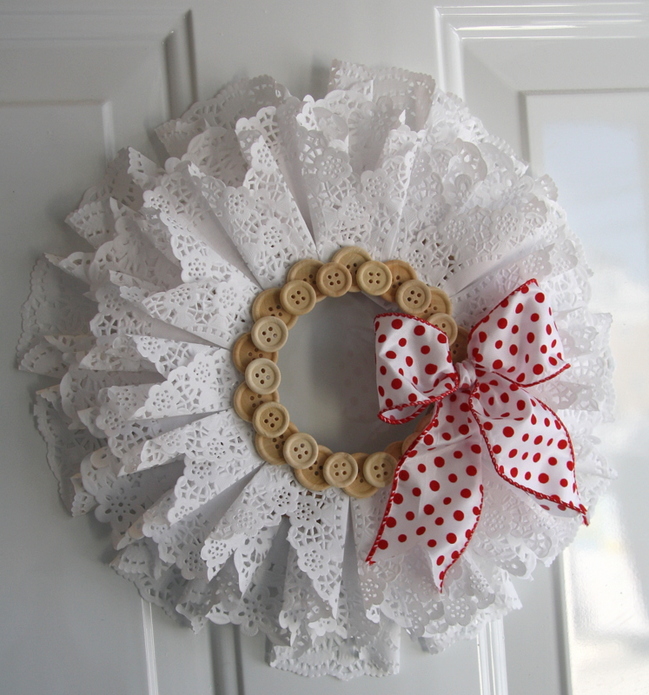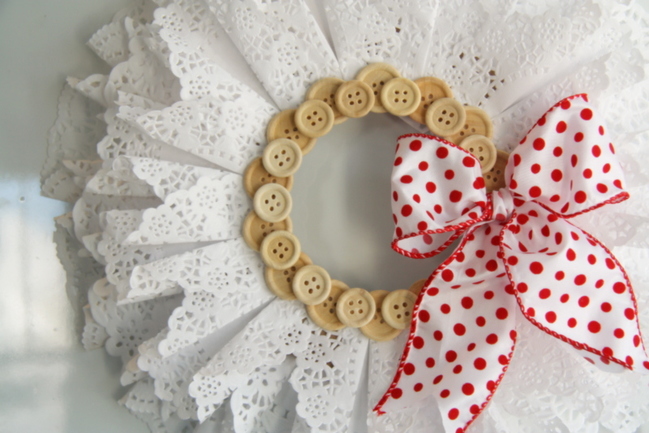 Make a stunning paper wreath
This paper doily wreath was probably the fastest and easiest project. I started with a 3" MDF ring piece. I then used double sided super-adhesive tape (American Crafts) and placed the folded doilies around the outer circumference of my form. I then layered a second, smaller row on top of the first row. Using Glossy Accents, I added two rows of plain, wooden buttons (in two sizes) around the inside circumference of my wreath (see image for placement). I finished it off with a polka dot bow and a third row of folded doilies on the underside of my wreath to add fullness. Florist wire (doubled) & adhered with the sticky tape, finished my project.
These projects were a lot of fun. Keep paper doilies on hand for a quick, easy and affordable project.
If you don't have a stack of paper doilies in your crafting stash, you might check the cake decorating section of your local craft store. As their more traditional use is to dress up a party table, you can often find them in affordable packs and in a variety of shapes, sizes and colours.
| | |
| --- | --- |
| Cindy Stevens lives on the East coast of Canada and keepsher days full by volunteering at the local school, working on her family's business, catching up with friends on the playground, and crafting, of course. Find more of Cindy's work on her blog, CinCin's Happiness. | |

Read more about:
04 February 2013

Next post: Creating Paper Pattern Windows: a scrapbooking tutorial with Jennifer Gallacher
Previous post: Best of Both Worlds :: My scrapbooking product picks for February 2013