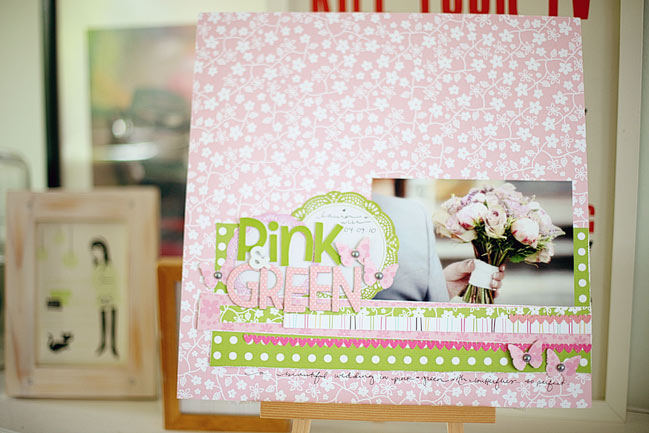 This idea of how individual pages make a full album is something that's on my mind so much recently. It applies to that idea of adding in more photos or writing to help things make sense, but it also applies to the design. We can create pages with so very much in that 12×12 space – plenty of photos and patterned papers and accents. As we turn the pages in our albums, those sorts of pages become less appreciated when our eyes get a bit tired from taking in all the details.
Every once in while, I love the break from a really detailed page to go with something simple that leaves plenty of room for your eyes to relax. It helps if you really love the patterned paper, like this lovely and simple floral from the Ever After collection by Pebbles. That helps a minimal design not look too stark, but still less overwhelming than some more crowded pages. So this page will work like that – with the design kept to just two colours and half the page space!
One other product I love from Pebbles that is easy to miss – Candy Dots. They are simple little dots in pearls, jewels or buttons, with a glue dot there on the back so you can just add them without any messing about with the adhesive. This pink and green wedding was accented with grey, so I used grey Candy Dots in the middle of each butterfly. They are such a simply way to dress up a layout with that special something!
How about a challenge? Create a layout that only uses half the page. It can be whatever half you would like, but somewhere around half the page space needs to be breathing room!
Many thanks to Pebbles for sponsoring this challenge! You can find them on Facebook and Twitter, so be sure to follow them!
One entry will be selected to win a prize pack of scrapbooking supplies from Pebbles. Entries close at midnight next Sunday (21st August 2011).
Feel free to use the comment section to chat about this challenge, as the entries should go in the linky widget!

Read more about: online-scrapbooking-weekend wedding
14 August 2011

Next post: Scrapbooking challenge :: Your Signature Accent
Previous post: A bargain for UK scrapbookers