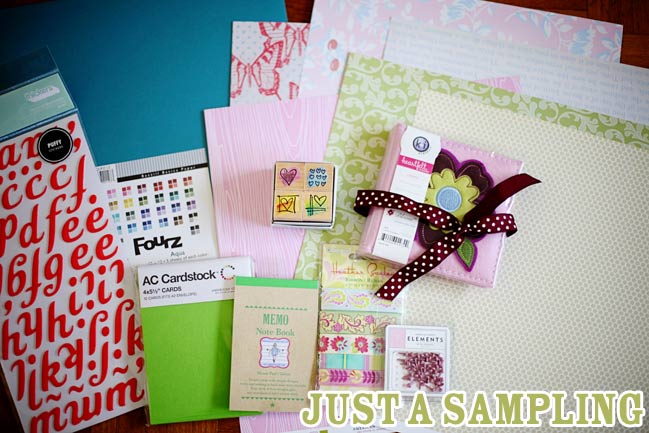 So for US scrappers, there's the free shipping offer this weekend, but I promised something for UK scrapbookers too, and that's a different kind of bargain.
While I don't have all the latest CHA releases like some fabulous scrapbooking stores, I can offer you a huge bargain on an assortment of past-season releases. So I've set aside a limited number of scrapbooking bargain boxes. Each box includes a variety of things like minibooks, cardstock, patterned paper, stamps (some clear, some wood-mounted rubber), Thickers and other stickers, embellishments and ribbon. There are no duplicates within one box (there is duplication from box to box, though they are not necessarily identical) and all supplies are brand new, they just aren't this season's releases. There are no split packets with the exception of ribbon cut from long reels. Almost all of these items are supplies I have used in my workshops, so they are all products I love. The sample above gives you an idea of the brands included – Bazzill cardstock, American Crafts Thickers and so on. All box contents are major brands I've used on my pages!
Each box is £20, which includes first class postage to a UK address. The contents of each box would retail for at least double that, sometimes more, so there's a savings of at least £20 with each box. And no extra shipping! To keep the shipping costs down, I am recycling cardboard boxes! But everything is packed safely and prettily inside! If you would like a bargain box, click the button and do make sure you're leaving the correct address for posting, please!
All Sold Out! Thanks so much!
Once the boxes are sold out, I'm afraid that's it on this particular bargain. But if you fancy a bit of a surprise at a great discount, I hope you can grab one while they last!
Sorry, I cannot take non-UK orders for this offer.
xlovesx

Read more about: online-scrapbooking-weekend
14 August 2011

Next post: Scrapbooking challenge :: Half Page Designs
Previous post: Scrapbooking challenge :: 3 is a magic number