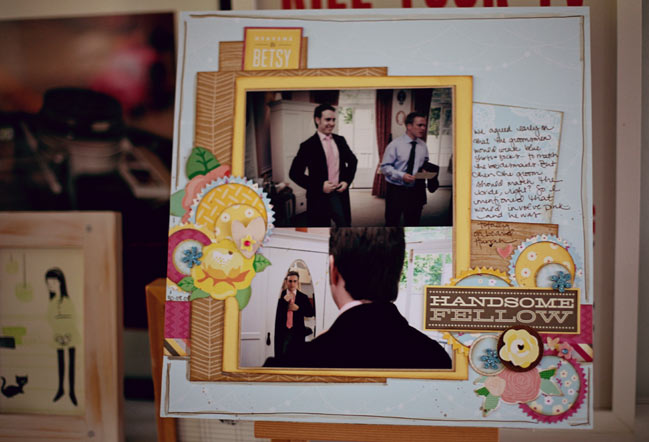 I'm curious: did you love stickers way before you became a scrapbooker? I spent many a hard-saved penny on Hello Kitty and Lisa Frank stickers as a girl, so maybe that's why I love stickers on my pages!
More than that, I love mixing and matching stickers. Almost everything on this layout is from American Crafts (barring the Glimmer Mist and one small piece of yellow patterned paper, I think!) but the stickers come from both the Peachy Keen collection and the original spring Dear Lizzy line (if you scroll right to the bottom of the page, there are still some things from that line and they are now a great bargain). I love how these two collections have a different style but similar colour palettes that make them work together.
While I'm at it, if you're on Facebook or Twitter, have you connected with American Crafts? You can like them here on Facebook and follow them here on Twitter. And you know just one reason you should like them? They have generously sponsored a fabulous prize pack full of American Crafts products for the lucky winner of this challenge! I definitely like them for that. It would be awesome if you did too. Just sayin'.
So here's a new challenge for you: Create a project using stickers from more than one collection. (The stickers can be the same manufacturer or different manufacturers, but not the same paper collection – make sense?) You can follow my layout as inspiration if you like but it's definitely not required!
To enter to win, you'll need to upload your page to your blog or a page gallery (like Two Peas, UKScrappers or Flickr) and link to your entry using the widget below. Be sure to link directly to the relevant page and NOT to your main blog URL.
One entry will be randomly selected to win a prize pack from American Crafts! Entries close at midnight next Sunday (21st August 2011).
Feel free to use the comment section to chat about this challenge, as the entries should go in the linky widget!
PS: It's getting late here, so this is our final challenge for Friday… but there are many tomorrow so I hope to see you for more cropping fun! So far you can find a sketch, a giveaway, a special discount code, the printable challenge and this sticker challenge!

Read more about: american-crafts
12 August 2011

Next post: Scrapbooking wake-up call :: Giveaway
Previous post: Guest scrapbooking challenge with free printable download