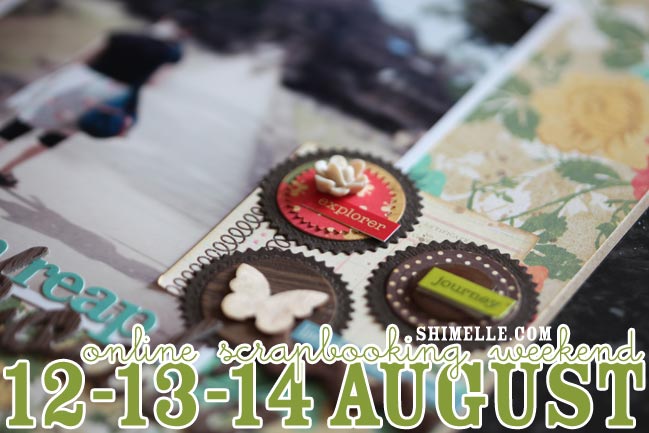 Welcome to three days of scrapbooking fun here at shimelle.com. I'm so glad you can join in! Throughout today, Saturday and Sunday, you'll find regular posts here with challenges, giveaways, mini-lessons, special guests, free downloads and all sorts of things to keep you scrapbooking.
Two very important things to know from the beginning:
…you never have to do something just as it's shown. Please use your own stash, embrace your own style and feel free to make any changes you like. Just because I love layers and butterflies and kraft cardstock doesn't mean you have to. And you definitely have my permission to use all the older papers and stickers in your collection that need to find a home on some layouts rather than continue to age in your stash, so don't feel any pressure to use the latest and greatest if you want to focus on using your older supplies.
…the vast majority of the challenges have a full week until the deadline, so you can enjoy scrapping rather than racing from one project to the next. Work at the pace that you enjoy and complete the challenges that speak to you!
And one other thing: on top of all the specific giveaways and challenge prizes this weekend, one person will win a $100 gift certificate to Two Peas in a Bucket. It can be spent on anything in the Two Peas store, and that's a lot of stuff, plus there are new CHA releases arriving there daily right now, so it's an extra good time to have a shopping spree! The $100 gift certificate will be awarded on Monday (15th August) to someone who really gets involved and shares the spirit of scrapbooking throughout the three days. It's not a layout contest, there's not anything in particular you need to do. In the past, every crop has had its own personal cheerleader in the form of someone who shared their love of scrapbooking and had fun with each challenge, and I think it would be pretty cool to share a little bit of scrappy happiness with someone like that this weekend. So that's the deal on the $100 prize!
And now… a giveaway to get things started! I have a prize pack here with all sorts of things in it – papers, stamps, a minibook, stickers, brads – and it will go to one person who comments on this post. To enter, leave a comment on this post saying why you are proud to be a scrapbooker. Your name can go in the hat an extra time if you share the link via Facebook or Twitter, so if you do that please say so in your comment or leave a second comment if you prefer. Entries close midnight Sunday (14th August 2011), UK time. The winner will be posted on Monday.
By the way, if you are proud to be a scrapbooker and want to share that in your blog sidebar or message board signature, do feel free to grab this. It has been popping up in signatures over at Two Peas and I love it so. I'm definitely on a quest to make it something we're never shy to say! (It only took me a gazillion years to figure this out!)
Once you've entered the giveaway, there's a sketch if you want to get started right now, or come back throughout the day for more challenges and fun!
xlovesx

Read more about: giveaways
12 August 2011

Next post: Scrapbook shopping - free shipping code
Previous post: Scrapbooking Sketch of the Week