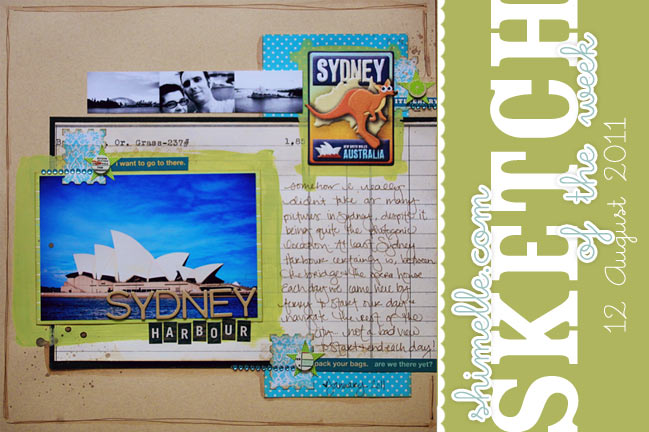 Oh Sketch of the Week, what do you have against me right now? Is it because I was perhaps a little too excited about the online cropping this weekend? And finishing up the last few days of Explore and polishing up a special surprise to end the class? Sketch, I'm really sorry if I hurt your feelings. All I know now is the video I tried to make is broken beyond saving and this post is now late and video-free. Oh dear, oh dear, oh dear.
On the upside: it's here now. And if you're an early bird who can't wait to get cropping, you can consider this your very first challenge. See, Sketch? I love you really.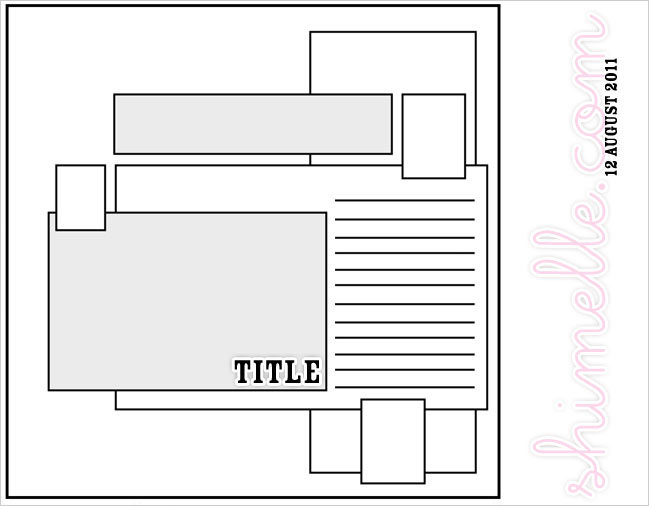 Recently, Julie has been working on a special series of crafty things on her blog called Going Postal, with all sorts of things inspired by postage stamps and real letters. I thought I'd see what happened if I made a scrapbook sketch inspired by a postcard, and this is the result. I used a postage stamp punch for the embellishment to make it a bit more obvious, but that's not a requirement! I just liked the idea of a rectangle divided into two sections (like the note and the address on the back of a picture postcard – but here it's the photo and the writing) then something at the top right corner to mimic the stamp and postmark. If not a postage stamp, what embellishments do you fancy for this sketch?
This week, I started with one landscape 4×6 photo but also printed three smaller images in a line on one 4×6 sheet of photo paper, then just cropped the extra white space away to have the strip of three pictures. So this sketch can be viewed as one photo (eliminate the extra photo strip), two photos (include the photo strip with a panorama or cropped image) or four photos (include the photo strip with three images as shown).
As always, the weekly sketch is no-stress and just for fun! If you use it, I'd love to see, so please leave a link to share your work!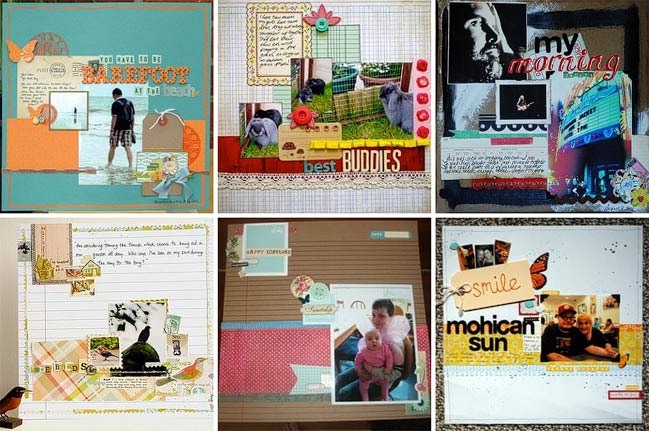 Last week Relly gave me a sketch to change things up a bit and I love the variety of pages inspired by it. You can see all the pages shared here but these six jumped out to me to show the different styles that all started from the same design. Click the corresponding link to see any of these pages in more detail.
Top row, L to R: one, two, three.
Bottom row, L to R: four, five and six.
And now it's almost time to kick off the fun with three days of online cropping! The first giveaway post will be here at 11:00am UK time.
xlovesx

Read more about: sketch-of-the-week
12 August 2011

Next post: Proud to be a scrapbooker :: Giveaway
Previous post: 10 Things :: August 2011