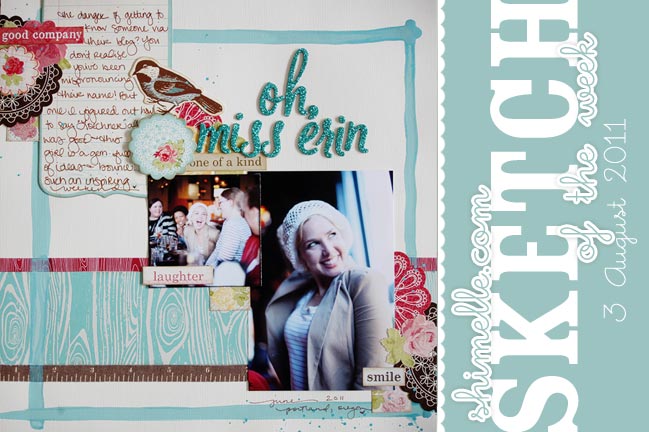 Good news, I think. After a two-week-and-one-day hiatus, sketch of the week is back. That's good, right? I mean the coming back part. Not the hiatus part. But onward.
Also, this week's sketch is a little different to the normal drill in that I didn't draw it. Amidst a day that mixed work, craft and coffee with Relly Annett-Baker (find her here on Twitter until she finishes her scrapbooky web presence), she drew me a sketch and challenged me to scrap from that. She also gave me strict instructions, like "use pretty things". I am hoping I pass muster.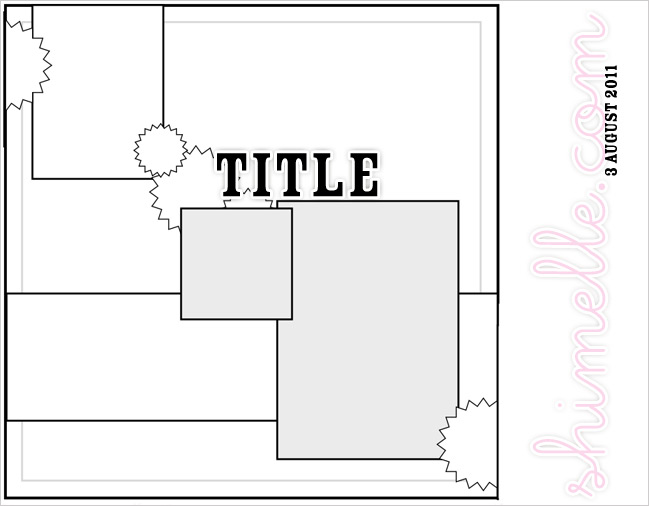 This week's sketch includes one 4×6 portrait photo and a smaller square image, which I printed at 3 inches. I used vanilla cardstock, woodgrain paper from Hambly, Thickers letters by American Crafts and stickers and die-cuts from Colorbok, along with Jenni Bowlin paint and Glimmer Mist. But of course you can use any colours and supplies you fancy!

The Miss Erin in the picture is Erin Loechner, by the way. She blogs at Design for Mankind.
As always, the weekly sketch is no-stress and just for fun! If you use it, I'd love to see, so please leave a link if you post your page online.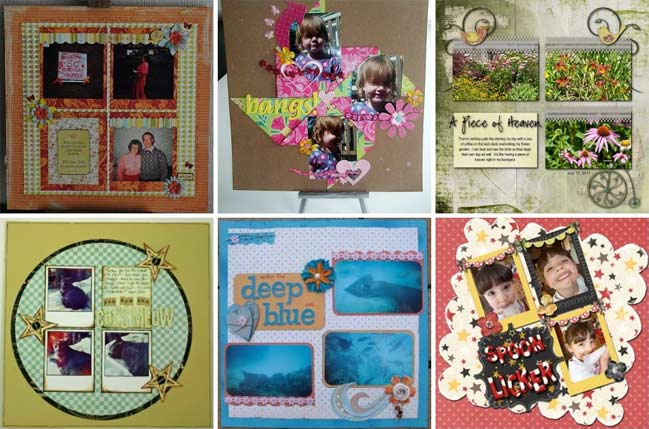 All those many moons ago, the last sketch included three photos in a sort of grid. These are six of my favourite interpretations. Click the corresponding link to see each page in more detail and get to know the scrapper who created it.
Top row, L to R: one, two, three.
Bottom row, L to R: four, five and six.
Thank you to everyone who joined in!
Now… are you up for some sketchy scrapping this week? I hope you'll give Relly's sketch a try!
ETA: Relly has made a page from her own sketch too. Find it here.

Read more about: sketch-of-the-week
04 August 2011

Next post: online scrapbooking crop :: mark your calendars!
Previous post: Everyday Scrapbooking Adventures