Two years ago, this Monday marked the start of one week of excitement and insanity leading up to our wedding. It was a very crafty, DIY affair in many ways, and at this point there were still skirts to hem, bunting to sew and cherry amaretto jam to stew, not to mention friends and family to collect from the airport, deliveries to make and dinner dates to keep! Oh, and the little extra insanity that I knew I only had one day between the wedding and the first day of this annual online class.
I loved every minute of it, but I didn't really get time to blog very much of it. A few things have appeared here and there on scrapbook pages, but most of the projects remained just snapshots on my hard drive after the big day. But between that upcoming anniversary and constant crafty talking and planning for the September weddings of two of my favourite friends, I am back in wedding mode, so it seems the right time to share. So welcome to wedding week here at shimelle.com! (Don't worry – I promise there will be some scrapbooking things this week too.)
Today I'm starting with one of the very first crafty things we finished: our invitations. They were very much a team effort, which is what made them so perfect to me.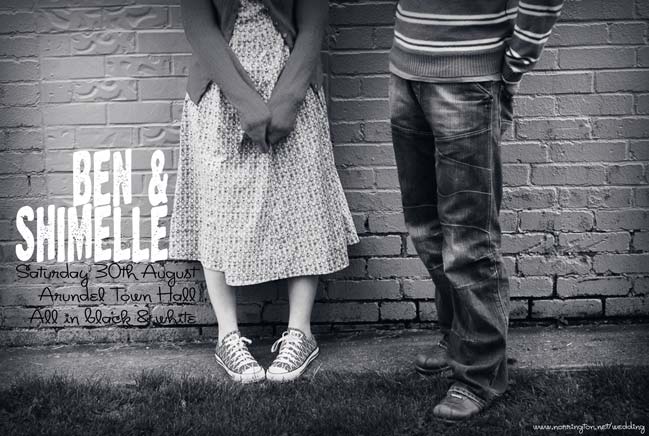 We had quite a long engagement and didn't really start planning straight away. Or actually, we did start planning in quite a traditional sense, like going to wedding fairs and such but I had a really horrible experience and went away knowing that pretty much all I knew was that I didn't want some sort of template wedding that was chosen out of six options in a brochure, which was seriously what was being pushed by those vendors. So we backed off and let things happen as they did. (Yes, this is also known as procrastination. Shush.)
In that window of time between engagement and a real outline of the wedding, we turned a work trip to the Seattle scrapbooking convention into a holiday with a road trip through Washington and British Columbia. That included a day spent with the fabulous Joy Madison and her family. Now, Joy is an awesome photographer (and scrapbooker) and her husband Jon has this wicked-crazy street photography style that I love. So we spent the day eating Japanese food, getting leaves in our hair, chasing geese and standing in the middle of traffic while he took our pictures all over Seattle. Seriously: so. much. fun.
And the shot of our feet above became our wedding invitation. I love how it's a slightly insecure picture with the body language. Not that we were insecure about getting married, just that we are both people who can be very shy and quiet at times and it was just very natural. We added the text to the wall and sent it off to an online printer, ordering plenty of these at 4×6 with a white border.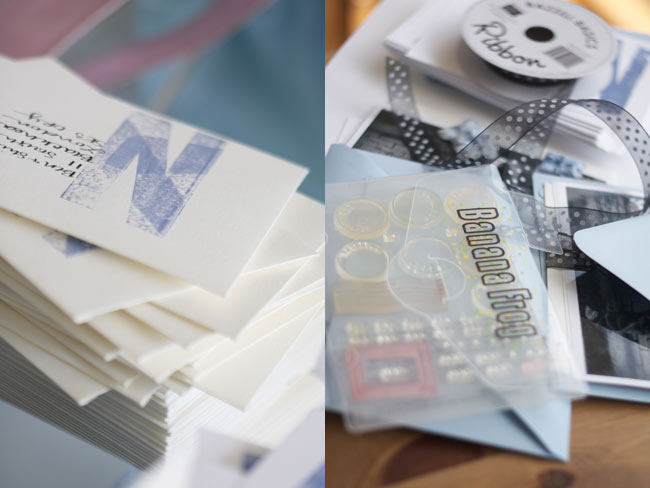 Ordering the photos was the easy part. Then there was the hard labour. First we letterpressed the letter N onto pretty much anything that didn't move. (In case you haven't ever guessed from the background of photos in our house, my married name starts with N! It just ended up easier to stay with Laine in the scrapbooking world, especially since really I just go by my first name so much of the time.) The various letter Ns came from a variety of market stalls around London, and we used a reinker bottle of Colorbox pigment ink in Colonial Blue for all the letterpressing. One big N on the front of the RSVP envelopes and a different big N on plain white 4×6 postcards and a swirl design on blue scalloped postcards for the RSVPs. Lots and lots of letterpressing.
The plain white 4×6 postcards were then glued to the back of the photo prints, and instead of bulk printing the details, I wrote everyone a personal note with a fountain pen. It was actually quite therapeutic but it was far, far more time-consuming than I ever imagined. But each person got their very own note written with my very own hand. Oh, and each card included details about the dress code wherein we asked everyone to wear their best black and white. (More about that later this week.)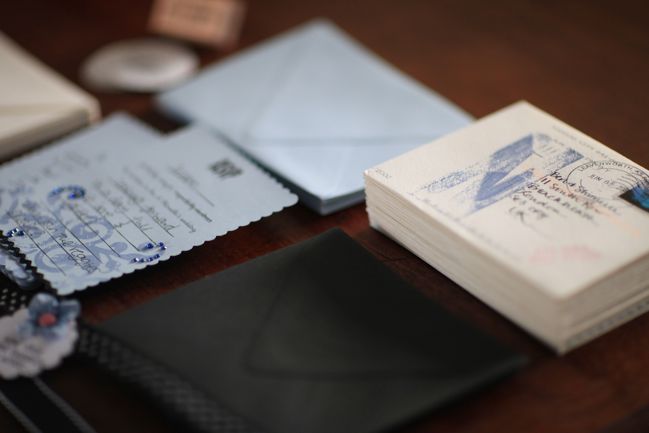 The RSVP cards were screen printed on our Gocco machine with black ink over the tone-on-tone blue design that we letterpressed. I loved that some of our guests dressed them up when they returned them, so we had some with gems, some with fancy silver lettering and some with very sweet notes. I kept them all – every single one.
The photo cards with the notes on the back were then bundled with the reply card and the return envelope and tied up with black sheer ribbon with white polka dots.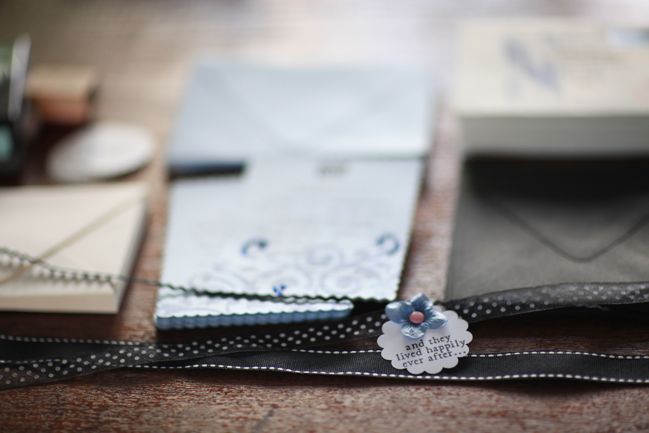 And then we sat one night and punched and stamped and stamped and punched until we had one of these little 'and they lived happily ever after' circles for everyone, and we attached that to the ribbon with a brad and a flower and packed the entire little set into a blue envelopes with more letterpressed monograms and sent the entire stack flying away in the post.
…and that is how we made our wedding invitations! But my favourite part of the entire process was when we both sat on the floor of our flat with tons of stamps and inks and ribbons and photos and we mixed and matched and pasted and punched until we found something that we both loved. Why didn't I take a picture of our fifty half-finished drafts?
I have no idea.
xlovesx

Read more about: wedding
23 August 2010

Next post: How to make the easiest of fabric bunting
Previous post: Funny the way things start