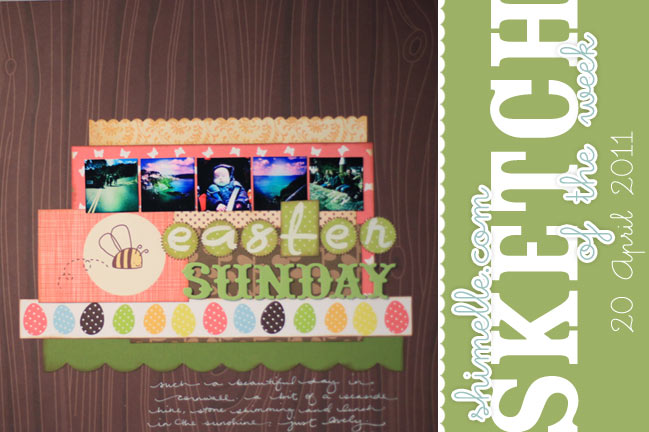 I may have tricked a few of you with this week's sketch. At Two Peas, a new garden of pages from the design team goes live each Monday and I often base the week's sketch on my pages there. So maybe you were thinking it would look a little like this. But as it's Easter this Sunday, it seemed the right moment to grab something a little different! This page features Hipstamatic photos from last Easter, and I figured the five-small-square-photos option would make for something a little unexpected in this week's sketch.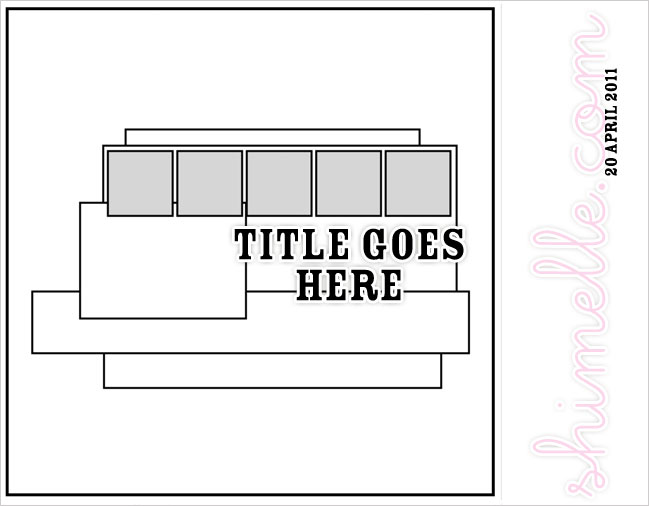 The layers of the sketch are relatively simple and make it a good candidate for a patterned background with a cluster of colour. You can even make this layout from scraps and leftovers. It also gives you plenty of space to really work the title, if you want to try something lovely with lettering! The sketch includes five small, square photos, but you can change this to suit something else, of course! It could even work with a single panoramic shot replacing the row of five pictures.

I love the pages posted from last week's sketch! Here are a dozen of those scrapbook pages. Click any of these to see them in more detail and say hello to these scrappers!
Top row, L to R: one, two, three, four.
Middle row, L to R: five, six, seven, eight.
Bottom row, L to R: nine, ten, eleven and twelve.
Sorry about the problem with these links – somehow I had them in the reverse order! But they go to the right place now. So sorry for the mistake.
As always, the weekly sketch is a no-stress challenge that's just for fun! If you find this sketch useful and create something with it, I'd love for you to leave a link in the comments! And while we're very Easter themed today, I hope you have a lovely holiday weekend!
xlovesx

Read more about: sketch-of-the-week
20 April 2011

Next post: Scrapbooking giveaway day
Previous post: are you a scrapbooker?