layout ©twopeasinabucket.com. Click here for supply list.
Ready for a new sketch? And are you getting the message that I just might like patterned paper more than is probably healthy? This week's layout has two 4×6 photos and five different patterned papers, though you could substitute solid colours for any of those blocks if you prefer.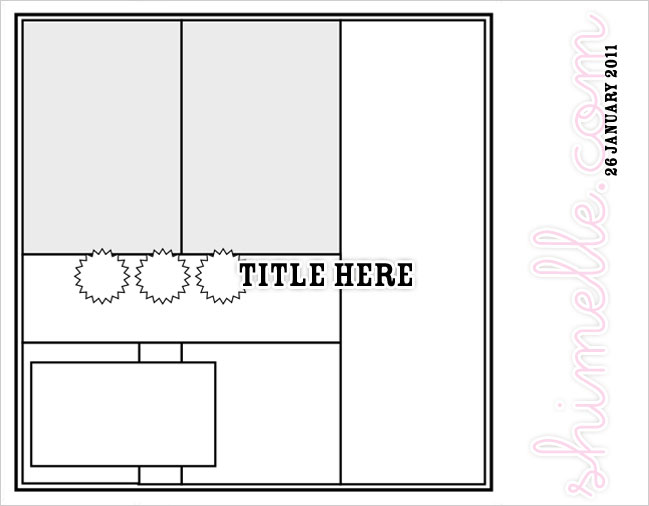 The trick with this type of page design is to start by building a background (including your photos) that is quite blocky – everything fits together, everything has straight edges and ninety degree angles. Then layer the fun stuff on top! A lot or a little… and you can extend the journaling box all across the page if you have more to write. Can't wait to see what you make!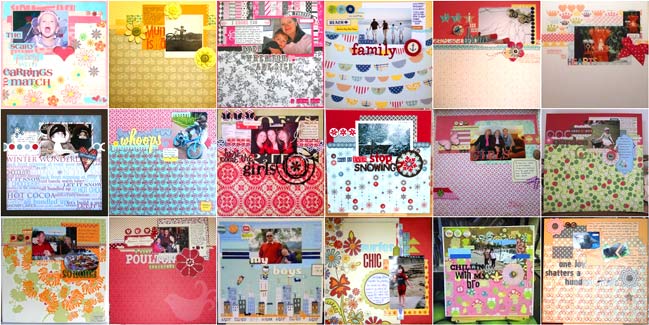 And I love the layouts from last week's sketch. Here's a sample of different interpretations!
Top row: one, two, three, four, five, six.
Middle row: seven, eight, nine, ten, eleven-, twelve.
Bottom row: thirteen, fourteen, fifteen, sixteen, seventeen and eighteen.
I hope you like this sketch too – happy scrapping!
xlovesx

Read more about:
26 January 2011

Next post: Five ideas with die-cut papers
Previous post: Scrapbooking giveaway winner