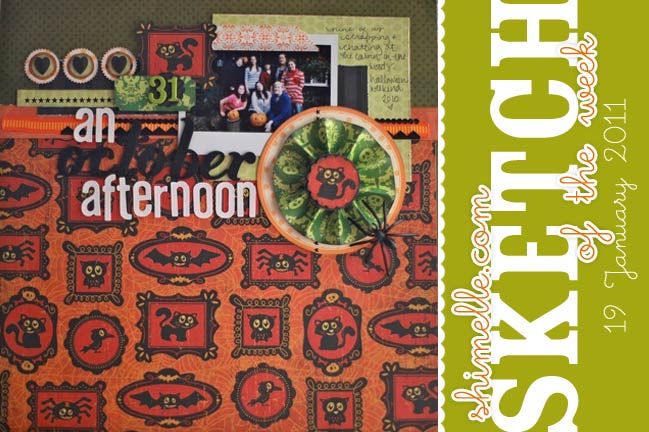 Layout ©twopeasinabucket.com. Click here for supply list.
After the great pages that came from the first weekly sketch of 2011, I am so excited to continue this throughout the year. And of course, I know there are plenty of sketches out there in the scrapping world, so I'm going to try my best to always have something that will push you just enough to try something new. And you may find it often involves a love of patterned paper!
This week's sketch is great for a piece of patterned paper you really love and want to put on display rather than cover with other page elements. You know the papers you have in your collection and you pull them out to start scrapbooking, then put them back because it would be a shame to not be able to see the whole page design? This sketch is just for those papers! Go pick one and get started with a layout that let you see much of the paper without suffering from a lack of detail.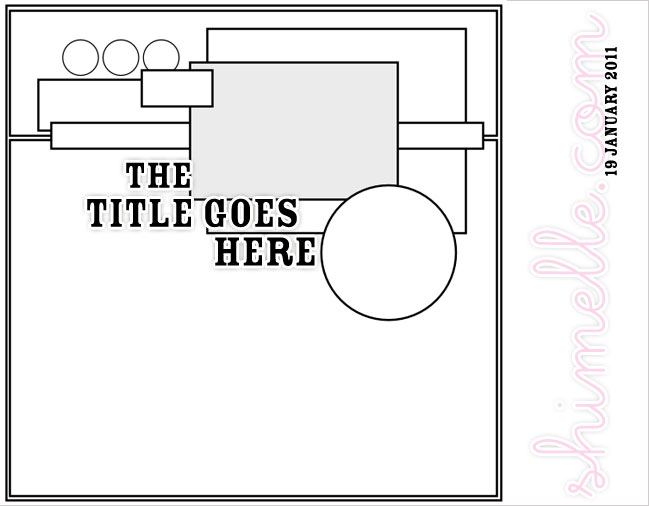 If you're a fan of scrapbooking more than one photo per page, this sketch is easy to adapt to include multiple pictures. With the empty space at the bottom of the page, you can include a column of pictures – start with your first photo where it is on the sketch, then continue down the page with a line of photos the same size. It's also easy to swap one landscape photo for two portrait photos in the same spot on the sketch. (That's what I do with most of the portrait oriented photos on my blog – swap the space from one landscape to two portraits so they fit into the same width!)
If you've never tried this sort of page composition where the design is quite top-heavy, give it a whirl! I find it's refreshing to create in a different space now and then. Scrappy friend Jen uses this style often and I love how her pages look!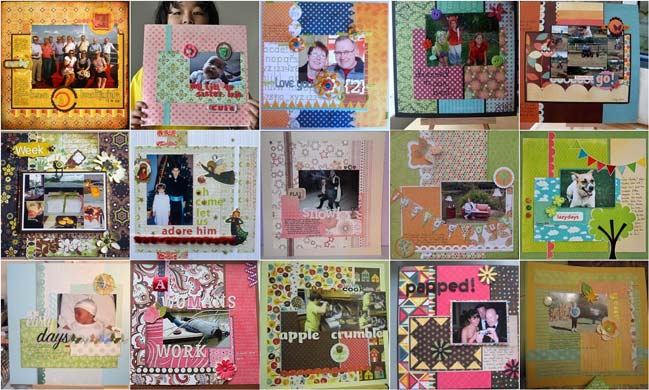 And here's a little look at all the fun pages that came from last week's sketch! Have a closer look at each of them here:
Top row, L to R: one, two, three, four, five.
Middle row, L to R: six, seven, eight, nine, ten.
Bottom row, L to R: eleven, twelve, thirteen, fourteen and fifteen.
And a special shout-out to the second layout shown :: this very young scrapper started a brand new blog when she made this layout! Click here to go welcome her to the blogging world, won't you?
As always, these sketch challenges are for you to use any time – don't stress about deadlines or changing them to work for you! There is no stress in scrapbooking! Just have fun. If you do happen to create a page from this sketch, I'd love to see it (and maybe feature it in a future post!) so please leave a link in the comments!
xlovesx

Read more about:
19 January 2011

Next post: Five ideas with Cosmo Cricket Material Girl
Previous post: Travel Notes on Crossing Laos by bus