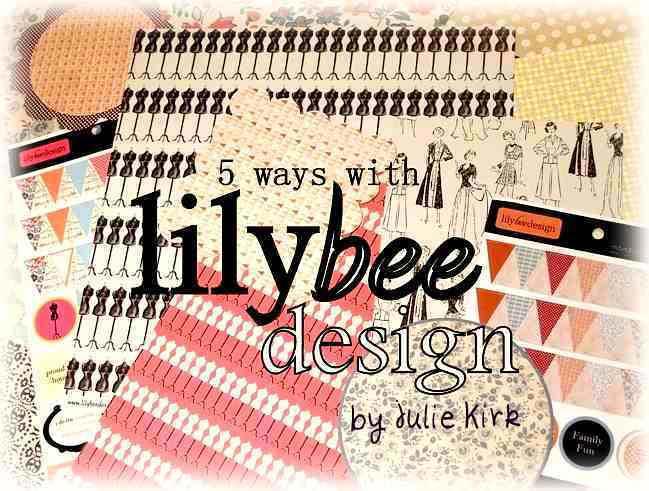 Today it's my pleasure to introduce the lovely Julie Kirk to share her own love of pretty paper here on the blog. I hope you enjoy her guest post!
Hi, hi, hi.
It's great to be over here today sharing five of the different ways I've been using some of my current favourite papers and embellishments. If you're missing Ms Laine already you might like to squint hard while reading my post, as both she and I are brunettes of the same height, you might just be able to trick yourself that I'm actually her. It's worth a try, no?
Now let's get on with the pretty things …
For me the allure of Lily Bee Papers is first and foremost their use of pattern. As a long-standing pattern lover, and a collector of vintage fabrics and wallpaper, the retro feel of Lily Bee designs never fails to grab my attention. Then, in turn, I grab those papers!
It's telling that I always wanted to use the papers straight away. While non-crafty-types might think that sounds obvious, [I can hear their common sense yelling: 'Well, what else would you be doing with the supplies you've gone to the effort of buying?'] I think we all know that just because we've made that purchase… it doesn't necessarily mean it'll get used. Luckily for them, my Lily Bee purchases never find themselves in the undignified position of being left stranded in the bottom of my paper storage boxes.
So, today I'm sharing five ways for you to get those perfect patterns on to your projects.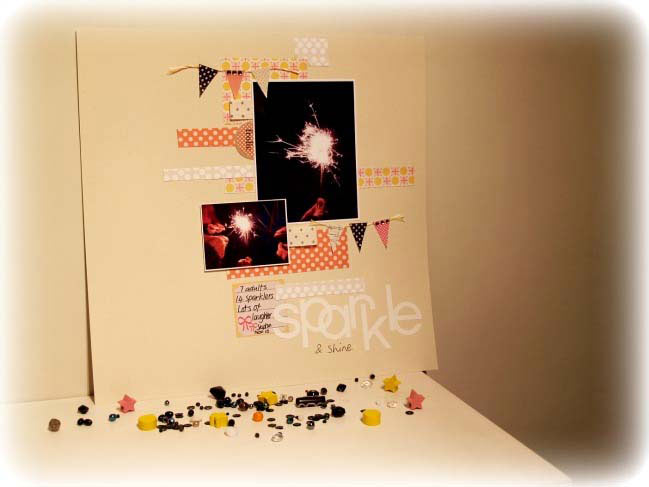 Supplies: patterned paper and stickers by Lily Bee Design, Bakers' Twine by Jillibean Soup and letter stickers by American Crafts.
#1: The delicate, modern page
I wanted a fairly sparse yet pretty feel to this page to keep the focus on the striking, glittering, sparkling photographs I took while on a recent crafting holiday with friends. But, for me, one of the trickiest aspects of the clean and simple look is the effort it takes to ignore my desire to use lots of patterns which, while attractive in themselves, could distract from the focal point.
This is not helped by the fact that Lily Bee papers are double-sided which, while certainly a treat to have two lovely designs on offer, makes deciding which to use, while showing restraint, doubly difficult!
To get around my indecision I bravely [or should that be rashly?] chopped into various full sheets of 12×12 freehand and relatively randomly until I had a handful of small strips on my desk. An act which freed both my head and my hand from all that dithering and simply forced me into something with the strips less they go to waste. Because wasting paper is simply not the done thing round here is it?
I then spent time pushing the strips around on my cardstock base until I felt they balanced with one another and, most importantly, with my photos. The patterns I chose were clear and bold enough to retain impact even in such small amounts.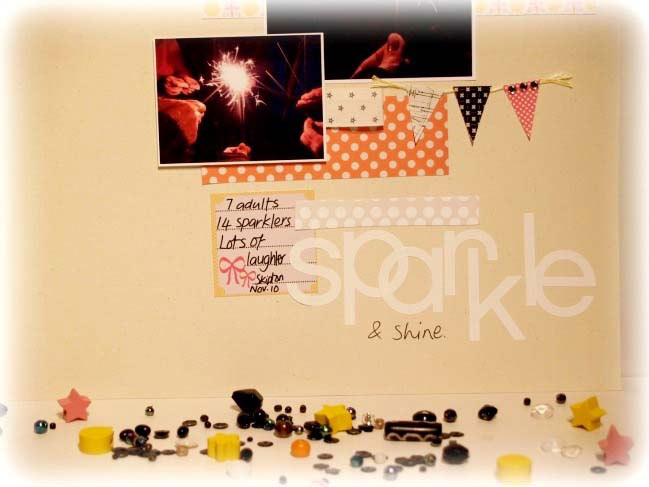 My final touches were the bunting stickers and a journaling block to record those all-important sparkling details!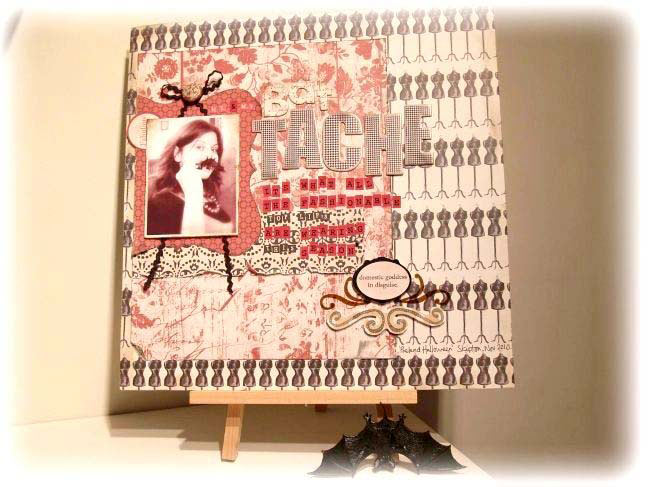 Supplies: patterned paper and stickers by Lily Bee Design.
#2. The vintage, distressed page
In contrast to the 'Sparkle + Shine' layout, this page reveals the amount of pattern-clashing and layering that can occur when I haven't set myself any 'clean and simple' restrictions!
The photograph, which I'd edited to give a sepia, aged effect inspired me to reflect a vintage style in my page. But before I go on, perhaps I should clarify that yes, that is indeed me wearing a plastic Halloween bat as a moustache in the photo. A photo which while I felt it gave me the air of General Custer a friend suggested it was more like 'General Bonkers' and she may just have a point!
That said, it gave me a good reason to use some of my favourite paper ageing techniques such as running the blade of my craft scissors along the edge of the paper followed by a generous swipe of Tim Holtz Distress Inks and then some general paper-mistreatment including the folding over of corners!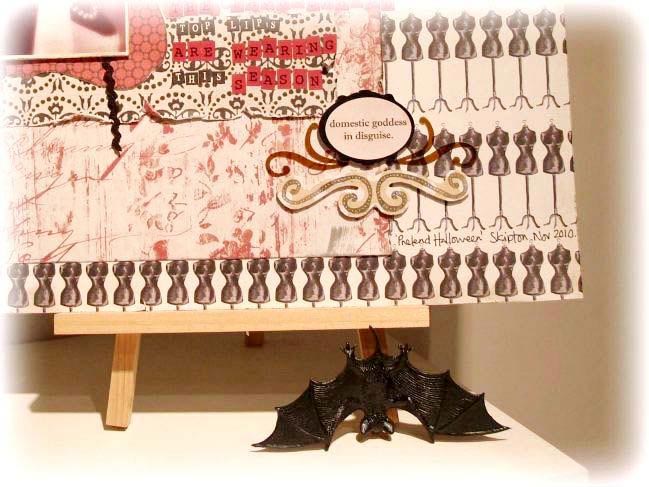 The 'Domestic Goddess in Disguise' sticker was the ideal embellishment for this page and what better finishing touch than recreating the perfect handle-bar moustache by stamping a scroll-design on to patterned paper. [I have something of a history of crafty 'taches as "this blog post full of mustachioed greetings cards": http://notesonpaper.blogspot.com/2010/04/blog-hop-moustache-mania.html can attest to!]. Plus that particular scroll stamp was actually designed by Shimelle … so I really had to use it here didn't I?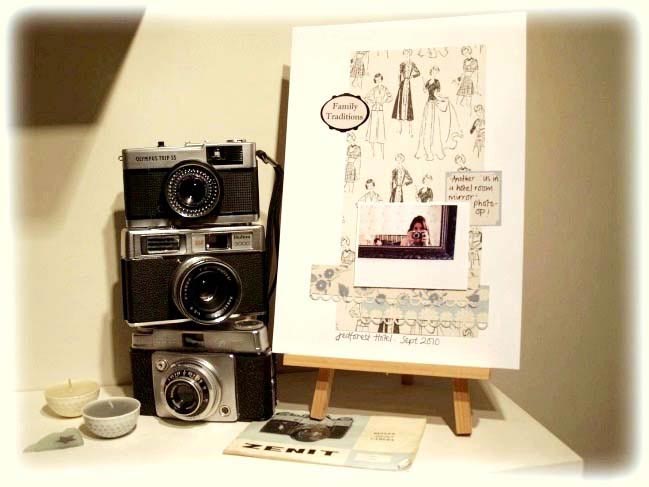 Supplies: patterned paper and stickers by Lily Bee Design, cardstock by Bazzill Basics and border punch by EK Success.
#3. The minimal page
When you're faced with a paper as divine as a sheet of the 'Pearls + Heels' design, with its beautifully sketched images of super-chic vintage ladies, it would take a hard heart [and a foolish scrapper] to cover it all up with layers and embellishments! So another very minimal page was born.
Placing such a retro themed paper directly on to a pure white cardstock made for a modern, stark contrast, which subsequently reflected the white border which I always leave around my photos. My few additions included some strips of blue floral paper, which are similar to those behind me in the actual photo, and the 'Family Tradition' sentiment sticker.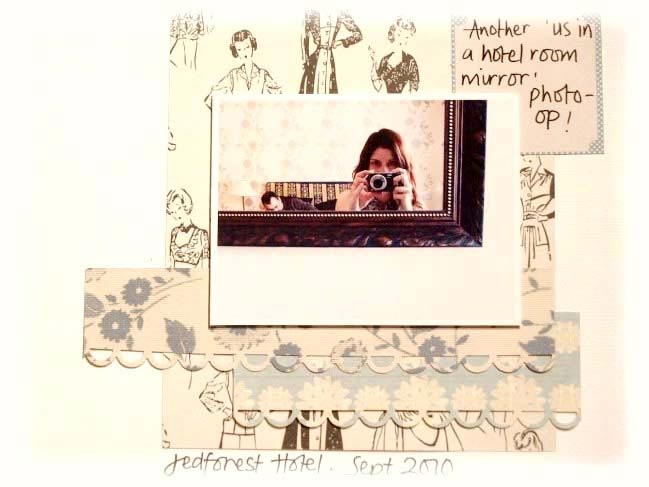 I clashed the retro with the modern once again by punching along the edge of the vintage-style papers with a crisp, graphic scallop border punch.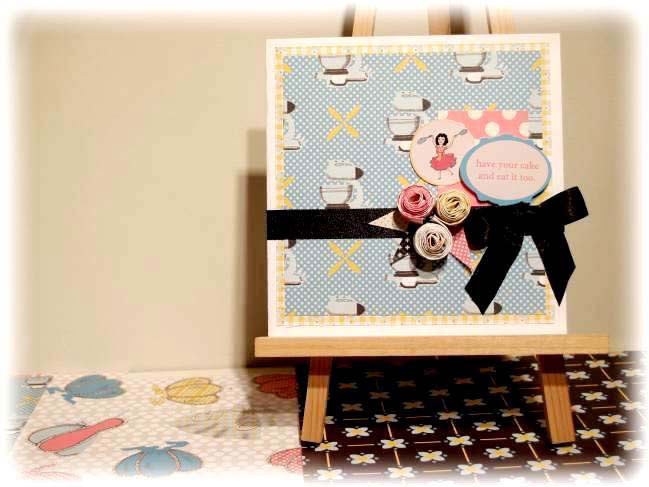 Supplies: patterned paper and stickers by Lily Bee Design.
#4. The kitschy card
Who doesn't like 1950s-style kitchen accessories? Seriously, who? I can't think of anyone. Neither can I believe there's anyone out there who doesn't want to hear the message behind the 'Have your cake and eat it too' sentiment sticker.
All of which makes the Domestic Bliss range perfect for using on greetings cards so you can pass-on that kitschy kitchenalia goodness to others!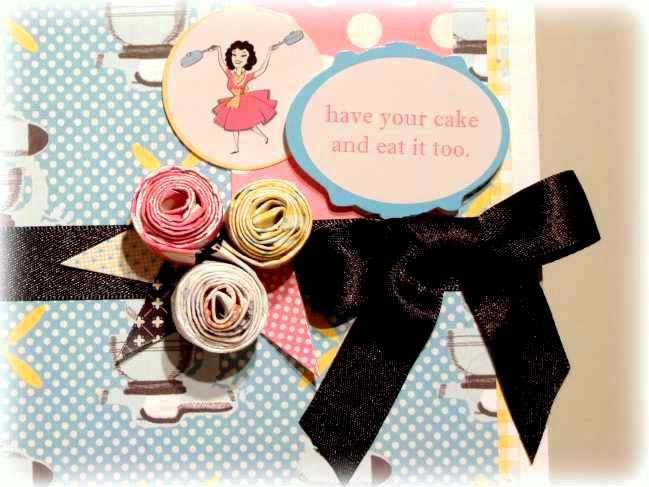 I especially like the papers' contrast of black against the softer turquoise, yellow and pink so I added a big black bow to co-ordinate. And finally, I added bunting-stickers for the leaves on three of my latest favourite home-made embellishments: coiled paper blooms, which such simple little things to make:
Cut a narrow strip of paper approximately 3cm wide;
score down the full length approx 1cm in from each side;
fold the paper along the scored lines inward toward the middle of what should now be a thin strip;
soften up your strip by curling it as you would a ribbon when wrapping a gift;
roll up the strip into a coil and secure with a few cms of double-sided tape at the end.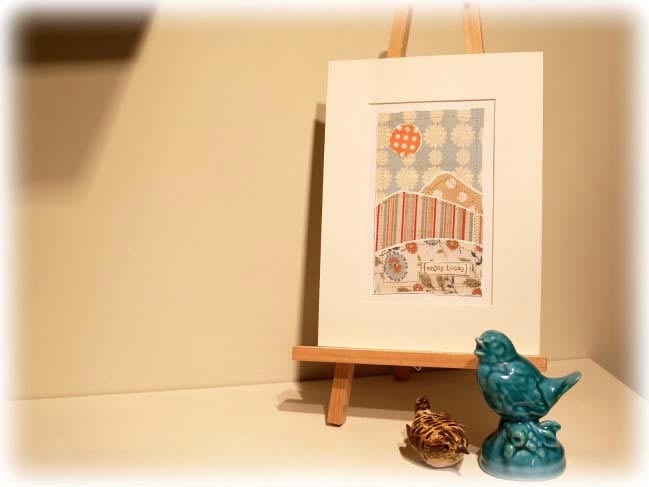 Supplies: patterned paper by Lily Bee Design.
#5. 'Off-the page' collaged home decor
Collage is a craft I adore for many reasons, not least of which is it's such a creative and attractive way to use up any remaining scraps of precious patterned paper. And, as you might have guessed by now I am perpetually drawn to the layering-up of pretty papers!
For my little framed scene I began with the blue of the sky as my first layer tearing it freehand until the edges to fit inside the frame mount I had waiting for it, eventually the edges of all the papers were sanded back to the white core to define the outlines of sky, hills and foreground.
Throughout the layering process it's worth keeping in mind the balance of prints, patterns and colours you're using. You want them all to harmonise one against the other, in much the same way that you build up a layout, only on a smaller scale.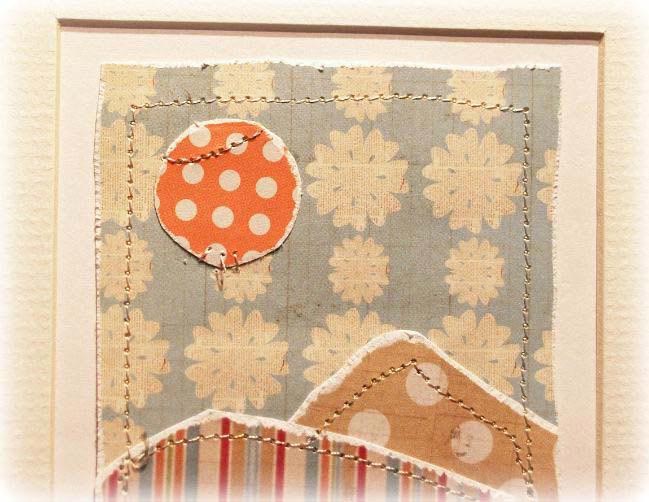 Once I was happy with the placement of my layers, which were initially held in place with a swipe of a gluestick, I ran them through my sewing machine for a traditional patchwork quilt feel.
As well as making pretty additions to your home, similar paper-scrap collages can also be added to the fronts of your cards, tags and layouts and require only the simplest of sentiments to complete them.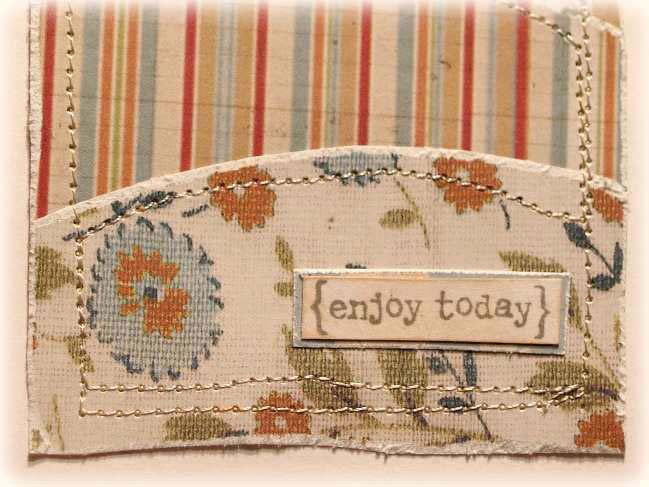 In fact, I like this idea so much I'm making a range of them to sell in my Etsy store.
I hope you've found something amongst my '5 Ways' has inspired you to pick up those patterned papers and then argue with yourself over which ones to use first!
Thank you for reading me today … and thanks to Shimelle for letting me poke my head around her door and say 'Hi' to you all. It's been fun!
---


Julie Kirk works as a freelance craft designer for several UK craft magazines. When she's not surrounded by patterned papers she can be found assisting students with disabilities at a university.

Her blog Notes on Paper regularly features papercrafting projects; vintage treasure-hunting adventures along with some of the noteworthy things she overhears on campus!

Julie delivers online crafting workshops with her Copy + Paste Project co-blogger Kirsty Neale and also opened up an Etsy shop Julie Kirk & The Carousel Zebra selling her handmade fashion and crafting accessories.

You can also find her on Twitter.






Read more about:
07 January 2011

Next post: Scrapbooking giveaway day
Previous post: Layout ideas to stretch your scrapbooking supplies