The summer idea book from Scrapbook Inspirations is available now with its pretty-in-pink cover. This edition features pages about summer, the outdoors, girls, boys, pets, plus workshop articles on outdoor photography, detailed borders, interactive pages and machine sewing. There's also our regular Sketch Collection, the scraplift feature Take it up a Step and Colour Story with lots of projects in my favourite colour combination for this summer. And more than £28 in free downloads for our readers too!
This edition is stocked at some WHSmiths stores and is available for online ordering as well. I know there were significant issues with the online order fulfilment with the last book (trust me – I was frustrated too!), so I actually held off in posting this until I could place an order and give you an honest account of the ordering process. I ordered my copy from here last Tuesday evening and I received it in the post today (Wednesday), meaning the current UK delivery time is one week. I even ordered under The Boy's name so it wouldn't stand out, just in case, so I do think this is an accurate measure of how long it will take you to receive your copy. Orders are being shipped by a different contractor than before: nothing to do with me, but I am thankful for it nonetheless. That same order page will let you send a copy to a friend as a gift or order a copy to an international address. The prices there include shipping: £10.99 for the UK, £11.99 for Europe and £12.99 for anywhere else in the world. Or if you happen upon a WHSmiths who is stocking it, you'll find it on the shelf for £9.99. (For Londoners, I found it at Waterloo Station of all places! The shop that is right in the centre of the station had it on the bottom shelf behind the regular craft magazines.)
If you're in the US, it will appear in Barnes and Noble and some Borders stores sometime in the next two weeks I believe. Unfortunately the import/export process seems to mean there isn't an exact release date, but rather just when it arrives!
On a sad note, this is the last printed edition of Scrapbook Inspirations. It is my favourite of the books we have been working on, so I'm happy it was printed, but of course sad that the series won't continue. I know there are things that were not ideal about this book, like the higher price when advertising was minimised or the harder-to-find distribution, but those were things that were always outside of my control. On the editorial side, it has been lovely to get to know even more scrappers and publish our favourite pages from all the submissions. And I really must thank Jane, Helen and Jenny who took a stack of layouts and pages of my crazy notes and made it into such pretty books. They are amazingly talented women and it has been a pleasure to work with them over these last six months.
If you had sent in pages for book 3, we are currently waiting on a few things to know what our options are for publishing your layouts in other titles, like our sister magazine Papercraft Inspirations. Your layouts are safe and will be returned, of course. But right now we're waiting to see how many we can publish in another format, and when I know the result of that consultation, I'll be in touch with all of you to let you know. Thanks for your patience.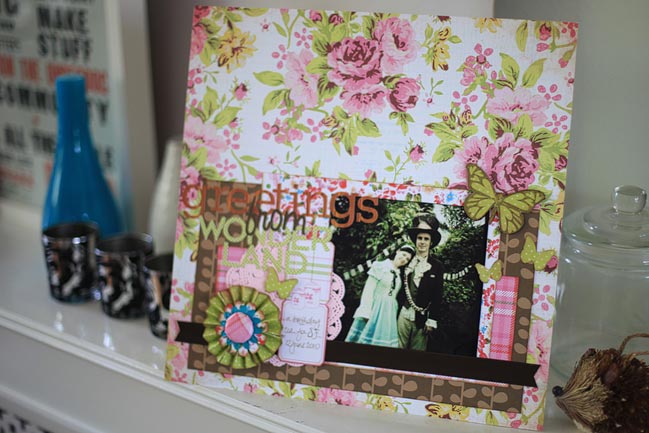 And just to show you exactly how long I could wait before scrapping at least one photo from last weekend's tea party, I made this page this morning, with pretty papers from The Girls' Paperie and a lovely older collection – Adele from Rouge de Garance. Now I just can't wait for the giant stack of photos I've ordered to arrive!
xlovesx

Click here to order your copy of the new Scrapbook Inspirations Ideas Book!
UK delivery time of one week.


Read more about: scrapbook-inspirations-magazine reading-material
16 June 2010

Next post: Scrapbooking with Jenni Bowlin Studio
Previous post: Oh how I love Delovely