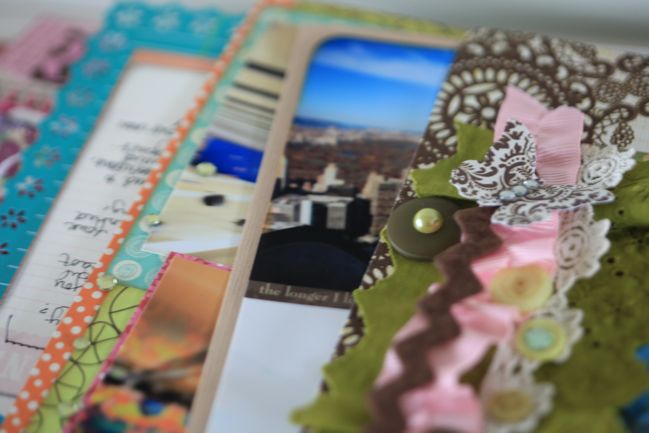 Participants in Something from Almost Nothing already know this is on the horizon, but it's about time I extended the invitation to all of you! This weekend, from Friday to Sunday, I'll be hosting our very first online crop party here at shimelle.com!
Throughout the weekend there will be tutorials, projects and downloads as well as challenges, prizes and a few surprises! And it's all free. You can stop by and participate in as much or as little as you like, and you can participate no matter where you are in the world (or what time it is there)!
If you have taken a class here before, you'll have access to our members-only forum, where you'll find a new section of the board set up just for the three-day scrapbooking party. If you're not a member, you'll still be able to find quite a bit right here on the blog, or you can become a member by signing up for any of the online scrapbooking classes you fancy, of course.
All of the party classes and challenges are designed for you to create using what you have on hand, so you won't need to purchase any special supplies in order to participate. You can use any photos too — there are projects with photos at 2×3, 4×6 and 8×10 inches — but all of them can be adjusted to whatever size of photo you prefer to use. There's also a balance of paper-only, hybrid (paper + computer) and digital-only projects, and you can pick and choose which ones suit you.
So if your desk is looking a little messy, maybe today is the day to tidy things up and get some photos in your to-scrap pile. Then join us here on Friday, when it will be scrapbook party time!
(Seriously, if you can say the words 'party time' without wanting to follow them with 'excellent' and an irrational desire to perform Bohemian Rhapsody in a packed car, I bow down to your ability to not have your entire world affected by this key moment of my adolescence.)
xlovesx

Read more about: inspiration-party
12 April 2010

Next post: Stamped bunting -- a giveaway at Banana Frog
Previous post: Call for scrapbook page submissions