If I am perfectly honest, I have no idea where the idea for titles on scrapbook pages came from. If you read a book, there's just one title for the whole darn thing. Maybe there are chapter titles, but really the only thing that marks the pages is the page number. Yet somewhere along the line we decided to expand that tradition of writing something on the photo into a title for a page. Maybe that's it, actually! It seems to make sense: some pages will have titles of names and possibly ages; others will have puns or something that sounded funny to us at the time and a few others will have something that sounds like a heartfelt note or the name of a song. The same stuff we used to write on the back of the pictures. Now that it's on show, I wonder if those titles get stage fright.
Sometimes I think there are titles that wouldn't have worked on the back of the photo that make the best scrapbook pages for telling your stories. One of those is 'Let me tell you about…' and it works because it leads you right into the journaling. There's no way the journaling can be dismissed in your creative process if you've started with that title, because you've made a little promise and you need to keep it. You wouldn't say 'Let me tell you about the best shoe sale ever!' to a friend and then keep it a secret. (If you would, then you must have realised that your friend has the same size feet and is likely to go buy all the shoes you wanted for yourself. There is no other excuse.)
So to start February, pick something that could finish the sentence 'Let me tell you about…'. Don't use a name, but a label (if you want to feel like English class, we're talking about pronouns—words that take the place of nouns—but I promise there will be no test about that stuff here) so if you want to write about your daughter, you would start with the title 'Let me tell you about this girl'. Take a second to get those last two words right because they are going to form the repetitive part of our journaling.
That's the little (not-so) hidden message in today's exercise: throughout the month we're going to look for little tricks that can help your journaling be polished and stylish. Today's little trick is repetition: the journaling can have five or more sentences, but they will all start with the same words and have a few other things in common too.
Each day's exercise can be read on your screen or printed out onto a 4×6 index card if you prefer something tangible. I love my notebooks for writing in, but I often wish I could (easily) print things onto index cards instead of full sheets of plain paper. I think really, I love this idea, as I would be much happier in any meeting with a stack of index cards, a bulldog clip and a few colours of pens than a Blackberry. So it's just a little something I'd like to try—we'll see what you think. Just remember you'll need to click on the day's exercise card in order to get it at the full print size, okay?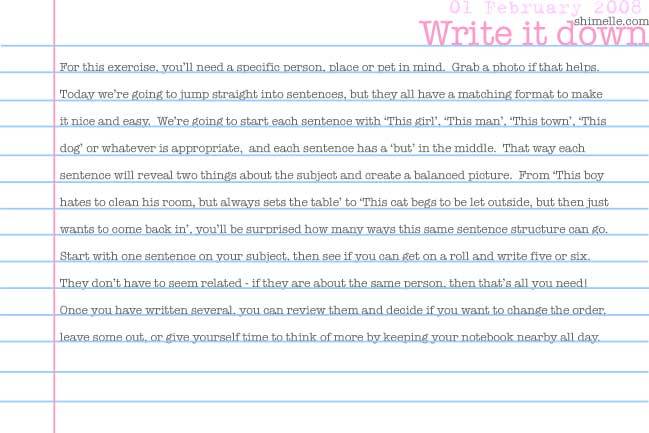 Click for print-size image of the exercise
Each day, feel free to share a link in the comments if you've written your journaling on your blog or made a page as a result of the exercise or if you found something that just fits the theme. Or just comment to say what you'll be writing about—nothing like pledging a little commitment to help you do something you've been meaning to do, right? Or take a picture of your notebook and pen and share that! I never tire of the feeling of a fresh new notebook and pen. It's a beautiful thing.
Happy writing!
xlovesx

Read more about:
31 January 2008

Next post: Setting the record straight
Previous post: On dodgy haircuts