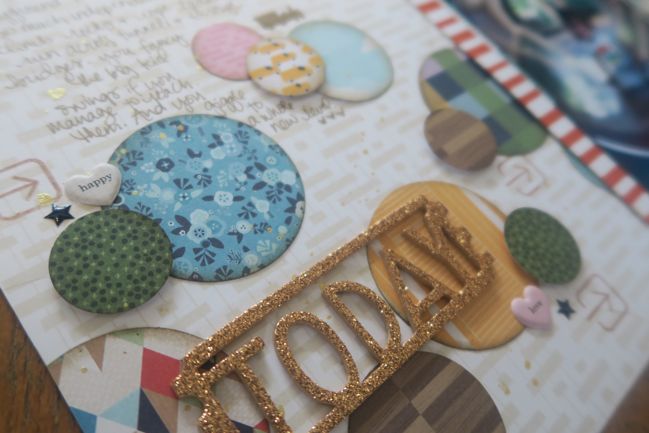 Sometimes something completely trivial, most likely flippant, and certainly not intended to have a bigger meaning sits in our heads for years. That's normal, right? Maybe it's not normal and I have some sort of diagnosable issue here that you can spot from your armchair, but if that's the case let's just leave it because it is what makes me tick. When I say Go Now Go was inspired by a mix of backpacking around the world and taking in autumn in our local park, that's a summary. A polite summary. There are some completely trivial, most likely flippant, and certainly not intended moments in both those places, on both those adventures, that became part of my development process as we worked on this collection.
I tell you this at risk of you laughing and realising that I take some things far too seriously. Please know I laugh at myself a lot for that very thing. I promise this will circle back to scrapbooking. In Go Now Go, there is a stamp set that is part journaling, part passport. It has this spot on the journaling block with a space for the smaller stamps to fit and you can choose from a train, plane, boat, or arrow. It's something I like in my own passport, that many countries use a little symbol like that to indicate the means in which you arrived and when I have to stand in a line to show my passport, which I do less recently but had to do this morning, I flip through and those little symbols remind me of that journey. It makes my mind race and link memories together. There is part of me that still feels very much like it is still 1983 and travel was 100% glamorous even though airplanes were filled with smoke and every flight served the same cold and soggy croissant and there was always someone who drank tomato juice on its own so I thought it must be fabulous and I ordered it once and realised I was basically drinking ketchup on ice but I had no way to empty the cup but drink it. All those memories of my earliest flights and yet still, I remember it with this gloss of glamour over the top. But when we developed that stamp set, it was important to me because it had that link to flipping through my passport and having my head flood with stories, but also because taking it apart and using just those little pieces on their own is where my head is when I scrapbook these days. Arrows for go, go, going. That's what we do. We are go, go, going all the time and yet it takes three times longer to get anywhere because it's at the pace the legs of a two year old can manage. Planes because we live under a flight path and the novelty of pointing out every plane to pass over our heads shows no sign of losing its appeal so far. One of said two year old's very first jokes of his own invention: Where do you think that plane is going, Mummy? I don't know. Where is it going? To the airport, he says in a fit of giggles. It is, right? Yes. Yes, that is indeed right, now that you mention it. (There is a second answer sometimes, when he feels more daydreamy than jokey, I suppose, in which he says to visit Mickey Mouse.) A boat for the earliest science lessons of what sinks and what floats when you throw it in the bathtub. And perhaps as an ongoing metaphor for myself and my day by day judgement of am I sinking or floating. (That's normal too, right?) And a train because it's part of our everyday – it's how we commute, it's how we see friends, it's an obsession that results in opening the front door to find a wooden track that leads through the entire floor plan of our flat, and somewhere a tiny battery-driven train is trying to chug, chug, chug all the way around with an unfairly huge number of mismatched magnetic freight cars trailing behind.
All that, but I know it's basically a passport stamp that you can journal on. It is what it is. But along the way, it is a lot more, if only inside my head.
That's basically how I work out if things are right for a collection. Can I find stories behind it or is it just something that looks pretty? Sometimes things that look pretty are just lovely and I buy them too. But they don't stay my favourites. I want to make things that will be my favourites. The stories make them my favourites, and that feels like the best thing I can do.
There are puffy heart stickers in Go Now Go. On one hand, they are certainly not the first puffy stickers to grace the scrapbooking world. I did not invent this product. And yet, there's a convoluted inner monologue to them too. Puffy stickers remind me of a time in my life when I was young enough to be carefree but old enough to be stubborn and independent and believe things like 'if there are three of us going out together and our ages add up to total a perfectly normal adult age, we must certainly be just as safe and responsible as adults'. Actual responsible adults in my life at that time may have disagreed with my logic somewhat, by the way. So puffy stickers remind me of childhood but not toddler days. Days when we could ride our bikes for miles on a summer afternoon and still make it home in time for dinner and reruns of Three's Company. When we went backpacking, it was just two of us, and we heard the same line from so many people: It's so good you can do this now, when you're not tied down by children. It was the sort of thing people say to just carry on the conversation. Trivial, flippant, not at all intended to sit in my head for years. And yet there it sat, the whole time we went around the world. And yet somehow I knew that didn't need to be true: I think my husband had more stamps in his passport before he turned ten than I do to this day, and while I didn't leave my home country until I was an adult, I visited the vast majority of the US states by the time I could drive. We could do this again. We could do this with children. We could do this with a child. Somehow. It was and is a complicated chain of thoughts in my head, but here's the thing I kept remembering on that trip when those words got to me: think of those days of puffy stickers. The days when I had a basket on my bicycle and I acted like that was really uncool but actually I quite liked the practicality because I could use it to take my sticker book with me for those mile long bike rides and we would find somewhere to sit and eat peanut butter sandwiches, Ziploc bags of potato chips, and Nutty Bars. We'd drink a Thermos full of Kool-aid in which we'd secretly added double the sugar and we'd read the latest update in The Babysitter's Club aloud and we'd trade stickers. Puffy stickers were worth three plain flat ones. Sometimes four. They were currency of early independence, some point in the eighties, I guess. There we were in 2010, on the road somewhere we'd never been, meeting people we'd never met, and the same old trivial, flippant comment would come up and puffy stickers were my mental way to shrug it off. So in 2016: let's make puffy stickers and make them feel travel-inspired and autumnal and let them be heart shaped because I never think it's wrong to scrapbook with hearts and let them be small so you get a lot in the pack and you don't feel like you have to save them for something so special that will be worthy of those puffy stickers. And that's what my voice says when we have these online meetings between the office in Utah and my studio in London and inside my head I'm thinking all the thoughts I can't bring myself to say aloud because I know there is very little logical reason why a comment led me to the same memory time and time again. Just yes, let's make tiny, colourful, heart-shaped puffy stickers please and thank you.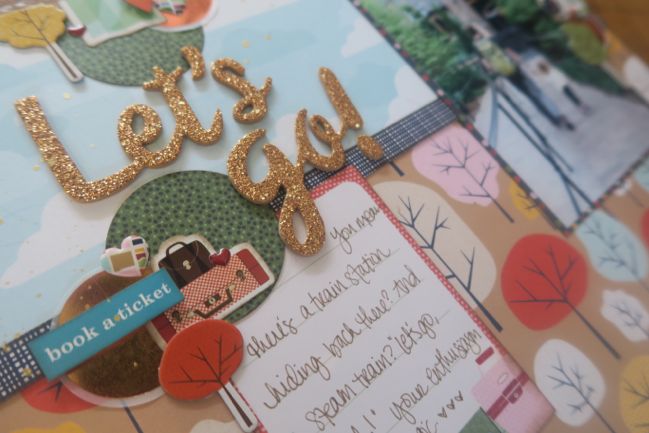 Okay. I'll breathe now And you can laugh. And I can laugh. Yes, I take things like puffy stickers too seriously and I'm probably a little daft for telling you. Yes, when we work on products, my thoughts go into overdrive and I sometimes feel like I'm hyperventilating inside my head, but it seems to be what works so I go with it. Yes, I realise it's really just paper and stickers and stamps and it's not going to save the world or anything. Yes, I realise there is only a very, very small number of people who would be interested in this sort of bonkers description of what I do at work. But if you are one of those amazing people, it might help you know why scrapbooking is my thing. That I am driven by memories, they are my inspiration, my coping mechanism, and my perspective. I found this craft nineteen years ago and never would have believed you then if you'd told me I'd be designing puffy stickers and passport stamps. But I'd have believed you that I would still be making scrapbooks and finding something to write down.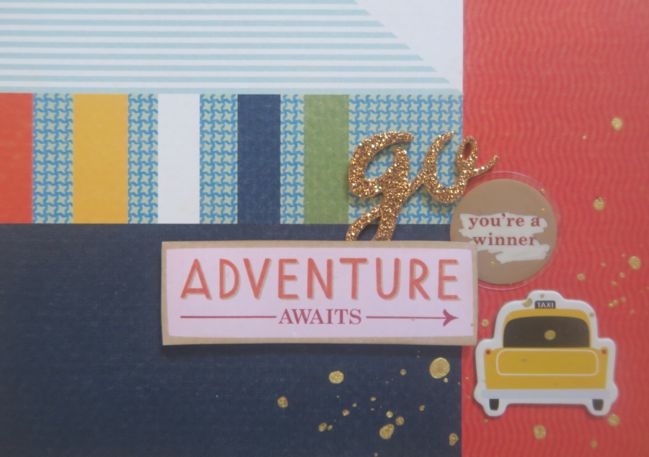 And on a much less rambly note, I've arrived in Phoenix! Tomorrow we build the booth and Saturday the show opens. Yay! I can't wait to show you.

Read more about:
19 January 2017

Next post: CHA 2017: On the show floor with Little by Little
Previous post: Counting Down to CHA 2017: and then we whispered 'Go Now...Go!'