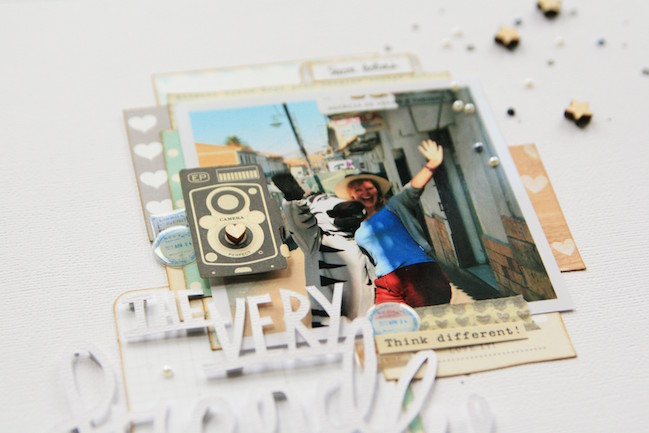 I'm delighted to bring you a full weekend of scrapbooking inspiration here at shimelle.com, starting right here! Each post today and tomorrow includes a chance to link up and share your work, with the deadline not until the 10th of August, so you have plenty of time to participate. We're taking all our inspiration this weekend from the pages posted in the Scrapbook Like a Superhero Facebook group, the #shimelle hashtag on Instagram and posts in the shimelle.com archives. Kirsty is kicking off the fun by going all the way back to 2011!
Sketches can be a great way to develop and feature your own scrapbooking style without having to go to the trouble of designing a page completely from scratch. A sketch, and indeed layouts made from that sketch, offers a lovely starting point to a design and can still give you lots of freedom to include all those little things that make scrapbooks so personal.
I do think it is important to choose a sketch that you know will work for you. I wanted to use this sketch from Shimelle's archive largely because it featured a single square photo and had lots of white space. I'm really enjoying working with square photos at the moment, which perhaps has something to do with Instagram, but it also allows me to pair a layout with a divided page protector of nine photos. That means I get more pictures in my album, and the square format means it doesn't matter whether they are portrait or landscape.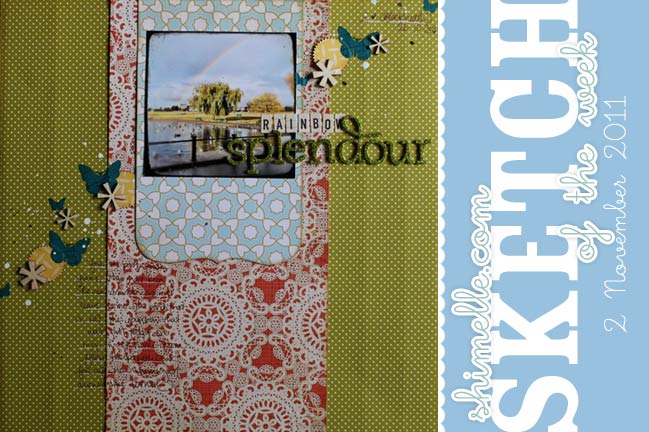 This layout gave me really great guidance in placing my photo, and then including words and embellishments on the diagonal.
More often than not, I like to work with a white cardstock background. I think it helps the pictures and embellishment to really stand out. During the last few months, I have learned how to use a craft knife to make paper cuts, which are detailed, hand-written titles. I love the white-on-white subtlety of a lacy title on a white cardstock background, and this is probably the most recent technique I have incorporated into my pages. Learning to make papercuts was in some ways easier that I thought: the only equipment you need is a knife and a cutting mat. Using this technique has given me so much flexibility with my titles, and while I am still practising to improve the detail I can accomplish, it's a process I'm enjoying very much. I like to learn new things!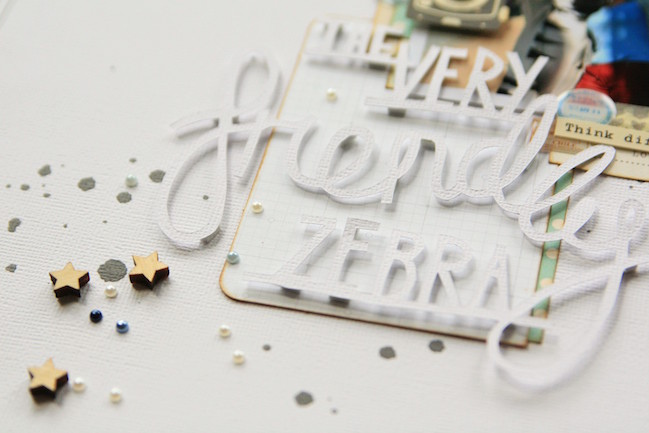 Once I had made my title, The Very Friendly Zebra, I realised it was a little large to go in the space suggested by the sketch. So instead, I moved it into the journaling spot. This worked well for me: it was still a spot on the sketch marked for writing, but placing the title there balanced the page so much better. Following that decision, I wrote my journaling on little cards to include with the divided page protector, instead of on the page itself. Finally, I put a neutral, grid journaling card underneath the title to ground it, and frame the words.
By the way, if the title seems a little unusual, this page is about my experience in the town of Sucre in Bolivia. The traffic there is a nightmare, with drivers simply ignoring pedestrian crossings and the rules of the road. To combat this, the government employs students to wear zebra costumes and stand by the zebra crossings to manage the traffic, and so whenever it's time for pedestrians to cross, the zebras dance out into the road, halting cars, walking small children to safety and generally being wonderful and cheery and cuddly. They do an amazing job!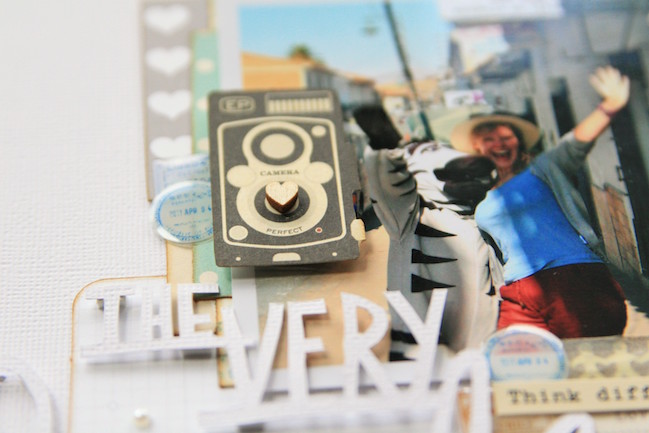 When I scrapbook, I don't stick anything down until the end, so my next step was to position some embellishment options. The photo here has black and white from the zebra stripes, and also features a lovely blue in the sky, and the sandy and grey neutral tones of buildings. So this was the colour palette I worked with. I pulled out scraps of patterned paper to layer behind the photo which would complement these colours. I love to use layering to emphasise a photo, and it's a technique that is pretty much a staple feature of my layouts.
I also like to complement the story of my page wherever possible, so I included a camera icon and little luggage tag stickers to suggest travel. Once I was happy with the position of everything, I could build up the finished design. I inked the edges of all the patterned paper (something I always do as it can really define the layers) and splattered black droplets of mist onto my background sheet. Then I gradually built up my page, adhering the different layers, and arranging my embellishments along the diagonal as the sketch suggests. I also popped up the title on little foam squares; again something I do regularly for hand cut titles as it gives them a bit of depth off the page and creates a little shadow. The final touch was a scatter of wood veneer stars, and a quick hand-drawn border to include the date and add a bit of definition to the edge of the layout.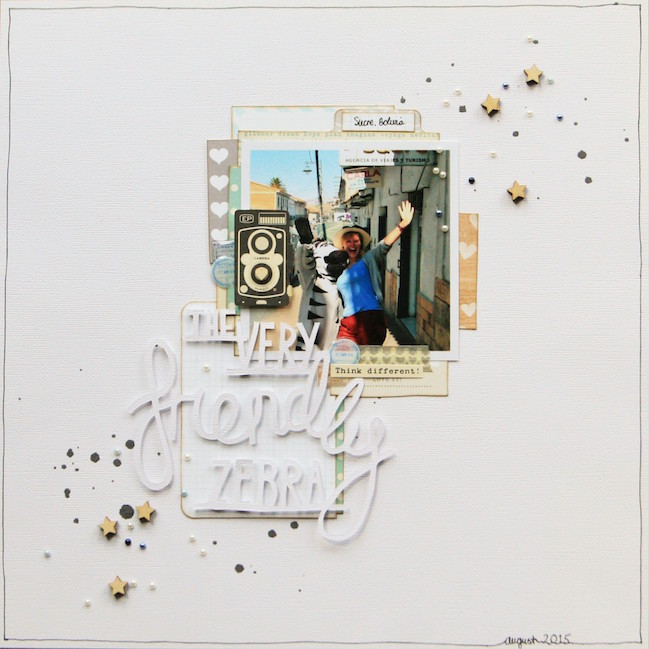 I loved using the sketch to incorporate key elements of the design, and reflecting on the finished layout, I can see a lot of my signature in it! From white cardstock, a single photo and a 12×12 design right through to using a camera icon (always my favourite and works for ANY theme), hand-cutting a title, using layers and adding ink droplets.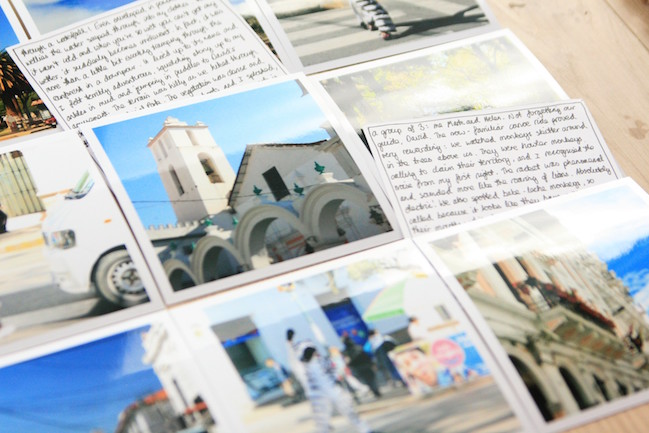 To complete this project, I filled a divided page protector with other photos I had taken of Sucre and the wonderful zebras. The colours in the photos tied in with the page very effectively and I was able to slip a couple of journaling cards in behind. Actually, this is perhaps the one part of my style that didn't make it onto the layout; I usually make it a priority to include hand-written journaling. But given that I have included it here, I suppose my handwriting got into the layout after all! These two pages will go together in my album and tell the full story of a lovely day exploring the town.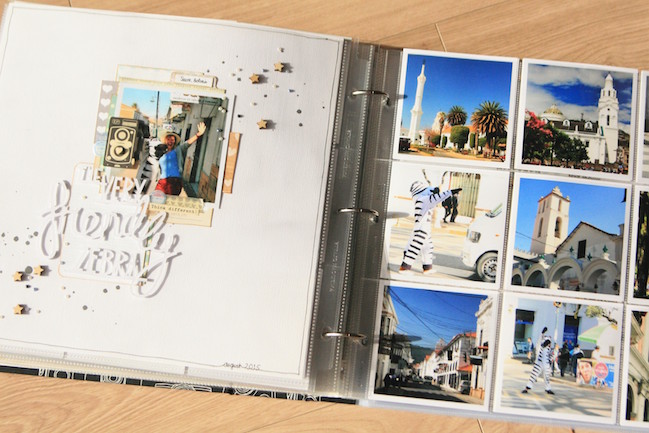 If you put Kirsty's inspiration to work for you on any project between now and the 10th of August, please share it here. We'd love to see what you make!

This weekend is brought to you by The 20 Project – a brand new online class with 20 new process videos. Class starts Wednesday, so now is the perfect time to sign up!


Read more about: inspiration-party
30 July 2016

Next post: Katty, Gina, and geometric scrapbook designs
Previous post: Scrapping Night Time Photos