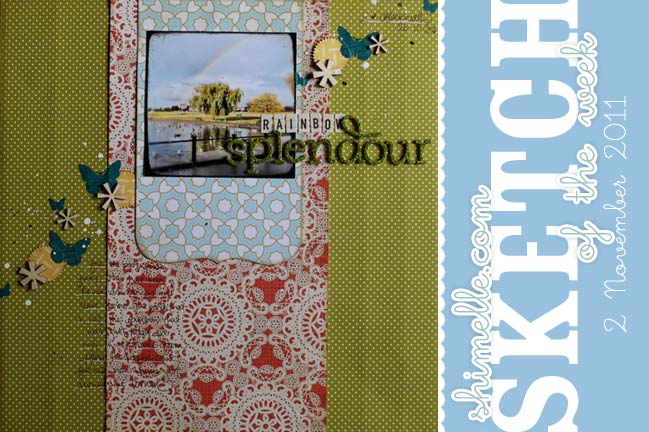 Sketch of the week, huh? Right about now I'm sure there are some internet police ready to come get me for not living up to the 'of the week' and getting myself in a muddle with videos and things. Do you suppose I can distract the internet police with copious amounts of pretty paper? Please officer, I know I am having issues with my Wednesday schedule, but just look at this album about Australia. I know you'll love it and forget all about my Wednesday problems.
That's my plan, anyway.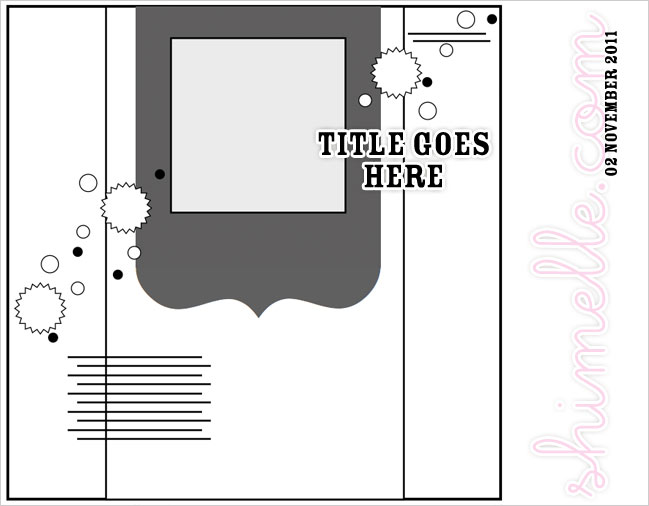 It's also my plan to post this anyway even though it is Thursday now and this was last week's sketch and so forth. Sometimes you have to call an amnesty, and right now with my entire flat covered in screen printed Advent numbers and postage labels, and a now-official moving date for casa de cupcake, I am calling an amnesty. I'm still calling this Sketch of the Week, for whatever that seems to mean!
So for this sketch, you'll need one square photo (or it could easily work with a portrait 4×6 print too), three patterned papers (one full sheet and two partials) and then a handful of small embellishments you can scatter across the page. This layout won't take you long at all, and it's perfect for a photo that just makes you smile, with some pretty papers you love.

If you were ahead of the game and popped over to Youtube, you may have seen this already. I am yet to figure out why it took almost a full day to upload, when nothing else seemed to causing any trouble, but we'll just forge ahead and one day I shall understand the inner zen of Youtube.
Speaking of zen, as always, the weekly sketch is no-stress and just for fun! If you use it, I'd love to see, so please leave a link if you post your page online.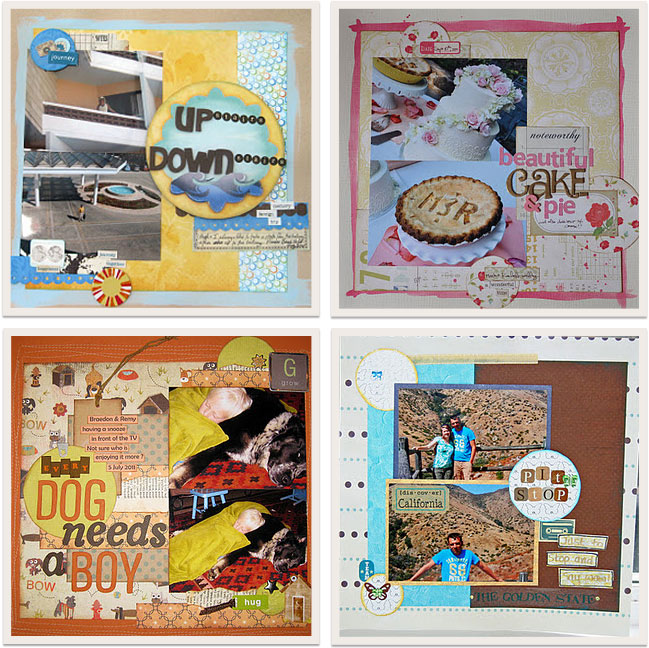 This was the last sketch of the week, and
Click the corresponding link to see any of these layouts in more detail and get to know the scrappers behind the pages. Clockwise from top left, they are from Becky, Jenn, Mel and Tilla.
Now… are you up for some sketchy scrapping this week? Let's see if I can have next week's sketch up on Wednesday and no more visits from the internet police. I'd love to share your page next week, so give it a go and share it with us!

The special offer for free shipping at Two Peas in a Bucket ends today – so do your Christmas shopping now! Click here to shop and use code RLRXWA at checkout for free shipping on a $35 order (physical, non-clearance goods) to a US address or $5 off international shipping for the same order. By the way, the Twig collection from Little Yellow Bicycle is now in stock – it's a lovely wintry blue line with birch trees.
If you're planning to take part in our Christmas-themed online scrapbooking weekend on the 11th to 13th of November, today would be a great day to order any supplies you would want for prepping your Christmas journal, making Christmas cards, Christmas scrapbook pages, handmade decorations or pretty gift wrap touches. Happy shopping!
xlovesx

Read more about: sketch-of-the-week
03 November 2011

Next post: Scrapbooking Giveaway Day!
Previous post: Christmas Scrapbooking Kit